NEW YORK BREWS WITH VIEWS!!! (its real, not virtual) NEW YORK HARD CIDERS WITH VIEWS!!! (its real, not virtual)
About this Event
2021!!! Let the "outdoor" events begin....
We are so excited, as an event organizer, to announce that we have several events on the horizon, with May starting off the season. Hops on the Hudson is back. And it's a nice feeling.
DETAILS OF EVENTS WILL BE COMING SOON.
Mark your calendars for several amazing Hops on the Hudson events in the Hudson Valley.
May 22/23, 2021 NY artisans/artists/makers (No beer & cider)
June 26/27, 2021 (NY Craft beer event on the 26th and a NY Hard Cider event on the 27th)
Sept. 11/12, 2021 (NY Craft beer event on the 11th and a NY Hard Cider event on the 12th)
*** These events are not virtual and we are so happy!!
*** We are working with the County to finalize details of the event. Then Tickets will go on sale.
*** These events are in 2021 and let us forget 2020.
*** These events are outdoors so let the fun begin.
*** And most importantly, always conducted in a safe way, for everyone's safety.
We will have all safety provisions in place the day of the event.
THE NEW NORMAL FOR TICKET SALES AT EVENTS AND MOST IMPORTANTLY... please keep in mind.
1. There will be very limited tickets for each event. You will have to purchase one or more tickets, in advance, in order to attend any event.
2. The earlier you purchase your tickets the better chance you have in actually buying them and saving money. Peace of mind comes into play once you purchase those tickets.
3. Plan your days in May by purchasing your event tickets in April.
4. SAVE $$ - THIS IS AN EASY ONE. Once we announce what amazing artisans, artists, makers, singers, food trucks, food makers and beverage makers are attending, then you can ask them for their event "Discount Promo Code" and they'll be happy to give it to you. Codes will come out on April 3, 2021!!!
These CODES will save you 20 to 40% off the Ticket Price.
5. So buy early, in April, and plan your May 22 and 23 at a Hops on the Hudson event. We believe this is event will sell out. And we know you'll have a great time.
6. We have an outlandish, Hops on the Hudson FREE Raffle and every attendee receives one free ticket for the raffle. Great prizes are given away. All prizes are donated by, MANY SMALL NY BUSINESSES and we, Hops on the Hudson, appreciate their support. The Raffle prize list will be posted in May, prior to the May 22 and 23rd event. The event will take place just south of Rte. 84 and on the Hudson.
SUPER YEAR - 2021, "ITS TIME TO RECONNECT!!!"
What an amazing year this is going to be!!
Hops on the Hudson is super excited to announce that this years events, will feature many amazing and talented people of passion from New York.
People of Passion love what they do and they love doing it every day. And we love what we do, everyday!!
Super Proud - All 2021 events will be a 100% New York, small business. Every business that attends our events is based out of New York state.
We consider our event an "Economic stimulus for New Yorkers"!!
Who are these "People of Passion"
a brewer,
a cider maker,
a jeweler,
a woodworker,
an artist,
a painter,
a potter,
a fiber artist,
a leatherworker,
a glass worker,
a coffer roaster,
a pickle chef,
a candle maker,
a milliner,
a baker,
a singer/songwriter,
a food truck chef,
an event organizer, a farmer, etc.
We thank the following brewers and cider makers, who either attended one of our two 2019 NY Craft beer and cider festivals, or was planning to attend in 2020. Thank you for what you do!!! We love NY Beer and Cider.
Abandoned Hard Cider - Alphabet City Brewing - Barnshed Brewing - Beer Tree Brew - Circa Brewing - Decadent Ales - Destination Unknown Beer Co - Duncan's Abbey - Dutchess Ales - Flagship Brewing- - Great Life Brewing - Gun Hill Brewing - Kills Boro Brewing - NapTime Brewing - Old Klaverack Brewery - Rip Van Winkle Brewery - Soul Brewing - Torch and Crown - Wolf and Warrior – Wild East Brewing
Some of our New York artisans who made sauces, pickles, dreamcatchers, candies, kettlecorn, and T shirts.
Big Guy's Hot Sauce, Corey's Pickles, Hudson Valley Kettlecorn, Lucas Candies, Tobacco Road Cigars, Hudson Craft Co., Rockswell Music Culture and much more.
And then there are always the FOOD TRUCKS... that we love!!!
Groundling Wood Fired Pizza - Road Grub Mobile - Bongo Fries
Brussel Sprouts Boys - Octavio Mobile Wagon
Our Music was going to be Amazing!!!
Girl Blue, The Amy Ryan Band, Ian Flanigan, Brewster Moonface, Kathleen Galgano, Mike Antonucci and his band.
More to come in the next weeks.
PS - If you subscribe at our website you will receive monthly updates and special notice of the Discount codes.
Thanks for visiting us and hope to see you in May, June, July, August, September, October, November and maybe December!!!
Can't wait. And keep an eye out for those tickets and the special Discount
Cheers,
The Hops on the Hudson Team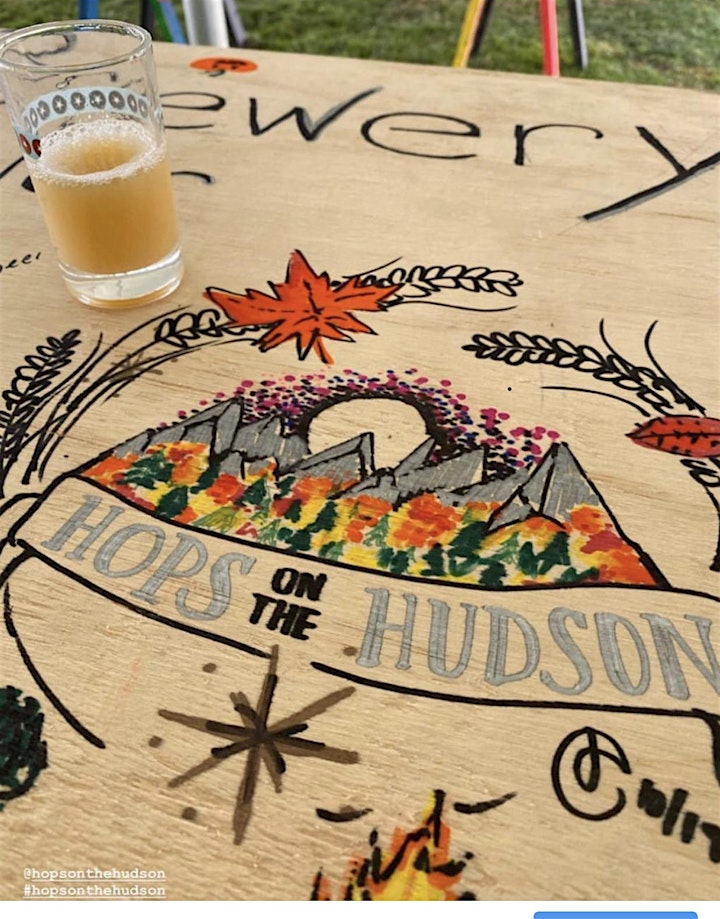 All events will be on, or overlooking the mighty Hudson River!!!
May 22 and 23, 2021 - all ny, Modern Makers Market at
June 26, 2021 - NY Craft Beer, Artisans, Food, Raffle, Market
June 27, 2021 - NY Hard Cider, Artisans, Food, Raffle, Market
Sept. 11, 2021 - NY Craft beer sampling event. (Hopefully)
Sept. 12, 2021 - NY Hard Cider sampling event. (Hopefully)
Oct/Nov/Dec - Stay tuned.