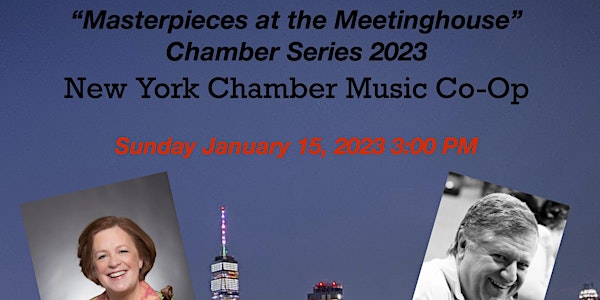 New York Chamber Music Co-Op ~ Masterpieces at the Meetinghouse 2023 Series
Friends of the South Harwich Meetinghouse are thrilled for the return of the New York Chamber Music Co-Op with a program for piano & strings
When and where
Location
South Harwich Meetinghouse 270 Chatham Road Harwich, MA 02645
About this event
The New York Chamber Music Co-Op returns to the South Harwich Meetinghouse. Join us for an unforgettable afternoon of music!
Friends of the South Harwich Meetinghouse are thrilled for the return of the New York Chamber Music Co-Op presenting "All in the Family," a program for strings and piano, featuring Lisa Tipton, violin ~ Sebu Sirinian, violin ~ Adria Benjamin, viola ~Tomoko Fujita, cello &, Luba Poliak, piano. This amazing ensemble will perform works by Fanny Mendelssohn, Felix Mendelssohn, Charlton Singleton, Clara Schumann, Robert Schuman, The Danish String Quartet and others. The Co-Op is committed to programs which celebrate the diversity of New York and the open borders of great music!
Join us on Sunday, January 15th at 3:00 pm! Come experience outstanding chamber music within our beautifully restored 1836 South Harwich Meetinghouse, proud recipient of the 2019 Massachusetts Historic Commission Preservation Award. The South Harwich Meetinghouse recreates the perfect setting for chamber music with historic lighting, unparalleled acoustics and candlelit ambience.
The South Harwich Meetinghouse is located at 270 Chatham Rd, Harwich, MA
For further information visit www.southharwichmeetinghouse.com or call (508) 364-5223. Follow us on facebook & eventbtrite.
MUSICIANS
ADRIA BENJAMIN grew up in Brooklyn and began viola studies through a program offered by the New York City public schools. She is currently a member of many of New York's outstanding orchestras, such as the American Symphony Orchestra, the New York Pops, Amici New York and Opera Orchestra of New York. She is also a member of the Stamford Symphony Orchestra, and performs annually at the OK Mozart Festival, where she is the Artistic Administrator, and the Bard Festival. She is also a member of the Amici New York String Quartet. Adria was a founding member of the highly acclaimed Eos Orchestra. Adria is a Professor of Professional Practice at Mannes College The New School for Music, where she conducts orchestras in the Preparatory and Extension Divisions, coaches chamber music in both Divisions, and teaches Mannes' wonderful Preparatory viola students. She also serves on the New School Faculty Senate and is the current Prep String Department Liaison. Adria has been heard on National Public Radio as a recitalist and has participated in numerous orchestra and chamber music recordings, documentaries, and commercial and film score recordings. She has performed as a viola soloist at the 92nd Street Y and performed at a White House National Medal of Arts ceremony. Adriarecently appeared as a soloist at Zankel Hall, with the critically acclaimed Voices of Ascension. She is a former member of the Jerusalem Symphony Orchestra and the Jerusalem String Ensemble. Adria is founding member of the New York Viola Society. She has been part of the planning and creative teams, and a performing artist, for many concerts benefiting a wide range of non-profit organizations. She is a frequent string clinician and competition judge in the New York area. Adria's teachers include Mary Jane Metcalfe, Francis Tursi, Karen Tuttle and Joey Corpus. While pursuing a master's degree at the Peabody Conservatory, she was the teaching assistant for Karen Tuttle, and was awarded the Peabody Prize for Outstanding Viola Performance. Her conducting studies were with Gustav Meier and Robert DeCormier.
LISA TIPTON, violinist and co-founder of the award-winning Meridian String Quartet, has toured internationally and held residencies at Queens College, Bard College, and the Turtle Bay Music School. She has won distinctions from the Evian International Competition, Artists International, and Chamber Music America. As a devoted interpreter of new music, Ms. Tipton established the "Made in America" series at Weill Recital Hall and performed on the "Interpretations" series at Merkin Concert Hall. She performs regularly with Amici New York, Stamford Symphony, Little Orchestra Society and the American Symphony Orchestra. She is a founding member of the NY Chamber Music Co-op. Ms. Tipton's recording of Ives' violin sonatas was released in 2006 on Capstone Records. She has performed as a soloist with the Cornell, Barbad, NY Chamber Orchestras, and The Bronx Symphony. Lisa has toured with the Manhattan Piano. She has been heard on WQXR, WNYC and recorded on LRC, Midder, Arizona and Capstone Records. Lisa is the Director of the NY Youth Symphony Chamber Music Program and on the faculty of School for Strings. She earned a B.A. from Cornell University, an M.A. from the Aaron Copland School of Music at Queens College and has studied with Daniel Phillips, Gerald Beal, Joyce Robbins, Ani Kavafian, Roman Totenberg and The Juilliard Quartet. Lisa is currently D.M.A. doctoral candidate at the CUNY Graduate Center.
Hailed as "first-rate" by The Boston Globe, cellist TOMOKO FUJITA enjoys an active musical life as soloist, chamber musician, and educator. She has recently performed on the Dame Myra Hess Series in Chicago and at the Nicholas Roerich Museum in New York City with pianist Luba Poliak, and has collaborated with esteemed artists such as Itzhak Perlman, members of the Cleveland, Emerson, and Juilliard String Quartets, dancer Wendy Whelan, and the Lar Lubovitch Dance Company. As a founding member and the cellist of the Bryant Park Quartet for ten years, she has presented numerous concerts and interactive outreach presentations, nationally and internationally, and released a CD album entitled "BPQ". Currently, she is a member of the New York Chamber Music Co-Op, a performance collaborative which seeks to explore issues of social justice in the context of classical music programming. Tomoko graduated summa cum laude from Rice University with a double degree: a Bachelor of Music in cello performance and a Bachelors of Arts in psychology. Having earned a Master of Music at The Juilliard School, she received a Doctorate of Musical Arts from Stony Brook University. In addition to being the Director of the Stony Brook University Pre-College, she is Adjunct Assistant Professor of Cello at Montclair State University and Hofstra University, and coaches at the New York Youth Symphony Chamber Music Program. In the summers, Tomoko is in residence at the Kinhaven Music School in Weston, VT. For more information, visit www.tomokofujita.com.
Pianist LUBA POLIAK made her professional debut at the age of eleven with the Novosibirsk Philharmonic Orchestra. Since then, she has appeared on four continents as a soloist, recitalist and chamber musician. Luba has performed recitals in prestigious venues and series including 92nd Street Y in New York, Jordan Hall in Boston, Dame Myra Hess Series in Chicago, Dudley Hall in Houston and the Embassy Series in Washington, D.C. Her performances have been broadcast worldwide, on stations including Chicago's WFMT, ABC Classical FM in Australia and Kol Hamusica, the national classical music station in Israel. As a chamber musician, Luba has performed with acclaimed musicians from the Metropolitan Orchestra, New York City Opera and A Far Cry. Festival appearances include Aspen Music Festival, Bowdoin Summer Music Festival, Long Island Chamber Music Society, Stony Brook Contemporary Chamber Players and the Houston Piano Institute. Luba began her studies at the age of six in Novosibirsk, Russia. After immigrating to Israel, she continued her studies and graduated magna cum laude from the Rubin Academy in Tel-Aviv under the tutelage of Michael Boguslavsky. After additional studies at the Conservatoire Royal de Bruxelles and the Verbier Academy, she received her Masters Degree with Honors from the New England Conservatory, where she studied with Patricia Zander and Gabriel Chodos. Luba then earned her Doctorate at Stony Brook University with Gilbert Kalish. In recent years, Luba served as a sabbatical replacement at the University of Houston, TX and at the Lawrence University, WI. She currently resides in New York City, where she teaches at 92nd Street Y and the Bard College Conservatory of Music.