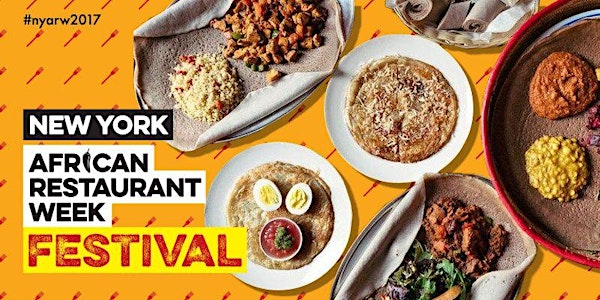 New York African Restaurant Week Festival
When and where
Location
Industry City 274 36th St Brooklyn, NY 11232
Description
COME ENJOY A TASTE OF AFRICA - Only a metro card required.
Sponsored by: Brussels Airlines
**If you missed online sales, tickets available for purchase at the door**
One lucky festival goer will win an all-expenses-paid luxury stay and safari for TWO to Ghana!
Free bottles of Nando's hot sauce and Bruce Cost Ginger Ale for every festival attendee
*VIP Package includes: exclusive VIP section with unlimited meal tastings from celebrity chefs and unlimited wine tastings, 24 tickets for tastings on Factory Floor, front row view to luxury fashion pop-up shop and gallery experience curated by ONYCHEK, goodie bags with Nando's hot sauce, Bruce Cost Ginger Ale, and Belle Bar beauty products*
The festival line-up:
+ Over 25 restaurants/food vendors representing cuisines from all of Africa - North, South, East and West
+ Local/International/celebrity/emerging chefs
+ Chef demos, and goodie bag giveaways
+ Live DJ performances, special music performance by Gabzy, and an Afrobeats day party
+ Over 30 participating exhibitors and vendors across fashion, beauty, art culture, including a pop-up shop and gallery walkthrough experience with luxury fashion from Africa curated by ONYCHEK


Join us on a culinary journey across Africa with 5,000+ foodies and festival goers, a "GastroAfrique Odyssey."
All this taking place at one of Brooklyn's most iconic venues looking over the Brooklyn waterfront – Industry City
Getting to Industry City: 1 stop from Atlantic Ave-Barclays, 3 stops from Union Square, 2 stops from Canal St
You could be the lucky winner of an all-expenses-paid luxury 3 day/2 night stay and safari trip to Ghana's Zaina Lodge and Mole National Park, courtesy of Immersion Journeys
---
(Last updated 09/05)
Food and Beverage highlights ("Central Station")
Madiba Restaurant, Queen of Sheba Restaurant, Buka Restaurant, Joloff Restaurant, Le Souk, Chef Selassie's Midunu Chocolates, Le Baobab Restaurant, Pepper Bush Cookshop, The Seasoned Pot, Paradis des Gouts - Authentic Tastes of Africa, Tokunbo's Kitchen, Kombit Bar & Restaurant, Delicious African Orchards, Chef/Author Nadge Fleurimond, Barbara Food Creations, Nafi's Condiments, CHUT UP Condiments, The Cold Bowl Shop, Chef Zi Southern African Cuisine, Nando's Peri Peri Sauce, Bruce Cost Ginger Ale, Chef Bongo courtyard cooking demo, Chef Serge courtyard cooking demo, Chef Imoteda cooking demo, Chef Shelley Chapman cooking demo, Chef Janiele Lewis cooking demo, and more!
VIP Area Tastings ("James Beard Chefs and Friends")
- Chef Selassie Atadika
- Chef Victor Bongo
- Chef Serge Pambo
- Chef Nadine Nelson
- Chef Charmain Sithappah
- Sacred Chef Bryan
Day Party in the Courtyards highlights ("The Afrobeats and Dancehall/Soca Experience")
- DJ Buka
- DJ Ob1
- DJ Wavos
- DJ Hard Hittin Harry
- and special live music performance by Gabzy!
Fashion, Beauty, Art, Culture highlights ("Market Ave")
- Pop-up shop and gallery walkthrough experience with luxury fashion from Africa curated by ONYCHEK
- Belle Bar, Byas & Leon, Ites International, Iron Maroon Boutique, Harlem's Heaven Hats, Shemanenyc, Blackfly, Nepus Crafts, Sanjules Unique Art Creations, Numadzi, SOMA Fashion, Victoria Craftz, Elan by Uri, Global Decors, flyshikis, Shangani Fashion, Empressive Finds, Hagereseb, Fa African Boutik, Olowou USA, Birthright AFRICA, Vai.Girl, ZOEQUOI, and more!


To learn more about our chefs, restaurants, and other 2017 experiences, visit NYARW.COM or email us at info@nyarw.com
**Support our 2017 beneficiaries - 10% of ticket sales to benefit City Harvest and Vocal New York**


---