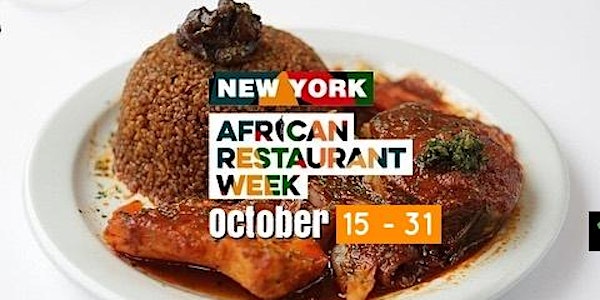 New York African Restaurant Week 2021
Celebrating the Best of African/Diaspora Cuisine and Culture
About this event
SEE LIST OF RESTAURANTS/CAFES/BARS HERE - VISIT ANY OF THE RESTAURANTS IN OUR LIST AND GET 20% OFF OUR AFRICAN RESTAURANT WEEK T SHIRTS.
New York African restaurant Week (NYARW) is an opportunity to come together to celebrate the food and culture of the African Diaspora and support the dozens of local businesses working within this beautiful space.
GET TICKETS HERE TO BE ELIGIBLE FOR DISCOUNTS AT PARTICIPATING RESTAURANTS
We partner with African, African-American, and Caribbean restaurants, caterers, and chefs through the course of the week to bring you the flavors from across the Diaspora. Our mission is to increase the awareness for both the cuisine and culinary professionals that support it.
This year, to deepen our support for local businesses, we are partnering with cafes, food trucks, bakeries, takeout spots, bars and eateries.
In celebration of our 9th anniversary, NYARW 2021 will be a landmark citywide urban festival featuring over 20 events and memorable gastronomical experiences brought to you by our cafes, food trucks, bakeries, takeout spots, bars and eatery partners, including
- A mega-food festival event on Saturday and Sunday October 9 and 10
- Cooking classes/parties
Not to mention the various experiences that showcase the intersection of food, art, culture, entrepreneurship, and social impact.
NYARW is a commitment to community development and social impact, and we're inviting all of NYC to be a part of that.
To learn more please email africanrestaurantweek@gmail.com