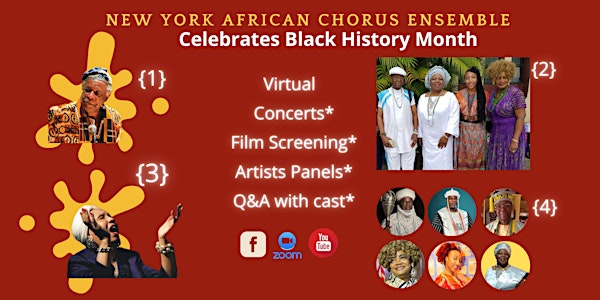 New York African Chorus Ensemble Celebrates Black History Month
New York African Chorus Ensemble celebrates Black History Month.
About this event
Dear Family and Friends:
The New York African Chorus Ensemble is proud to present the following free exciting programs, for your viewing pleasure, in celebration of Black History Month. 
Tuesday, February 9th 6:30PM EDT.
George Brandon is a composer, anthropologist, integrative sound and music practitioner and multidisciplinary cultural worker straddling the domains of art, science and spirituality. The Blue Unity Sextet, is drawn from members of the Blue Unity Orchestra and shares the same jazz-based but genre-defying orientation as the larger ensemble.
George Brandon's Blue Unity Sextet will take you on an intoxicating hour of music infused with many surprising elements from gospel, Yoruba chants, the blues, jazz standards, folk and world music, avant -grade jazz, experimental music or Afro pop.
_____________________________________
WE ARE THE ENDLESS ROAR MOVIE
Saturday, February 20th-27th
By popular demand, New York African Chorus Ensemble provides  free access to the movie, We Are The Endless Roar. The feature film showcases an immersive cultural, spiritual and business trip to Nigeria in 2018. The film helps to connect the dots between African American cultural practices and traditional African culture in danger of becoming extinct. Narratives by three Nigerian kings, namely; Ooni of Ife, Oba Adeyeye Enitan Ogunwusi; Emir of Argungu, Alhaji Sama' ila Mohammed Mera; Onikun of Ikun, Oba David Olusola Olatunde; President of ARSADIC, Chief Dr. Ifagbenusola Atanda, two African American travelers (Tami Tyree and Maleeka Harris), in addition to Executive Producer, Joyce Adewumi, provide context to the various places visited. You will laugh, cry and be inspired by the adventures of the travelers.
__________________________________________________
Emme Kemp, Harlem Based Musical Icon 
Tuesday, February 23rd 6:30PM EDT
Emme Kemp is All Music! From Chicago born prodigy, to three years military woman, to Broadway composer, performer "Bubbling Brown Sugar." Ms. Kemp recorded with Ragtime piano master Eubie Blake after coaching with the eminent pianist Egon Petri.
Join Ms. Emme Kemp, a Harlem musical icon, as she plays jazz and blues standards accompanied by narratives of her true life experiences with famous jazz musicians.
___________________________________________________
The Space makes it debut with Ms. Emme Kemp
Friday, February 26th 7PM EDT
The Space makes it debut with Ms. Emme Kemp (pianist & composer) on Zoom, as she discusses her music, challenges, projects and needs during this pandemic. Submit your questions after you register.
Virtual Event: Zoom
________________________________________________
A Historic discussion with Nigerian Traditional Kings and the cast of We Are The Endless Roar Movie
Saturday, February 27th 4PM EDT; 10PM (Nigerian time) 
Join us for a historic gathering at The Space on February 27th at 4PM EDT; 10PM (Nigerian time)  as we host Nigerian Traditional Kings and and other cast members of  We Are The Endless Roar. 
 Argungu International Fishing Festival, Ero Festival, investment opportunities, spirituality, culture and tourism are some of the topics  we will cover. Submit your questions after you register.
On Zoom, Facebook and Youtube @TheSpace
_____________________________________________________
This program is supported, in part, by public funds from the New York City Department of Cultural Affairs in partnership with the City Council. Additional support provided by Fund for the City of New York, Howard Gilman Foundation, New York Community Trust and The Mosaic Network. WQXR-FM is our media partner. Listen to WQXR, New York City's only classical music radio station live now at 105.9 FM and wqxr.org, and sign up for the WQXR e-newsletter for weekly highlights, links to web streams, on-demand concerts, videos, events from The Greene Space and more.