Description
The Craftsman in Brickell offers drinking, dining and a live stand up comedy presentation on Sunday Dec. 30th 8PM. We are excited to create this show where you can celebrate early the night before NYE.
---
Please purchase your tickets in advance! This venue is perfect for an intimate comedy club feel, however, there is a limited seating of just 60 per show!
Here is a great opportunity to make a very special long weekend with a hilarious performance of stand up comedy, and the environment of a premium cocktail bar and restaurant.
Join us SUNDAY, December 30th at The Craftsman 8pm!
Full Bar available: beers, wine and specially crafted cocktails (cocktail menu here: http://thecraftsmanmiami.com/drinks-menu/)
Full Menu available featuring specialty sandwiches, vegetarian dishes, share plates and charcuterie (dining menu here: http://thecraftsmanmiami.com/food-menu/)
No need to wait in line! You can beat the crowds and celebrate this special weekend with us conveniently!
Intimate lighting and performance space
Unique event for a special night in Miami
Professional, talented and accredited headliner comedian
Tickets online $25, $30 at the door.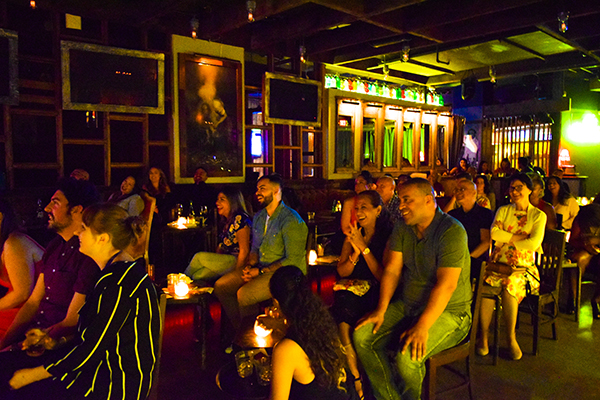 What you get
General Admissions: Provides entry to the bar during showtime the special comedy performance, dedicated seating included with every ticket purchase.
VIP Seating: If you are looking to make it a VERY special night out. Bring in your date a lot closer! We offer VIP couched seating on the left side of the stage. Great for bottle services and hookah too!
About the Venue: The venue has it's own stage, seating, and a cozy environment to make it an unforgettable night of laughter. The lighting is dim, the decor and theme of the bar is a combination of intimate golden lighting, an aesthetic vintage appeal with an assortment of seating and with a large bar specializing in cocktails. The food ranges from appetizers, share plates, and main course entrees specializing in italian cuisine.
About Kevin Shea: Kevin Shea is a nationally touring, professional and accredited comedian that has made various television appearances such as HBO, NBC, Jimmy Kimmel, and Comedy Central. Known for his hilarious and original perspectives on life, Kevin is a staple performer of the Los Angeles Comedy Scene, and has toured with Ken Jeong (the Hangover). I was able to make this show possible through a mutual comedian friend that connected us to make this one time only event possible! Here is you chance to see this expert comedian making his debut in Miami!
Bio
First off, lets start by acknowledging that Kevin Shea is pretty damn interesting. If he wasn't, he'd be an accountant or anything else besides a comedian and he wouldn't have to be to writing this self indulgent bio written in 3rd person. So here we go.
He started back in 2001 in San Francisco and it was an interesting journey to get to this point.
Born in South Korea,
Then bought (yes bought, not brought) into America,
Graduated College,
Moved to San Francisco from Pennsylvania,
Hired for a job at Alta Vista,
Got laid off,
Started Stand Up Comedy….
Since then, Kevin's done:​
TELEVISION
– ABC's Dr. Ken
– The Arsenio Hall Show
– HBO's Down n Dirty with Jim Norton
– Tosh.O
– Jimmy Kimmel (twice)
-Comedy Central's Premium Blend
– Asia Street Comedy, Imaginasian TV
– Kims of Comedy (Netflix and DVD)
– NBC Stand Up for Diversity Winner
FESTIVALS AND NEW MEDIA
– Montreal Comedy Festival
– HBO Las Vegas Comedy Festival
​- Living the Dream Online Series (Guest Star)
Video of Kevin Shea performing on Jimmy Kimmel: https://vimeo.com/23956944
Video of Kevine Shea performing on HBO's Down and Dirty: https://youtu.be/gX4bhl-vHBE
See all the fun we're having on this show! Photos available here: https://miamicomedy.com/tag/the-craftsman+media/
Questions? Get them answered here:
Email: manny@miamicomedy.com
Phone / SMS / Text: 305-498-7739
Chat: miamicomedy.com