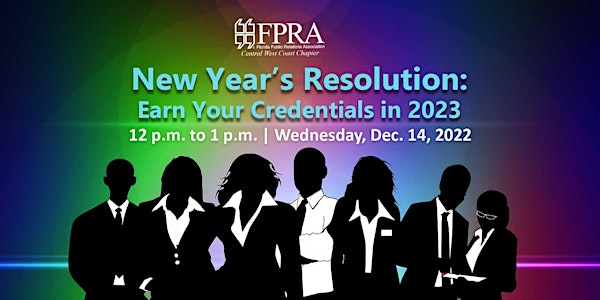 New Year's Resolutions: Earn Your Credentials in 2023
Thinking about your professional goals as the year comes to an end? Consider earning your credentials in 2023!
About this event
Consider setting a new year's resolution in 2023 to help enhance your professional knowledge and career status. Earn your credentials and be part of the elite few to become accredited and/or certified in public relations.
The Central West Coast Chapter of the Florida Public Relations Association will host a free webinar, "New Year's Resolution: Earn Your Public Relations Credentials in 2023," from noon to 1 p.m. on Wednesday, December 14, 2022 on Zoom. Learn the steps to earn either an Accreditation in Public Relations (APR) credential or a Certified Public Relations Counselor (CPRC) credential (or both).
Led by our chapter's Credentialing Team, Erin Hoffer, APR, CPRC and Laura Ansel, APR, the session will detail the process to earn both credentials. They will provide important insights and key takeaways for success.
The webinar is free for all Florida Public Relations Association members and non-members. Participants must have a Zoom login (free) to be able to participate in the webinar.
Here is the Zoom link to join at the time of the event: https://us02web.zoom.us/j/87839388755
For more information, email accreditation@cwcfpra.com.