Actions and Detail Panel
New Year's Meditation Retreat with Anam Thubten
Sat, Jan 7, 2017, 10:00 AM – Sun, Jan 8, 2017, 5:00 PM PST
Description
New Year's Meditation Retreat - A Weekend Retreat with Anam Thubten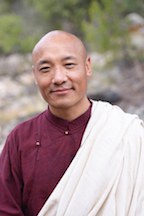 The true joy of being a human comes when we know how to live life fully. The secret to this joy is not through external activities, but through embracing each moment no matter what situation we are facing. Life is a whole in which each and every moment is an equally essential element. Because of this, loving our own life requires loving the present moment. This retreat is an opportunity to practice opening our heart to the present moment.
Dharmata Foundation is happy to invite you to participate in this auspicious beginning to the New Year. The retreat will be held on Saturday and Sunday, Jan. 7 & 8, 2017, from 10am - 5pm each day, with an ample break for lunch. (Lunch is not provided; there are numerous restaurants in the area.)
Costs
Registration for the two-day retreat is $150. Pre-registration is required; Click the box in the upper right of this page. Payment can be made by credit card or check.
No one will be turned away for lack of funds. If you need financial assistance in order to attend, please contact nan.parks@yahoo.com before registering.
The retreat fee pays for the rental of the facilty. Dana (a monetary gift) may be offered to the teacher at the retreat.
About the Location
In order to accommodate all those who wish to attend, the retreat will be held at the Odd Fellows Hall in Berkeley. This historic and spacious hall has a long history of hosting well-known teachers such as the Sixteenth Karmapa, Tai Situ, Chogyam Trungpa, and Dilgo Khyentse. The hall has not been open to public events for the past five years; we are honored that Anam Thubten will be teaching there this year, re-opening the space for meditation events.

Please plan to use public transportation such as BART if possible, as parking in downtown Berkeley can be very difficult on weekends.
General Questions: Contact the retreat coordinator Laura: retreats@sonic.net
Assistance with Online Registration: Bing@pacbell.net
Financial Assistance: nan.parks@yahoo.com