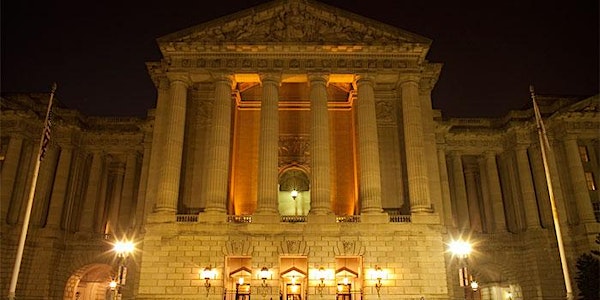 New Year's Gala at The Andrew Mellon Auditorium DC | NYE 2021-2022
6th Annual NYE Gala at The Prestigious Andrew Mellon Auditorium DC | NYE Black Tie Event in Washington DC for New Years Eve 2021-2022 |
When and where
Location
Andrew W Mellon Auditorium 1301 Constitution Avenue Northwest Washington, DC 20240
About this event
Andrew Mellon Auditorium New Year's Eve Gala DC
Please join us, as the countdown has officially begun for the most sought-after New Year's Eve tickets in the capital. The District of Columbia's best and brightest gather at the Andrew W. Mellon Auditorium on Constitution Ave to support local philanthropy and enjoy a night of elegant entertainment.
The NYE Gala at Andrew Mellon Auditorium DC– DC's premier Black Tie gala – features DC's most luxurious venue, Top-shelf open bar, Free flowing champagne, Magnificent ballrooms, 3 separate party spaces, Multiples DJs & genres of music, Passed Hor d'oeuvre, More Bars, Stations, and Servers than ever before to ensure an unforgettable night of celebration.
TICKET INFO: Your Ticket Includes ~
5 Hour Top Shelf Open Bar
Multiple Bar Stations
Multiple passed Hor d'oeuvre Stations ( 9pm-10pm)
Multiple Halls
Main Great Hall with Celebrity DJ
Green Hall with Special DJ (* All Access Ticket Holders Only*)
Monument View Terrace Room with Special 80's 90's music DJ (* All Access Ticket Holders Only*)
Celebrity MC
Champagne Open Bar
Midnight Toast
Live Feed of Times Square
Midnight Countdown & Toast
Enhanced Audio / Visual Experience
Memory Maker Photo Booth & Stations
Professional Photographer & Videographers
Complimentary Party Favors
Please Note: Ticket prices will increase once the Allocated number of Early Bird tickets are sold out! Therefore We highly recommend purchasing your tickets as soon as possible.
The Venue:
Flanked on one side by the White House and on the other by the Capitol, the Mellon Auditorium on Constitution Avenue is a dazzling embodiment of style, elegance, sophistication and exclusivity. Granite stairs rise to three arched stone entrances standing 20-feet tall with gates of gilded and burnished bronze. Colossal fluted Roman columns rise 62 feet above the ground to create an Emperor's portico. An entrance embellished with sculptures and carved figurines awaits all guests.
The grandeur of the Mellon's exterior is matched only by its magnificent interior. Limestone walls, marble floors, grand staircases, all come together to create the most breathtaking venue in the Nation's capital.
With 12 colossal columns rising 100 feet above, four magnificent Ballrooms trimmed in pure gold, and colossal chandeliers, the Mellon Auditorium is one of Washington's most spectacular structures.
The Music:
The 8,000 square foot Great Hall features on of local Washington's crowd favorite DJ's, as the music curator for the night.
You are invited to witness something truly extraordinary. The biggest DJs, on the biggest stage, at the Biggest New Year's Party in Washington D.C.
The Result:
A night of memories…. Think of all of the other venues where you could be on New Years, you've been there, you've done that. You'll do them again. Mellon Auditorium at Constitution Avenue will only come around once a year.
VIP Tables Service: ( Limited Numbers of Tables are Now Available )
Bottle Service VIP Tables are available for the Mellon Gala. All VIP Tables enjoy premium open bar all night long, VIP reserved seating, all access and express VIP entry. VIP Tables can be purchased in the Main Hall where DJ will be spinning or the Green Hall with Special Guest DJ.
For More Info please Email: mellongala@gmail.com
-----------------------------------------------------
*Mellon Gala Discount Promo Code NYE 2022:
Mellon Gala offers Military Discounts off the entire All Access Ticket purchases for Active Duty, Reservists, Retirees, and Veterans as well as a Healthcare workers, first responder discount for active Police, Fire, and EMT customers.
To Receive your Discount Code please email us at: mellongala@gmail.com
*For Group Discount Rate:
Please email mellongala@gmail.com & mention the total number of guests in your group.
-----------------------------------------------------
FAQs
(Q) Where is The NYE Gala at Andrew Mellon Auditorium DC?
(A) 1301 Constitution Avenue, NW, Washington DC 2004
(Q) Are there age restrictions?
(A) Must be 21+ Years of Age or Older with Valid ID
(Q) Do I need to print my ticket?
(A) You can either print your ticket or provide your e-ticket.
(Q) How long is the Open Bar?
(A) Open Bar continues all Night
(Q) How many bars will there be?
(A) There are 4-5 large bars at the Mellon Gala.
(Q) Are the ticket prices going to change?
(A) YES, the current pricing is an early/advanced ticket promotion, prices increase in demands with different phases.
(Q) What is the dress code?
(A) The dress code is Black Tie attire; so suits or tux's for men and cocktail dresses for ladies. The Mellon Management has explicitly reserved the right to deny entry for attire or presentation.
(Q) Will there be a Coat Check ?
(A) YES, there will be Coat Check Available with additional fee. ( $10 Cash )
(Q) What type of music will be played?
(A) Guests can expect to hear a range of music from Hip Hop to Top 40, to Old School to EDM and Latin depending on which room they are in.
(Q) Is Bottle Service available?
(A) Yes, email us at mellongala@gmail.com or purchase your table online.
(Q) How is the parking?
(A) Street parking available but Ride Share Service highly recommended on a New Year's Eve in DC.
(Q) Is there Public Transportation/Metro?
(A) The Mellon is a few blocks from Metro Center.
---------------------------------------------------
ALL TICKET SALES ARE FINAL. IF THE EVENT IS CANCELLED OR RESTRICTED, DUE TO COVID-19, TICKET PURCHASES WILL BE APPLIED TO THE NEXT SUBSEQUENT NEW YEAR'S EVE GALA. PLEASE BE AWARE THAT CAPITOL PROFESSIONALS AND ANDREW MELLON AUDITORIUM ARE SUBJECT TO ALL LOCAL AND FEDERAL HEALTH REGULATIONS REGARDING PUBLIC GATHERINGS. WHILE WE DO NOT ANTICIPATE ANY RESTRICTIONS TO APPLY THAT WILL LEAD TO A CANCELLATION OR CAPACITY RESTRICTION FOR THE EVENT, THERE IS ALWAYS A CHANCE THAT WILL HAPPEN. IF THIS OCCURS, YOUR TICKET FOR NYE 2022 WILL BE APPLIED TO OUR NEXT NYE. OUR RESERVATION AND VENDOR FEES ARE NON-REFUNDABLE THEREFORE WE WILL NOT BE ABLE TO OFFER REFUNDS FOR CANCELLATION OR CAPACITY RESTRICTIONS.
ALL TICKET SALES ARE FINAL. BY PURCHASING THE TICKET IT IS UNDERSTOOD THAT THERE ARE ABSOLUTELY NO REFUNDS EVEN IF THE EVENT IS CANCELLED OR CAPACITY RESTRICTED. 
TICKET PROCESSING FEES AND PAYMENTS MADE TO VENDORS AND PERFORMERS FOR THE GALA ARE NONREFUNDABLE. THEREFORE BY PURCHASING THE TICKET, YOU ACKNOWLEDGE THAT THE HOSTS ARE UNABLE TO OFFER REFUNDS FOR NON-ATTENDANCE FOR ANY REASON, OR CANCELLATION/RESTRICTIONS DUE TO GOVERNMENTAL SHUTDOWN, RESTRICTIONS, OR OTHER CONDITIONS BEYOND OUR CONTROL.
BY ATTENDING THE EVENT, YOU AGREE TO FOLLOW THE DC COVID GUIDELINES IN EFFECT AT THE TIME OF THE EVENT: WWW.CORONAVIRUS.DC.GOV/ AND WARRANT AND REPRESENT THAT NEITHER YOU NOR YOUR GUESTS ARE EXPERIENCING ANY COVID SYMPTOMS. IF YOU OR YOUR GUESTS DEVELOP POTENTIAL COVID SYMPTOMS PRIOR TO THE EVENT, YOU MAY REQUEST THAT YOUR TICKETS BE TRANSFERRED TO THE FUTURE NEW YEAR'S EVE GALA OR ANOTHER FUTURE EVENT. YOU ALSO AGREE TO ABSOLVE THE HOSTS AND HOST VENUE OF ANY LIABILITY RELATED TO COVID-19.
THE HOSTS HIGHLY ENCOURAGE ALL GUESTS TO BE FULLY VACCINATED AND TAKE THE BOOSTER SHOT WHERE AVAILABLE. WE WILL BE FOLLOWING ALL CURRENT CDC PROTOCOLS AND THE NEW DC MASK MANDATE FOR THE EVENT. THIS GALA IS EXPECTED TO ADHERE TO CDC GUIDELINES, INCLUDING SOCIAL DISTANCING AND, IF NECESSARY, MASKS. YOU WILL BE REQUIRED TO WEAR A FACE MASK TO ENTER THE VENUE AND WHEN IN-LINE FOR BEVERAGES/FOOD/BATHROOM, ETC.
----------------------------------------------------------
PLEASE NOTE: This Gala is expected to adhere to CDC guidelines, including social distancing and, if necessary, masks. Therefore NYE Gala at Andrew Mellon DC will be following all Washington DC Covid Mandates and regulations at all times. For more Information please click here: https://coronavirus.dc.gov/healthguidance