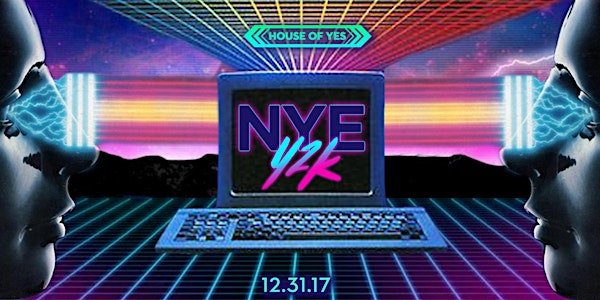 New Year's Eve: Y2K
When and where
Location
House of Yes 2 Wyckoff Avenue Brooklyn, NY 11237
Description
Come back to the future and party like it's 1999! This is a night of throwback magic, nostalgia overload and futuristic chaos for the Millennium Midnight countdown of the century!

It's the end of the world as we know it. Let's Dance.
Dress for the Past, Dress for the Future!
** 90's Styles or Futuristic Looks required for entry **
Future Looks: https://pin.it/WY0mzzn
Throwback Styles: https://pin.it/d73V8yK
::: MUSIC :::
Moon Boots
Sander Kleinenberg
+ House Of Yes Residents
David Kiss
Fabi Jugo
Lauren Flax
Mira Fahrenheit
NSR
playsuit
Ryan Clover
DJ WHITNEY FIERCE
Zephyr Ann
::: Featuring :::
Aerobixxx
The Fucking Millennium!
Cyber Future Beauty Parlor
The Internet!
Pizza!
Neon Animal Prints
Cyber Sexy Glam Tech
TRL
Fortune Tellers from the Future
Robots!
Nickelodeon & Dinosaurs
Gushers and fruit roll ups!
Capri Sun & Delia's Catalogs!
21+ | No Re-Entry

Ticket scalping is PROHIBITED. Using third-party ticket selling websites is PROHIBITED.
The name & email on your ticket must match your name & email, or you must arrive with the person who bought your ticket. If you wish to sell your ticket, please use Eventbrite's Official Ticket Transfer System.
---
Behave with beauty, connect with intention.
We are obsessed with CONSENT.
Always ASK before touching anyone in our House.
Anyone who cannot follow this simple rule
will be escorted to the sidewalk.
::::::: Community and Accessibility :::::::
This is a space for everyone to feel welcome and loved. Racism, sexism, ableism, ageism, homophobia, transphobia, xenophobia will not be tolerated at our House. All entrances and spaces within the venue are single-level and handicap accessible. There are stairs leading to the upper portions of the stage, for those who wish to dance in the spotlight. Gender neutral bathrooms are easily located throughout the venue.