Description
TICKETS AVAILABLE AT THE DOOR!
TICKETS AVAILABLE AT THE DOOR!
TICKETS AVAILABLE AT THE DOOR!
TICKETS AVAILABLE AT THE DOOR!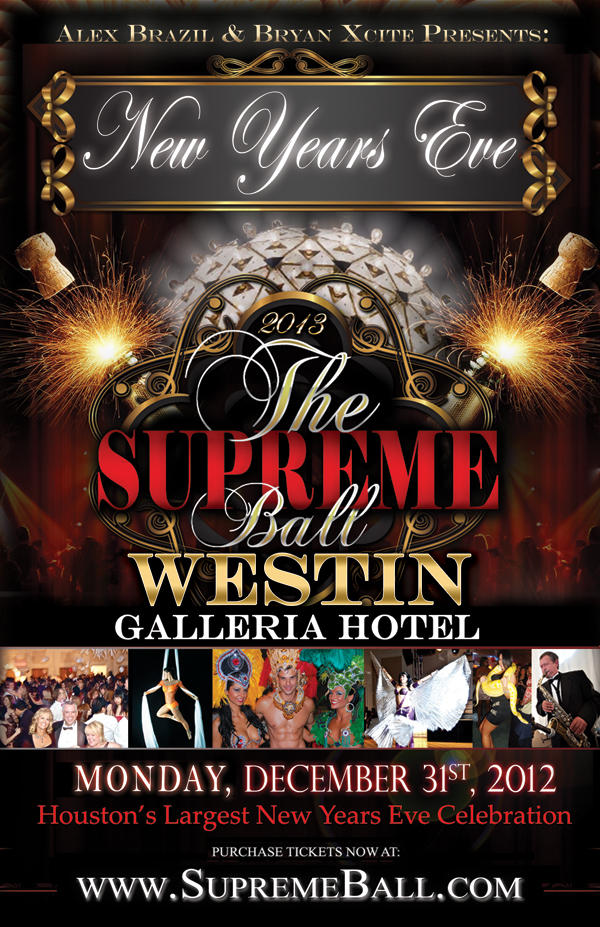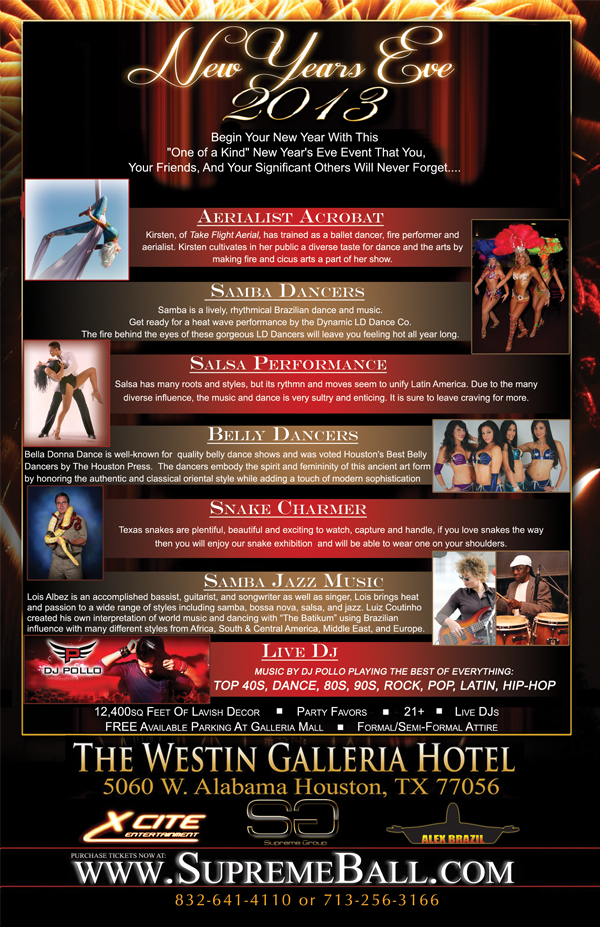 This is planned to be an exquisite affair that cannot be missed.
Give farewell to 2012 and welcome 2013
LOCATION: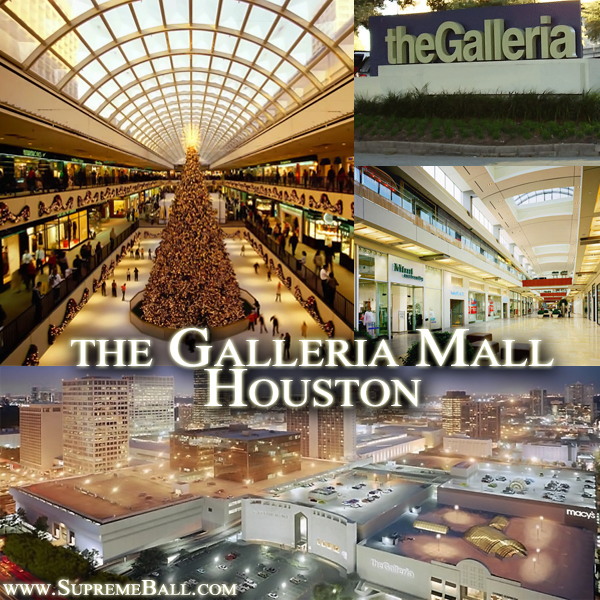 NEW YEARS EVE AT THE

GALLERIA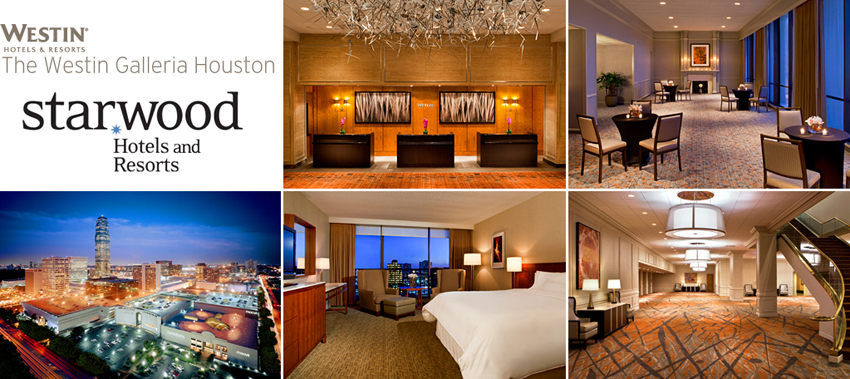 HOUSTON'S LARGEST NEW YEARS BALL CELEBRATION
AERIALIST ON SILKS
SNAKE ENTHUSIAST
CIRCUS STYLE ACTS
LIVE ENTERTAINMENT
SAMBA DANCERS SHOW
SALSA PERFORMANCE
HOTTEST DJ IN TOWN
12,400 SQ FT WITH LAVISH DECOR
COMPLIMENTARY PARTY FAVORS
COMPLIMENTARY CHAMPAGNE TOAST
SOUND SYSTEM & LIGHTS PROVIDED BY AURA SYSTEM
BIG SCREEN WITH LIVE FEED FROM NEW YORK CITY
FREE PARKING AVAILABLE AT GALLERIA MALL
PICTURES BY HOUSTON MUSIC SCENE
COSTUMED DANCERS
EVENT INFORMATION:
> Date: Saturday, December 31st, 2011
> Venue: The Westin Hotel, Galleria Mall
> Address: 5060 West Alabama, Houston, TX 77056
> Time: 8:00pm to 2:00am
> Dress Code / Age: Formal Attire Preffered / 21 UP ONLY (No Exceptions)
MUSIC: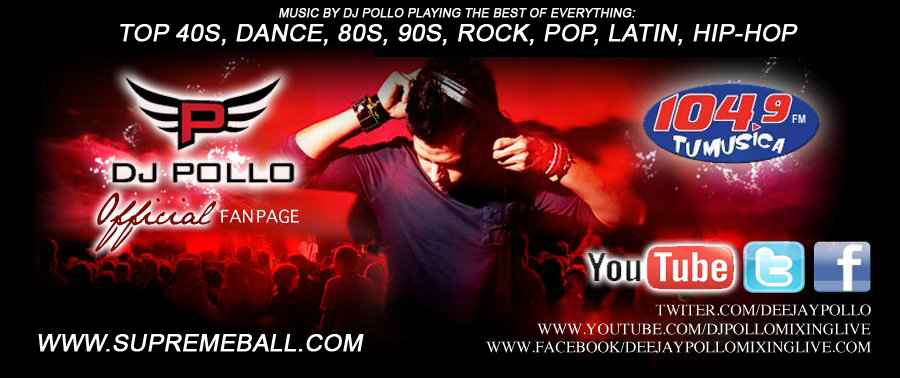 R E M E M B E R L A S T Y E A R ...
(2012 NYE Supreme Ball at Westin Galleria Mall)
PICTURES FROM 2011 SUPREME BALL
(SOLD OUT EVENT)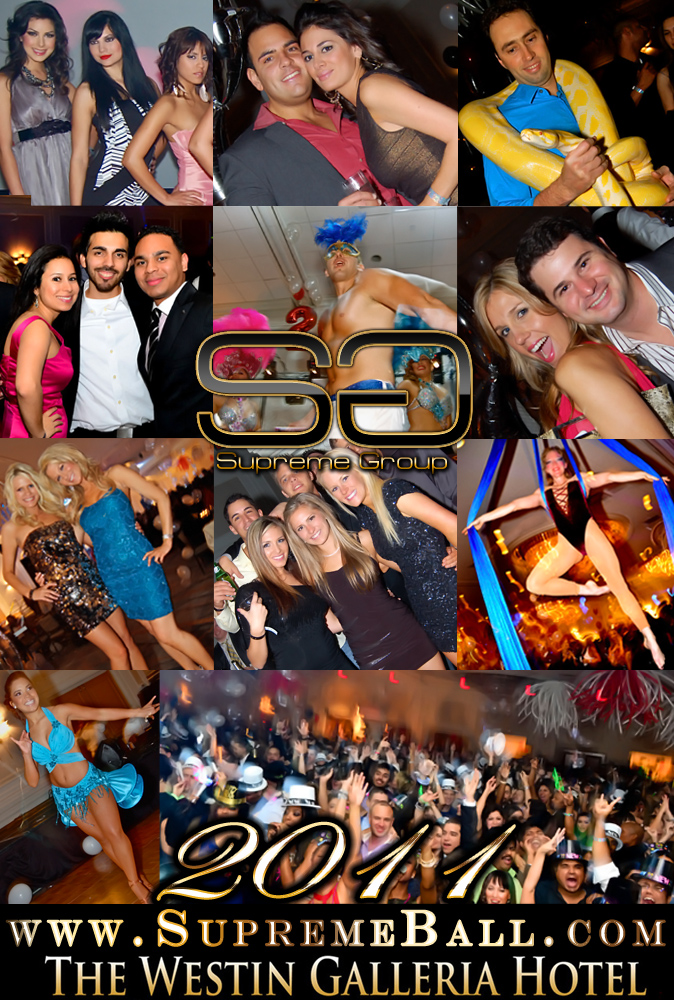 PRESENTED BY: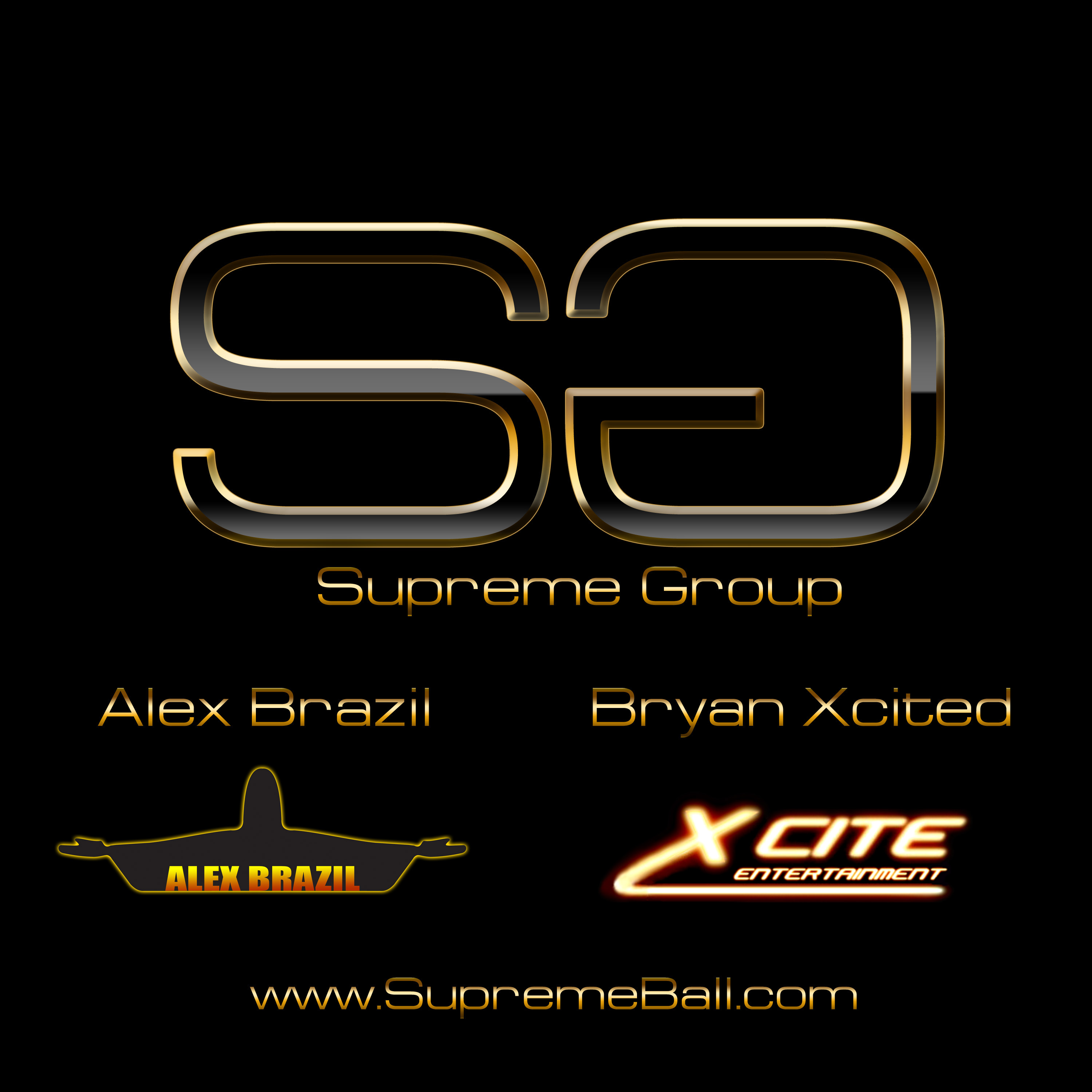 *All Sales are Final NO REFUNDS*
Organizer of New Years Eve Supreme Ball 2013
Alex Brazil (713) 256-3166
Bryan Xcite (832) 641-4110
Elite Marketing & Promotion resource that, for over nine years, have been creating unique events in Houston area. We pride ourselves in giving heightened anticipation and successful outcome with every function that we produce, promote and that we are associated with.
Some of our major events include Brazilian Carnaval, Concerts, World Cup, Fashion Show, Halloween and New Years Eve Ball.