New Years Eve LUX at The TRUMP Casino Royale with 2 DJs and Live Entertainm...
Description
(Mahalo Edgar Hawkins for this video. Music track from DJ Bikini's Sound Cloud!
Foods, Drinks, Entertainment, Etc. not exactly as shown in video. Please read below.)
Inclusive* of:
Every Inclusive* Ticket Includes:
Two (2) Drinks Chosen from Ultra-VIP Menu of
Bubbly, Wines & Preium Beer
and
Two (2) Pupu Plates Chosen from Ultra-VIP Menu of
Assorted Sushi Rolls with Traditional Condiments,
White Shrimp Tostada with Sour cream & House Made Salsa or
Spinach Pancetta & Goat Cheese Stuffed Chicken Breast on a Bed of Vegetable Pilaf.
and
Tax and Gratuity on All Included Items.
and
$10,000.00 in Casino Royale LUX BUX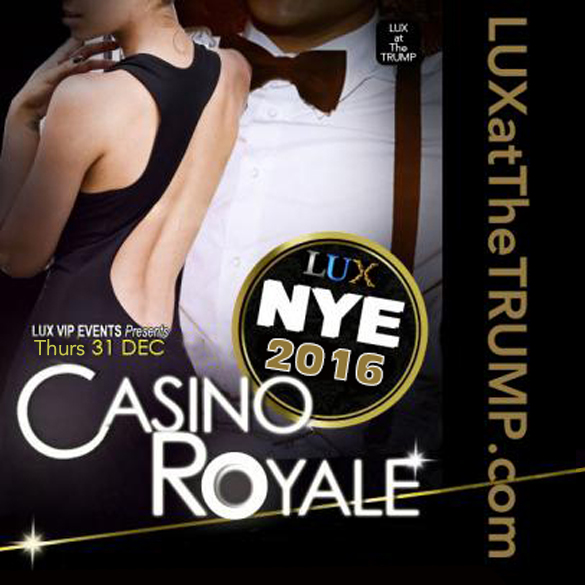 Let's all ring in 2016 as a year to be happy, healthy and wealthy at LUX at The TRUMP.
New Years Eve
LUX at the Trump
Casino Royale by Belvedere and Moët & Chandon

21+ Black Tie and Gown or Party Dress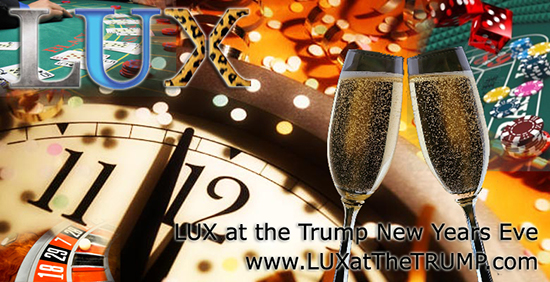 featuring
DJ Bikini on the Infinity Pool Deck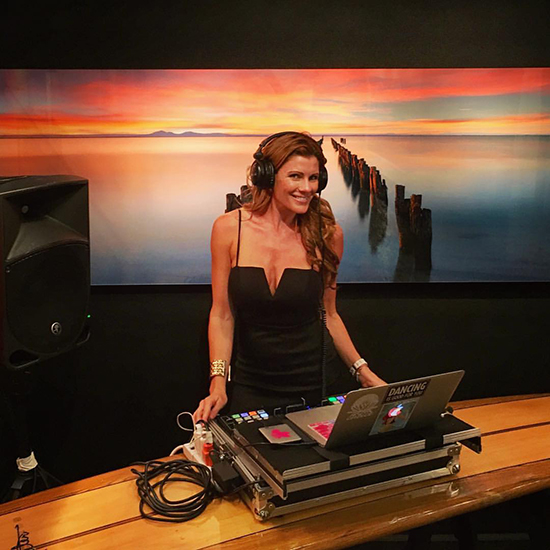 and
DJ Misc in the In-Yo Casino Area
Midnight Official Countdown
and Live Entertainment
from Mr. Entertainer Himself
Mr. Al Waterson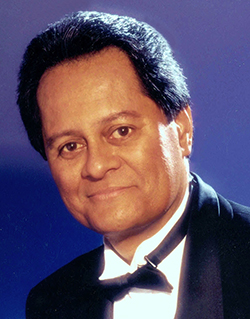 and presenting
"LUX Casino Royale with Full Casino and each of you receives $10,000.00 in LUX BUX"
(Dress Code: Black-Tie and Gown or Party Dress. Dress to Impress. NO DENIM)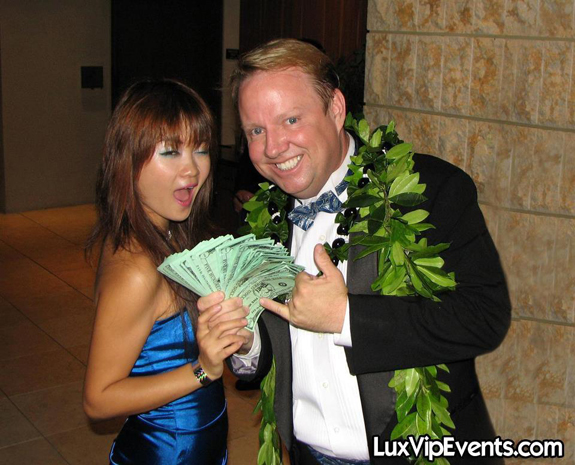 Dress code/Bring ID: Black Tie Optional: Ideally a tuxedo, or if must, a suit and tie with the minimum for Gents as a Collared Dress Shirt, Dress Slacks and Dress Shoes (highly recommend tie and jacket) Absolutely No Denim in the Venue. Trump Security has the last say on anyone's entrance. PLEASE BRING YOUR ID! Even if you feel you look over 21+, the security will be checking everyone's government issued ID.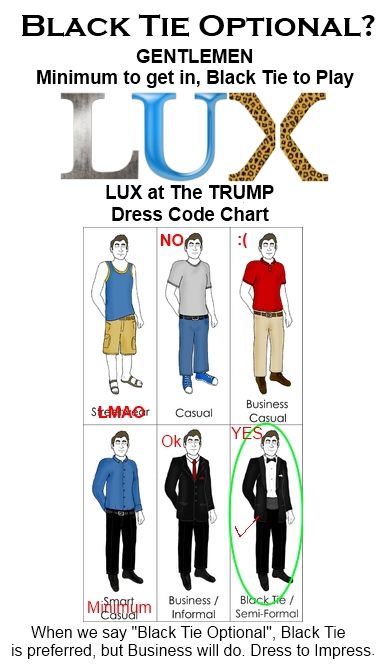 Everyone's safety is our number one (#1) priority, please read all of this page for all the information to be sure you have a wonderful evening tonight. Love you All!!!
New Years Eve Honolulu LUX at The TRUMP
Casino Royale by Belvedere & Moët & Chandon with each person's including two drink choices from Bubbly, Wine and Beer Menu and two selections from the Fine
Cuisine Pupu Menu all with
Entertainmen from DJ Bikini and DJ Misc
Thursday, December 31st, 2015 from 8:30pm to 12:30am
Valet Parking and Black Car Service are also available: Guests May Valet Their Cars in Trump International Hotel and Tower's Porte Cochere with ticket available herein. Alternatively, each guest may also download UBER Black Car Service Application on their smart phone and use our Promo Code ZNUFS for a FREE ride for up to $20.00 to and or from the event. This is one of UBER's busiest evenings so you may want to schedule accordingly.
Inclusive Drink and Food selections are available from 8:30PM to 11:30PM
To

accommodate

those with particular tastes, t

here will be a no-host bar for those who have unique preferences that somehow are not already included in the inclusive beverages.
Aloha Our VIP Guests:
To create an
exclusive
, elegant, luxurious and extremely comfortable atmosphere, this year, ONLY 400 individual tickets will be available, no exceptions. Please do not hesitate and purchase your tickets now. Once we are sold out, as I have for every New Years Eve event I've hosted since 1985, there will not be any additional tickets available. Thank you for understanding, and we are sorry for any inconvenience you may experience once we are sold out. Mahalo, Paul Klink, Your Host and CVO (Chief Volunteer Officer) Celebrating the 31st New Years Eve event in Hawaii.
OUR LUX GUEST'S SAFETY IS OUR NUMBER ONE PRIORITY.
PLEASE READ:
Purchase and or use of this ticket signifies agreement to the following:
ALL SALES ARE FINAL + NO REFUNDS OR EXCHANGES + RAIN OR SHINE + AS IS + WHERE IS
1) This ticket cannot be replaced if it is lost, stolen or destroyed, and is valid only for the event for which it is issued.
2) This ticket is not transferrable or redeemable for cash.
3) Reproduction of this ticket is not permitted.
4) Unless indicated otherwise, price includes all applicable sale and use taxes and/or cash discounts (if available).
5) This ticket is a revocable license and admission may be refused upon refunding the face amount of the ticket.
6) Unauthorized or unlawful resale or attempted resale is grounds for seizure and cancellation without compensation.
7) Management reserves the right, without the refund of any portion of the ticket purchase price, to refuse admission or to eject any person who fails to comply with the rules of the venue and applicable laws.
8) No refunds/exchanges. Individuals who are unreasonably disruptive, boisterous or inebriated ay be asked to leave without consideration for table/ticket acquired.
9) Ticket user assumes all risks of personal injury incidental to the event, whether occurring prior to, during, or subsequent to the event. Ticket purchaser bears all risks of inclement weather.
10) This ticket may not be used for advertising, promotion (including contests and sweepstakes) or other trade purposes without the express written and signed consent of Paul Klink.
11) Ticket user consents to use of this/her image or likeness incidental to any video display, transmission or recording of the event by venue, artist or promoter.
12) Schedule of entertainment is as planned and not guaranteed. No guarantee of any entertainment is made only planned and hoped. Your fee is only for entry to the venue to socialize and enjoy the event as it happens in any form.
13) The use of cameras, video or audio recording equipment is prohibited unless otherwise indicated by the venue, artist or promoter of the event. PLEASE EMAIL Paul@PaulKlink.com FOR MEDIA CREDENTIALS, PASS AND AGREEMENT FOR USE AND ASSURANCE THAT ALL THE HIGH-RESOLUTION IMAGES WILL SENT TO HOST WITHOUT LIMITATION OF USE, WITHIN ONE WEEK FOR MARKETING USE WITH FULL RELEASE. WATERMARK RECOMMENDED.
14) WARNING-EXCESSIVE EXPOSURE TO LOUD MUSIC MAY BE DAMAGING TO YOUR HEARING.
+ + + + + + + + + + + + + + + + + + + + + + + + + + + + + + + + + + + + + + + +
LUX FAQ:
Will there be seating available in the venue for guests, what are your ADA accommodations?
Yes, there will be ample seating throughout the venue on a first come, first served basis. We are ADA accessible and are happy to accommodate any reasonable request to be sure your evening is as fun as it can be. If additional seating is required please don't hesitate to ask the staff to be accommodated on an as available basis.
Exactly what is the enforced Dress Code?
Many People are asking about the Dress Code: The general event dress code is dress to impress, Gentlemen: Tuxedo Black-Tie/Suit & Tie/Jacket with Collared Shirt, Slacks and Shoes AND Ladies: Gown/Dress/Dress to Impress.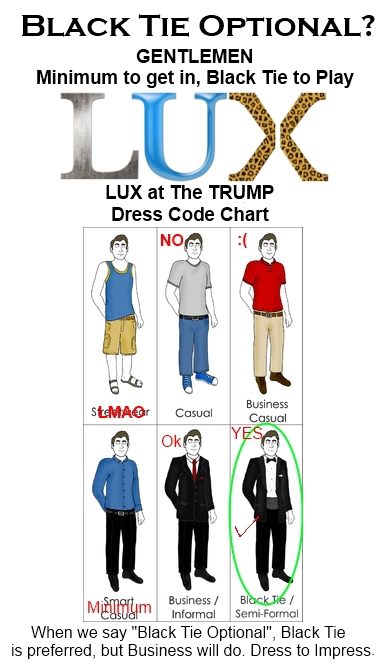 (ABSOLUTELY NO DENIM IN ANY FORM, NO SNEAKERS, NO SLIPPERS, NO T-SHIRT EVEN IF COVERED BY JACKET, NO SUNGLASSES/TINTED GLASSES, NO INAPPROPRIATE OR UNREASONABLY REVEALING ATTIRE FOR MEN OR WOMEN, NO TANK TOPS, BASEBALL CAPS, ETC. (TRUMP SECURITY HAS FINAL SAY) Please avoid any uncomfortable situations and DRESS TO IMPRESS! We have discounts set up for you for Tuxedo purchase/rentals as well as fine Gowns and Party Dresses at Party Dress by Claudette 615 Piikoi St Ste 102 on the corner of Kapiolani and Piikoi (808) 592-1811 and tell them you're going to LUX! Shop early for best selections and ample time for alterations.
"I'm a Photographer and would like to shoot at your event?"
Photo: Photographers can check with Paul the host and CVO (Chief Volunteer Officer) at 808-721-7777 for credentials. MAHALO for the OFFER to SHOOT.
Are there ID requirements or an age limit to enter the event?
You must present government issued identification to Trump Security showing your identity and proof of your age being at or above 21 years of age.
What are my transport or parking options getting to the event?
Valet Parking and Black Car Service are available with tickets herein: Guests May Valet Their Cars in Trump International Hotel and Tower's Porte Cochere with a ticket. Alternatively, each guest may also download UBER Black Car Service Application on their smart phone and use our Promo Code ZNUFS for a free ride up to $20.00 to and or from the event. This is one of UBER's busiest evenings so you may want to schedule accordingly.
What can/can't I bring to the event?
You can bring an amazing attitude to party with passion! And, absolutely, you can't bring in any outside alcohol onto venue property. Highly trained Trump security will be monitoring for this ever so frustrating infringement to make sure everyone is safe and no outside beverages will enter the venue. Anyone found attempting to bring outside beverage will forfeit their ticket without refund and be asked to leave.
Where can I contact the organizer with any questions?
Please do not hesitate to contact the host of the event Paul Klink on his private cellular telephone at (808) 721-7777. I am very honored, humbled and proud to say that this is my 30th produced New Years Eve event since moving here in Hawaii. Every year I strive to make it better than the last and this year I've combined all my lessons, brought together an amazing young production team for decorating and entertainment acquisition. And after a year of negotiating, designing, planning and building this event, we are going to have the best event I've ever hosted on a New Years Eve in Hawaii. Thank you for trusting us with your launch into what I believe will be the best year for us all!
Do any of the proceeds get donated to a cause?
Yes, we Party with a Purpose and put the FUN into FUNdraising! As something we do on our own, a portion of the proceeds and/or in-kind donations will be made to various community non-profit organization(s) project(s). If you would like your favorite non-profit to be considered please send us an email to Paul@PaulKlink.com with the contact information for the 501c3 to be considered. Mahalo! We help, you help! http://www.WeHelpYouHelp.org) PS As an aside, we are proud to work with fellow philanthropists. Our venue, the Trump International Hotel and Tower also donates a considerable amount to St. Jude Children's Research Hospital.

Organizer of New Years Eve LUX at The TRUMP Casino Royale with 2 DJs and Live Entertainment by Belvedere and Moët & Chandon