New Years Eve LUX at The TRUMP Casino Royale by Belvedere, Moët & Chandon and Dom Pérignon with DJ Kruse, DJ JP & Live Entertainment [21+ Black Tie & Gown: NO DENIM]

Tuesday, December 31, 2013 at 8:30 PM

-

Wednesday, January 1, 2014 at 1:00 AM (HST)
Event Details
Tuesday, December 31st, 2013 from 8:30pm to 1:30am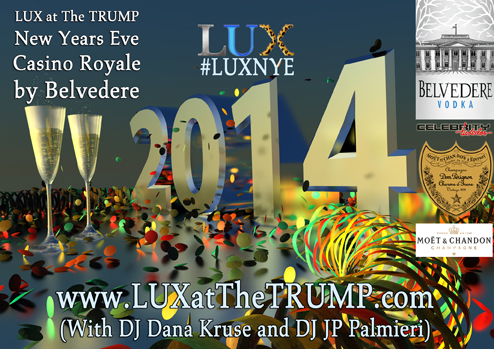 LUX at the Trump
21+ Black Tie and Gown (optional)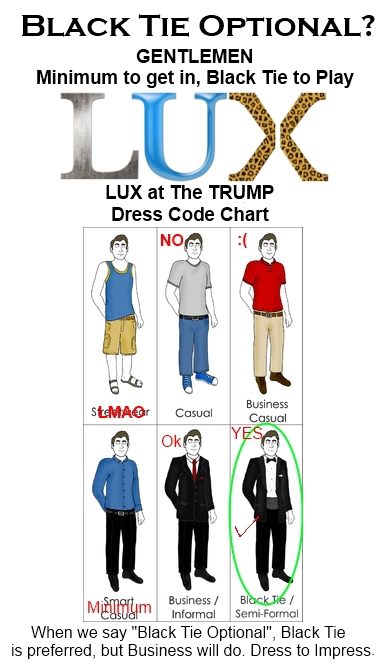 Illustrated Dress Code Examples of What's Good and What's Not for People who are visual like me! Love you all!!! Live Aloha, Paul, Your Host and Chief Volunteer Officer! PS LADIES, DRESS TO IMPRESS (ABSOLUTELY NO DENIM IN ANY FORM WILL BE ALLOWED IN THE VENUE!) 
featuring 
TWO DJ's!
DJ Dana Kruse on the Infinity Pool Deck
and
DJ JP of DeeJay Connections with light show on the IN-YO Casino Deck!
New Years Eve with 
Casino Royale by Belvedere & Dom Pérignon
and presenting
"LUX Casino Royale"
(Dress Code: Black-Tie and Gown Optional. Dress to Impress. NO DENIM)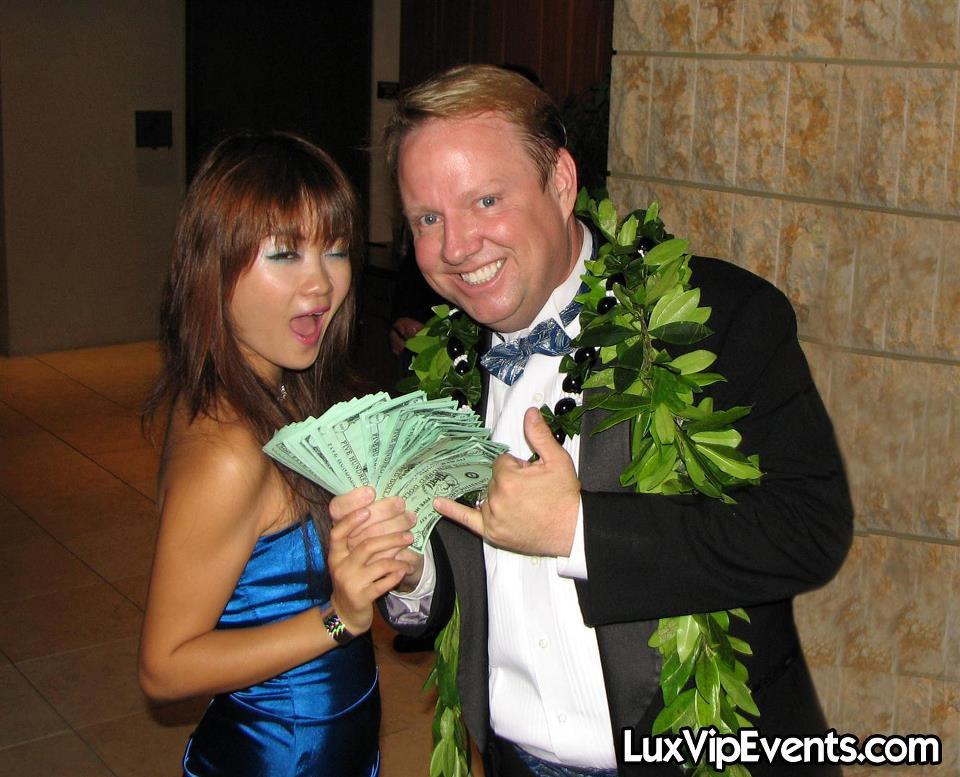 Featuring World-Renowned New NRG LUX DJ Dana Stiles on the INFINITY DECK
and LUX NYE DJ JP of DeeJay Connections hosting the Casino Club on the InYo Terrace
LUX at the Trump Waikiki New Years Eve Casino, Food & Fun $10 LUX Heavy Pupu Menu
Aloha LUX VIPs,
LUX at The Trump New Years Eve Event Party is on Tuesday, December 31, 2013 from 8:30pm to 1:00pm
A LUX Experience like none-ever before. 
EVOLVING LUX EVENT: New Lighting Effects, More Staff, More Room, More Entertainment, More Food Selections, More gifts, More Sponsors, MORE RESERVED GUEST PARKING AT AND VERY NEAR THE TRUMP! 
DRESS CODE: Tux/Gown Optional. Thank you for understanding. May we recommend renting or purchasing a tuxedo as well as for the ladies may we suggest shopping for your Gown at Party Dress by Claudette at 615 Piikoi with validated parking in the building (592-1811 and mention that you are a LUX Guest for a 10% discount)
Tentative Itinerary:
8:00pm RESERVED Valet Parking at the Trump International Hotel Waikiki Beachwalk
(Guest VIPs: Alternate parking may be available at the Waikiki Post Office $5 flat fee, Fort DeRussey Public Parking Lot for a small fee, Embassy Suites and Royal Hawaiian Shopping Center are pay per 1/2 hour.)
8:30pm 6th floor entrance to the party opens for all ticketed VIP Guests
8:30pm World Famous LUX DJs DJ Dana Kruse and DJ JP of DeeJay Connections will begin their unique form of collaborative Entertainment
8:30pm LUX HOUSE DJ is Blowing Up the Casino Club Dance Floor Area!
9:00pm Oahu Photo Booths will open for your enjoyment with props, costumes, etc. and you get a print. 
9:00pm MAGIC OF THE HOLIDAYS Magicians mingle through the crowd perfoming slide-of-hand magic for your entertainment!!! 

11:00pm Party Favors will be given to each Guest to enjoy throughout the evening
12:00am HAPPY NEW YEARS starts perfectly at the LUX at the TRUMP and the dance floor explodes with excitement and we continue to party until 1am
1:00am Surprise VIP AFTER PARTY, no cover to enter as a LUX Guest
+
We have limited areas for special celebrations within the LUX Event for Birthday Parties, Corporate Parties, etc.) Please email or call Paul Klink, Host (808) 721-7777 to coordinate any special needs or answer questions.
 + + + + + + + + + + + + + + + + + + + + + + + + + + + + + + + + + + + + + + + +
Please patronize our sponsors and ask for LUX VIP Specials:
Moët & Chandon Champagne + http://www.moet.com
Belvedere Vodka + http://www.belvederevodka.com
Daeng Gi Moe Ri Hawaii + http://www.JABeauty.com
Hawaii Energy Connection + http://www.KUMUKIT.com
LA MUSE + http://www.LAMuseHawaii.com
HyBrid Graphics for Logo Walls/Step and Repeats + (808) 286-8622
Basique Threads + http://www.BasiqueThreads.com/
JN Exotics + http://www.JNAutomotive.com
Cycle City + http://www.CycleCity.com
Pacific Harley Davidson + http://www.PacificHD.com
Albatross Transportation + http://www.albatrosstransport.com
Fun in the 808 + http://www.FunInThe808.com
Angels by the Sea Hawaii + http://www.angelsbytheseahawaii.com/
Vacations Hawaii + http://www.BoydVacationsHawaii.com/
Party Dress By Claudette + http://www.PartyDressHawaii.com/
Beauty Elements + http://www.beautyelements-hawaii.com/
Celebrity Tuxedo + http://www.CelebrityTuxedos.com/
D & E Handmade Cosmetics + http://www.dehandmadecosmetics.com/
Salon Cookie Couture + http://www.facebook.com/saloncookie/
Acid Dolls + http://aciddollshawaii.com/
Aloha Bus + http://www.PolyAd.com/ & http://www.AlohaBus.com/
Ken Yasuhara Dental Offices + http://www.KenYasuharaDDS.com/
D Boy Productions + www.DBoyproduction.com & www.hauntedhousehawaii.com
Pop-a-Lock + http://www.popalock.com/franchise/honolulu_hi_locksmith.php
Mercedes Benz Honolulu + http://www.MercedesBenzOfHonolulu.com/ 
Dancers Unlimited + http://www.DancersUnlimitedHI.com/
DJ Da Lion of Judah + http://www.DaLionOfJudah.com/
DeeJay Scott Stiles + http://www.DeeJayScottStiles.com/
Land Rover Honolulu + http://www.LandRoverHonolulu.com/
Trump International Hotel & Tower + http://www.trumpwaikikihotel.com/
Jaguar Honolulu + http://www.JaguarHonolulu.com/
Honolulu Med Spa + http://www.HonMedSpa.com/
Porsche Honolulu + http://hawaii.porschedealer.com/
Global Exchange + http://www.GlobalExchange.us/
Mele Naia Spa + http://www.MeleNaiaSpa.com/
Hawaii Humor + http://www.HawaiiHumor.com/
Anne Namba Designs + http://www.annenamba.com/
OMG Swimwear + http://www.OMGSwimwear.com/
Jane Ann Designs + http://www.JaneAnnDesigns.com/
JAMS Designs + http://www.JAMdesignConcepts.com/
Zhan Vi Designs + http://www.ZhanVi.com/
JAMS WORLD Designs + http://www.JAMSWORLD.com/
Grey Goose "Cherry Noir" + http://www.greygoose.com/our-vodkas/cherry-vodka/
Brazilian Showroom +  http://www.BrazilianShowroomHawaii.com/
 + + + + + + + + + + + + + + + + + + + + + + + + + + + + + + + + + + + + + + + +
 Disclaimer and Limitation of Liability
Purchase and or use of this ticket signifies agreement to the following:
ALL SALES ARE FINAL + NO REFUNDS OR EXCHANGES + RAIN OR SHINE + AS IS + WHERE IS
1)  This ticket cannot be replaced if it is lost, stolen or destroyed, and is valid only this event for which it is issued. 
2)  This ticket is not transferrable or redeemable for cash. 
3)  Reproduction of this ticket is not permitted.
4)  Unless indicated otherwise, price includes all applicable sale and use taxes and/or cash discounts (if available).
5)  This ticket is a revocable license and admission may be refused upon refunding the face amount of the ticket.
6)  Unauthorized or unlawful resale or attempted resale is grounds for seizure and cancellation without compensation.
7)  Management reserves the right, without the refund of any portion of the ticket purchase price, to refuse admission or to eject any person who fails to comply with the rules of the venue and applicable laws.
8)  No refunds/exchanges. Individuals who are unreasonably disruptive, boisterous or inebriated ay be asked to leave without consideration for table/ticket acquired. 
9)  Ticket user assumes all risks of personal injury incidental to the event, whether occurring prior to, during, or subsequent to the event.  Ticket purchaser bears all risks of inclement weather.
10)  This ticket may not be used for advertising, promotion (including contests and sweepstakes) or other trade purposes without the express written consent of the venue.
11)  Ticket user consents to use of this/her image or likeness incidental to any video display, transmission or recording of the event by venue, artist or promoter.
12)  Schedule of entertainment is as planned and not guaranteed. No guarantee of any entertainment is made only planned and hoped. Your fee is only for entry to the venue to socialize and enjoy the event as it happens in any form.
13)  The use of cameras, video or audio recording equipment is prohibited unless otherwise indicated by the venue, artist or promoter of the event. PLEASE EMAIL Paul@PaulKlink.com FOR MEDIA CREDENTIALS, PASS AND AGREEMENT FOR USE AND ASSURANCE THAT ALL THE HIGH-RESOLUTION IMAGES WILL SENT TO HOST WITHOUT LIMITATION OF USE, WITHIN ONE WEEK FOR MARKETING USE WITH FULL RELEASE. WATERMARK RECOMMENDED.
14)  WARNING-EXCESSIVE EXPOSURE TO LOUD MUSIC MAY BE DAMAGING TO YOUR HEARING.
 + + + + + + + + + + + + + + + + + + + + + + + + + + + + + + + + + + + + + + + +
LUX FAQ:
Q: Will there be seating available in the venue for guests who purchased individual VIP Tickets?
A: Yes, there will be ample seating in the Casino area as well as bench seating around pillars on the inifinitey pool area and some bar seating in the cabana areas. If additional seating is required please don't hesitate to ask the staff to be accommodated on an as available basis. If seating is a concern please consider one of the various VIP Table or Ultra VIP Couch tickets as available.
Q: Dress Code
A: Many People are asking about the Dress Code: You can see the video of a former event at http://www.youtube.com/watch?v=thHblZdV4fM may help with some ideas. The general event dress code is dress to impress, Gentlemen:  Black-Tie/Suit & Tie/Jacket with Collared Shirt, Slacks and Shoes AND Ladies: Gown/Dress/Dress to Impress.
Additional note to the Gents: Minimum is Collared Shirt, Slacks & Dress Shoes for Men and Gown, Dress or Dress to Impress for the ladies. Denim is frowned upon. T-shirts of any style or value are not allowed unless covered by an appropriate jacket. (NO: Shorts, slippers, athletic shoes, sneakers, t-shirts (unless accompanied by worn blazer/dress-jacket), tank tops, baseball caps, etc.) Since so many people are going to extraordinary lengths to dress up, we will be very strict with the dress code at the entrance. Please avoid any uncomfortable situations and DRESS TO IMPRESS! We have discounts set up for you for Tuxedo purchase/rentals as well as fine Gowns and Party Dresses at Party Dress by Claudette 615 Piikoi St Ste 102 on the corner of Kapiolani and Piikoi (808) 592-1811 and tell them you're going to LUX! Shop early for best selections and ample time for alterations.
Q: "I'm a Photographer and would like to shoot at your event?"
A: Photo: Photographers can check with Echo at Echo850113@gmail.com for credentials. MAHALO for the OFFER to SHOOT.
(FYI: As something we do on our own, a portion of the proceeds and/or in-kind donations will be made to various community non-profit organization(s) project(s). If you would like your favorite non-profit to be considered please send us an email to Beneficiaries@LUXVIPEvents.com with contact information for the 501c3 to be considered. Mahalo! We help, you help!  http://www.WeHelpYouHelp.org)

Have questions about New Years Eve LUX at The TRUMP Casino Royale by Belvedere, Moët & Chandon and Dom Pérignon with DJ Kruse, DJ JP & Live Entertainment [21+ Black Tie & Gown: NO DENIM]?
Contact LuxVIPEvents.com Events
When & Where

Trump International Hotel and Towers Waikiki Beach Walk 6th Floor
223 Saratoga Road
Complimentary Valet Parking
Honolulu, HI 96815


Tuesday, December 31, 2013 at 8:30 PM

-

Wednesday, January 1, 2014 at 1:00 AM (HST)
Add to my calendar
Organizer
LuxVIPEvents.com Events
This will be an event that combine, fun, fashion, food and fireworks (fireworks depending on weather, etc.).
New Years Eve LUX at The TRUMP Casino Royale by Belvedere, Moët & Chandon and Dom Pérignon with DJ Kruse, DJ JP & Live Entertainment [21+ Black Tie & Gown: NO DENIM]