Location
The Moonshine Blues Bar
1200 S Main St
St Louis, MO 63301
Description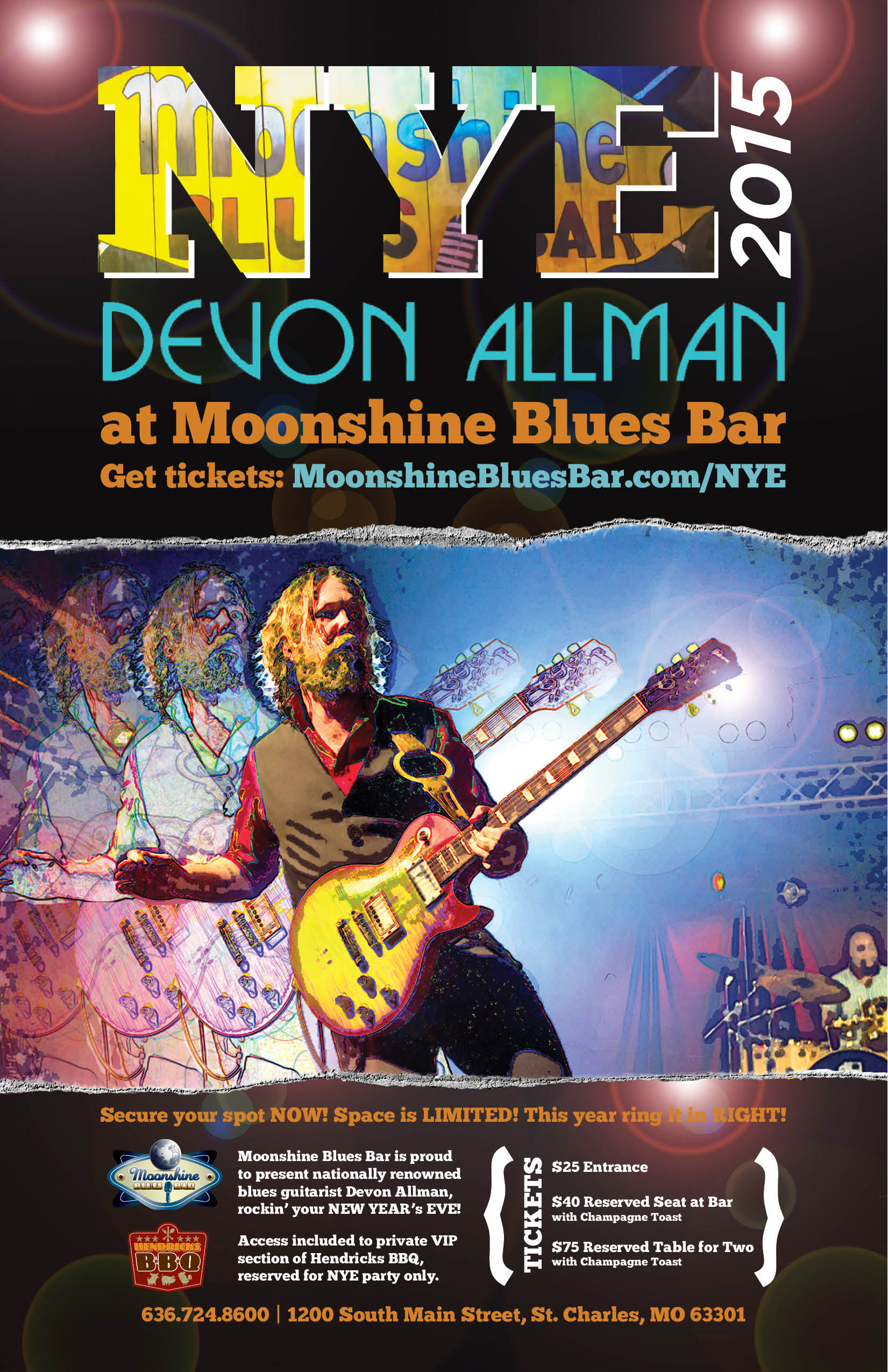 DEVON ALLMAN WILL ROCK THE MOONSHINE THIS NEW YEAR'S EVE!!!
Devon Allman is an internationally known vocalist, guitarist, keyboardist and songwriter. He was bandleader of honey tribe, featured guest of both Greg Allman and The Allman Brothers, as well as Javier Vargas' Vargas Blues Band and organizer of the blues-rock supergroup Royal Southern Brotherhood.
The son of Greg Allman, he was raised by his mother and earned his stripes coming of age in the St. Louis blues scene. Allman's primary guitar is a Gibson Les Paul, which he calls "Number One", that was personally signed by Les Paul when they played together at the Iridium Jazz Club in New York City in 2007.
We are excited to welcome this hometown boy made good back to St. Louis to ring in 2015!
Devon has treated us to one prior performance at the Moonshine Blues Bar, and the results were unanimous: everybody raved about Devon and requested him back. This time around, make sure you are in the audience and don't miss his mesmerizing guitar mastery, and on-stage charisma!!
Experience a true guitar virtuoso accompanied by the best talent, on the best instruments, up close and personal. In our intimate space, it will feel like the band is right there in your lap. You will be drawn in by the stories unfolded by Devon's fingertips as they dance along the fretboard, and accented by his moody, honey voice.
What are you waiting for? This will be awesome, so BUY YOUR TICKETS NOW!!!
RESERVED SEATS GAIN EARLY ENTRANCE TO MOONSHINE AT 7PM!
GENERAL ADMISSION WILL BE AT 7:30pm.
ADVANCE TICKET SALES ARE CLOSED, BUT YOU CAN STILL GAIN ENTRANCE AT THE DOOR!
ADMISSION AT THE DOOR ON NIGHT OF EVENT IS $40.