Description
You are cordially invited to BKE's New Year's Eve celebration with a red carpet reception. Totally immerse yourself in the experience like no other. Get all dolled up, whether it's Bohemian, Victorian, or Sophisticated chic fashion, just make a statement! You will fit right in at the newly remodeled The St. Gregory Hotel. The ballroom will be beautifully decorated to its glory, full of art deco details and grand ambiance as you enter the lobby.
Enjoy a complimentary glass of Prosecco as we welcome you to the red carpet photo op with fashion models in designer outfits- Featuring 10 local designer brands.
Celebratory atmosphere to welcome 2018 in style in an intimate gathering with a complimentary toast with the midnight balloon drop.
You are in treat for an electric mix of decades of decadence and today's hits mixed by our amazing djs along with exciting live performers.
You don't need a date to attend: Both singles and couples attend the gala every year. Whether you attend by yourself or with friends, you will have a wonderful time in the warm and friendly company.
DINNER RESERVATIONS: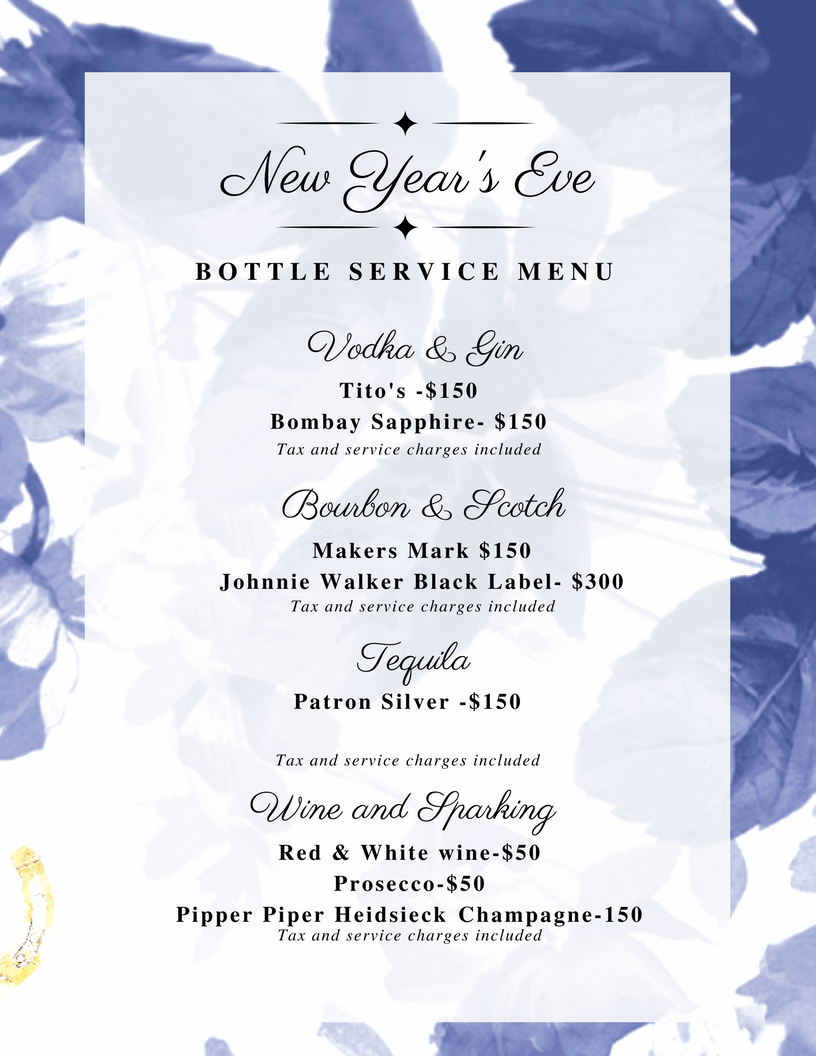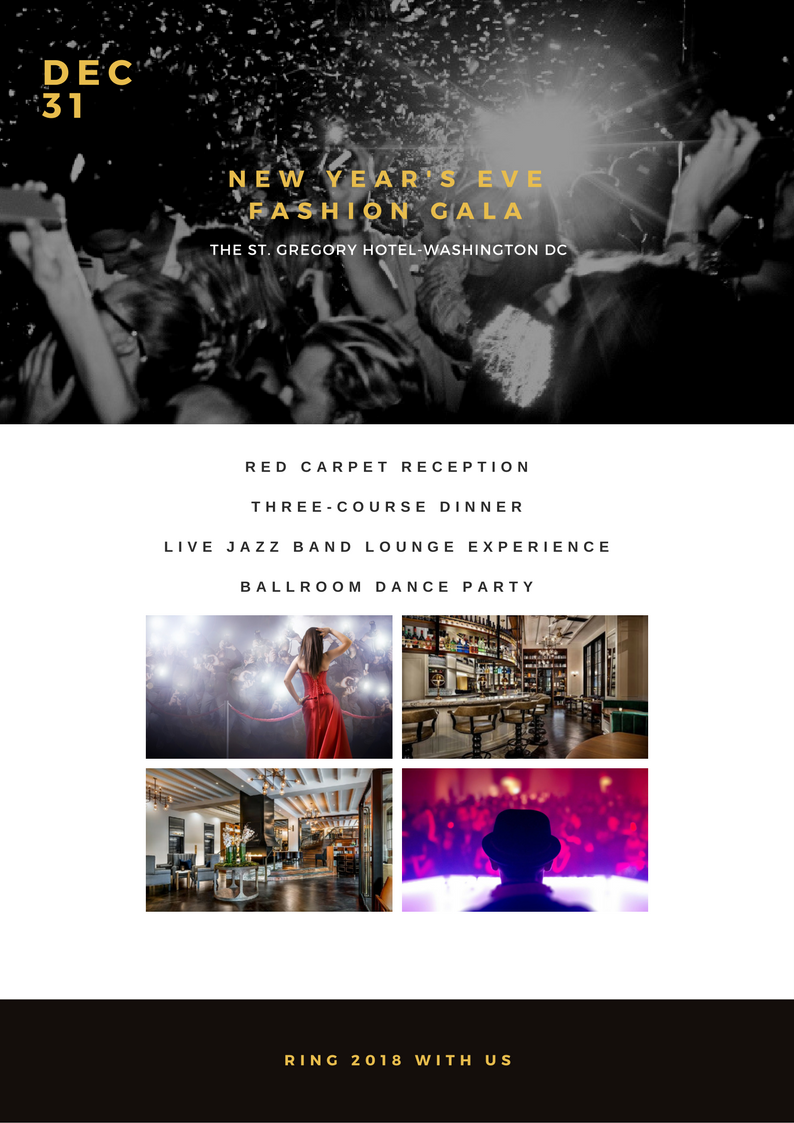 RED CARPET RECEPTION: Photo ops with fashion models representing local couture designers at the red carpet
LOUNGE EXPERIENCE: Festivities begin 6 pm with Laissez Foure Jazz band performs at the lobby Laissez Foure focuses on jazz from 1930s-40s, Latin, Bossa Nova with a nod to New Orleans and the music from the Golden Age of jazz.
TREDICI ENOTECA BAR: Grab a drink, mix and mingle. Feel free to show off your outfits to the photographers. Expect the flashes to go off.
BALLROOM: Doors open at 10:00 pm to the party. Keep dancing all night long to the past, present, top 40 & International hits by Dj Vito Lee, Balloon drop at midnight
HOTEL RESERVATIONS: Starting rate $150 Take the elevator to your hotel room after the gala. The St. Gregory hotel offers well-appointed suites and rooms to help you relax and ring in the New Year in comfort starting at a low price. Call to make reservations (202) 530-3600 or visit https://www.stgregoryhotelwdc.com/specials/
TICKETS & PACKAGES
General Admission: $65 Individual includes admission, One complimentary glasses of Prosecco midnight toast and an unforgettable night one fantastic night (Additional beverages are for cash/credit bar) Valet parking available.

Dinner Package: $169 for individuals 7 pm or 9 pm Seating, Three-course dinner, complimentary glass of Prosecco complimentary midnight toast. One fantastic night (Additional beverages are for cash/credit bar) Valet parking available (Tax and service charges are not included)

Couples Dinner & VIP Hotel Suite Package: $550 - Three course dinner for two at Tredici Enoteca), Luxury hotel suite (check-in 12/31/17 and check out 01/01/18) complimentary bottle of Prosecco in the hotel room, 2 glasses of complimentary sparkling wine with dinner, 2 tickets to the NYE Fashion gala, complimentary midnight toast, one fantastic night (Additional beverages are for cash/credit bar), New Year's Day brunch for 2 with Valet parking included. ((Tax and service charges are not included)
*Tickets are limited! No door sales. All ticket sales for this event are final and there can be no ticket refunds. Must be 21 or older to enter
Showcasing fashion designers
AncaDesign, Fairfax VA
Anca Balinisteanu who is now based in Washington DC started her fashion career in Romania. Her goal is to mix color and interesting fabric in tailored style.
The product is designed in the US and manufactured in Europe and the US. The fabrics come from Spain, Greece, Turkey, and the US. Anca's designs speak for itself.
"I take pride in who I'm today. And finally, I believe that one should not be the slave of fashion but use fashion as a tool to improve and enrich life".
We encourage you to consider #shoplocal as you are looking for that perfect red carpet outfit or your holiday event outfits.
you can find her collection at www.newfashionavenue.com
Sheri Autry Couture has been sewing for over 20 years, learning from her grandmother at the age of 10.
Today, Sheri fashions stunning collections of contemporary gowns and lingerie crafted from the finest imported silks, tulles, chiffons, and illusion fabrics enhanced by unique, often one-of-a-kind, embellishments. She has been a
featured designer for the International Couture Presentation (ICP), several Washington area bridal expo shows, and most recently at the Couture Fashion Week show during New York Fashion Week in September 2017. Her fashions have been featured in Grace Ormonde Wedding Style Magazine, Most Magazine, Munaluchi Bridal Magazine, Shutter Magazine, Elegant Magazine, Style Me Pretty Blog, South Asian Bride Magazine, Valley Bride Magazine, and Editorial Magazine.
via Sheri Autry
Visit https://www.sheriautrycouture.com/ to learn more about the selections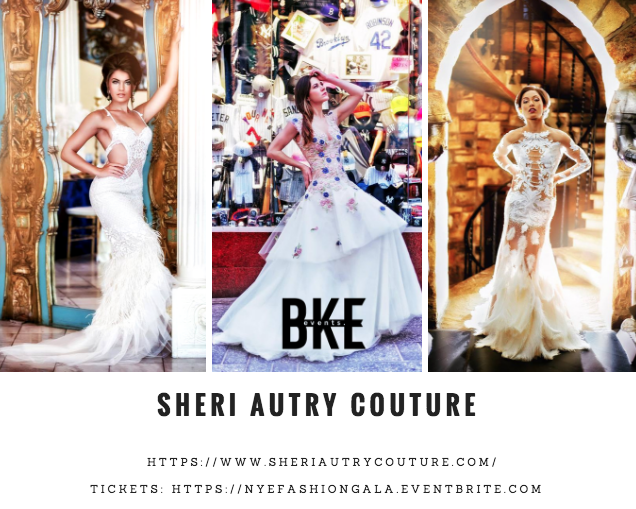 Victor Hou
Victor debuted his "Victor Hou Collection for DC Fashion Week II in 2005. He has been featured in many publications including, Black Men's Magazine SSX (Swimsuit Extra), DaBook, Black Hair Sophisticates, and DC North. He has also appeared on several cable TV shows in DC, MD, NJ, and NY. Celebrities such as Taraji Henson, Kima (of the Bad Boy Records group, Total), Allen Iverson, and Jaheim have all adorned themselves with Victor's pieces.
In Nov. 2015, he became the recipient of Designer of the Year of the New York Fashion Awards (Heartland Model Agency) for his ongoing contributions in the Fashion Capital. He also showed 2 mini-collections for New York Fashion Week with Plitzs Fashion Marketing,(one of which will be launched on macys.com in Spring 2018).
Victor can be contacted for custom orders, photo shoot styling at https://www.victorhoudesigns.com/
We encourage you to consider #shoplocal as you are looking for that perfect red carpet outfit or your holiday event outfit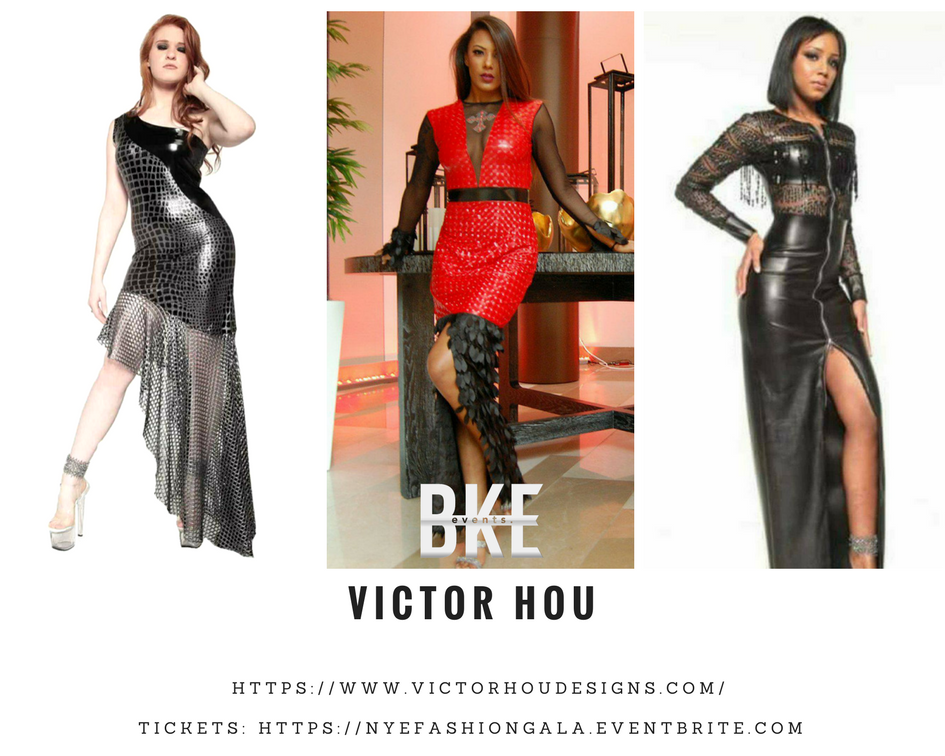 Michele Blanchard has been designing women's fashion for over 25 years. Michele was the 2014–2015 New Day Associates International Designer of the Year.
Michele was inspired by her mother the late Delores Barnes, an accomplished seamstress and dressmaker who taught her the importance of doing quality work consistently. Michele is a member of Stevenson University Fashion Advisory Board, for the School Of Fashion: and she is also a 2012 "Women of Power" award recipient.
MB Design Gallery specializes in "Custom Wedding and Formal Couture Designs for Every Woman". We design custom professional suiting for women and ready to wear women's attire. Alteration services for both women and men are available.
MB Design Gallery
Michele's Fashions have been seen at numerous red carpet events including the 2010 Emmy's. Baltimore actress Nicole Ari Parker was stunning and voted "Best Dressed Couple" with her husband Boris Kodjoe by Essence Magazine. The MB Design Gallery brand has been seen on the television show "The Real Husbands of Hollywood" and "The Boris & Nicole show. Michele's fashions can be found in issues of Hype Hair Magazine, Jet Magazine, Modern Luxury DC Magazine, Sheen Magazine and Texture Magazine.
Visit http://micheleblancharddesigngallery.com/
to shop the entire collection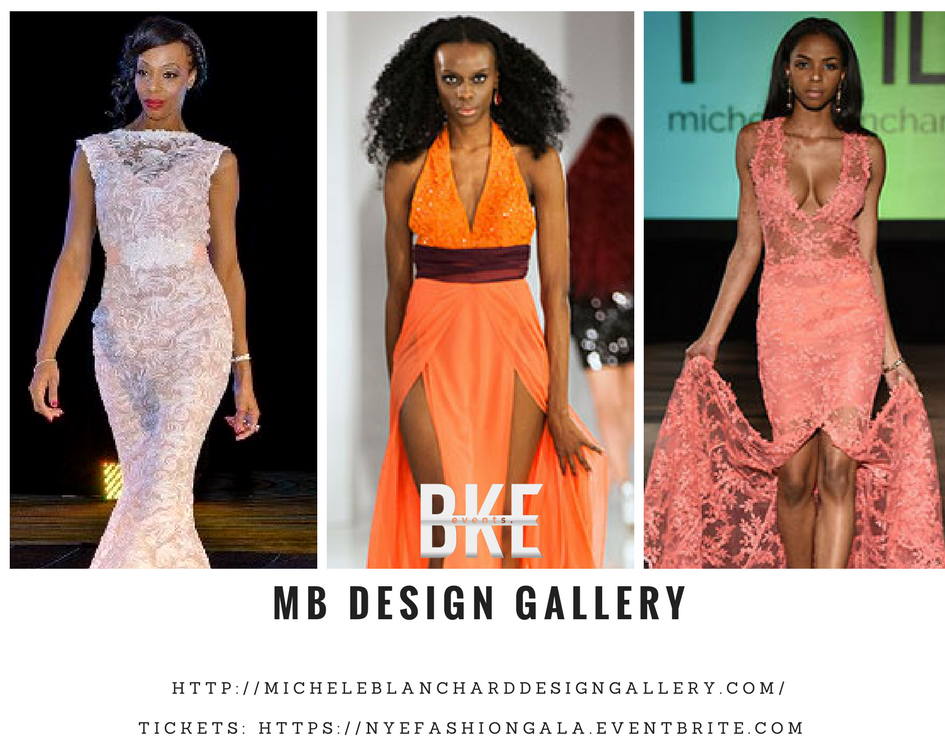 MK Vendetta by Mateen Khan
It all began with Rosies and Rockers, a brand line introduced for an inner circle of models, artists, rappers, and skaters. Since then it has developed to offer youthful men's and women's collections that feature sheer fabrics, streetwear, edgy one-of-a-kind pieces, ready-made basics, and retro components. From accessories to separates, VENDETTA will make you the topic of conversation in any audience.
Vendetta anonymously donates 100% of its profits to
The Trevor's Project in support of equity,
CAIR Coalition in support of immigration rights and
Planned Parenthood in support of family and sexual rights.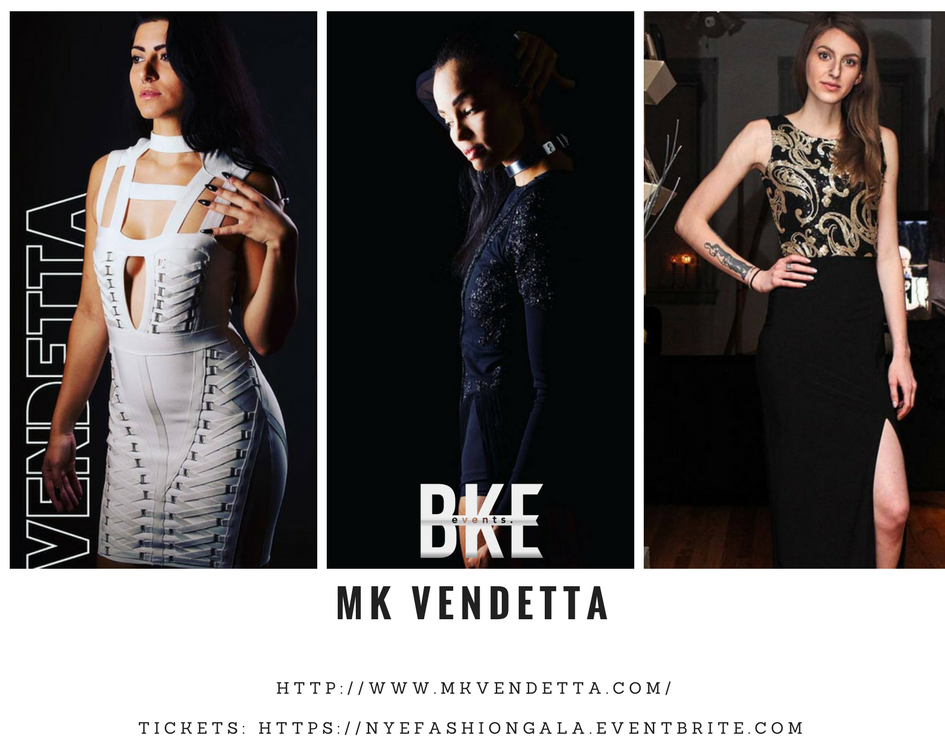 N&B (NBpodium) by Natalia Bogdanova
Founder of the brand NBpodium Natalia Bogdanova was born and raised in Eastern Europe.
It all started as a hobby, learning the discipline and craftsmanship of cut, shape, and proportion all alone out of a desire to create unique apparel in which woman can reveal her beauty, power, and confidence!
Her passionate nature to create is aimed to thrill and inspire women, embody authenticity and embrace individuality. What is her source of inspiration? Beauty! It can be beautiful white winter, colorful spring, hot summer or elegant fall. Sometimes is the lavish silk that inspires the dress, sometimes it's her own world of fantasy.
Check out N&B collection online
www.nbpodium.com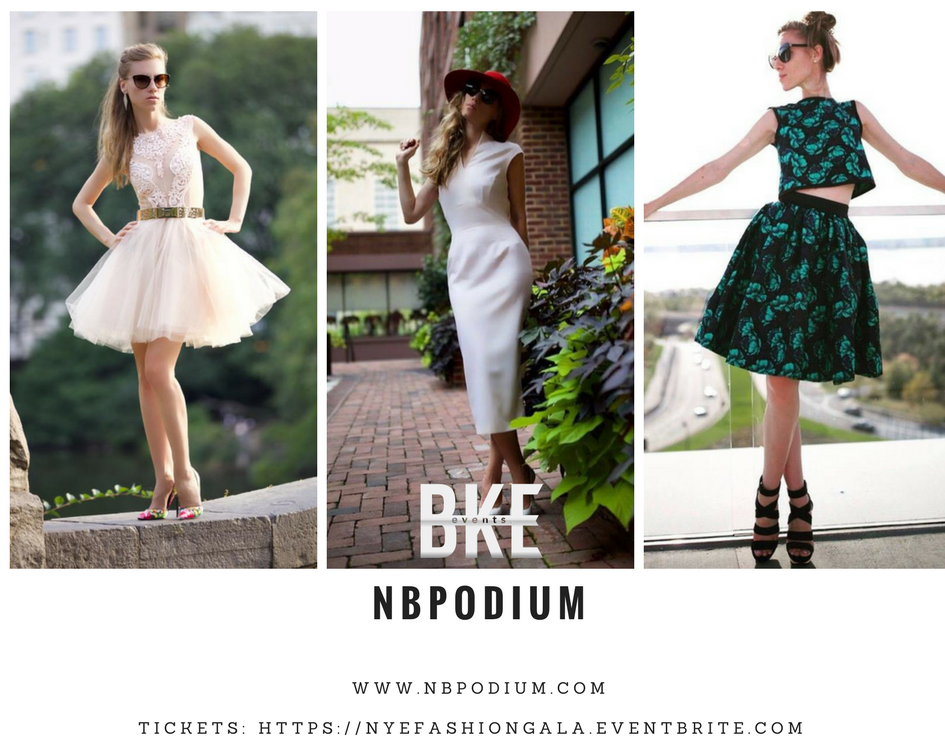 As a leader with a vision for the future, Aswad CEO of Abasi Couture referred to as "The man behind the movement". plans to change and expand the world of fashion with his designs. Born and raised in the Washington DC area, lies the fabric of a true man that is building a standing career following his own set of rules. Abasi continues to take the fashion world by storm and ultimately, Abasi wants his brand to be world-renowned with everyone looking to Abasi Couture as a house of fashion, and where fashion is couture straight from the runway. To Aswad Abasi, fabrics are not simply the basics of clothing; they are his passion and the foundation for his fashion designing dream.
His commitment to remain true to his one-of-a-kind vision will afford him much success in an industry known for its fickleness. Abasi, who works from his in-home studio, said, "I know what a man likes to see on a woman. All I have to do is make sure it's comfortable and sexy with the right level of class". Recognized in 2014 by U.S. Senator Benjamin L. Cardin, featured on the Sept/ Oct 2016 cover of California based fashion magazine Designer Original Magazine, other features Oct 2016 issue of Emerge the new voice of business magazine, March 2016 issue of 7 Hues fashion and beauty magazine, summer 2016 issue of Hair- n- Motion magazine.
The collection can be found at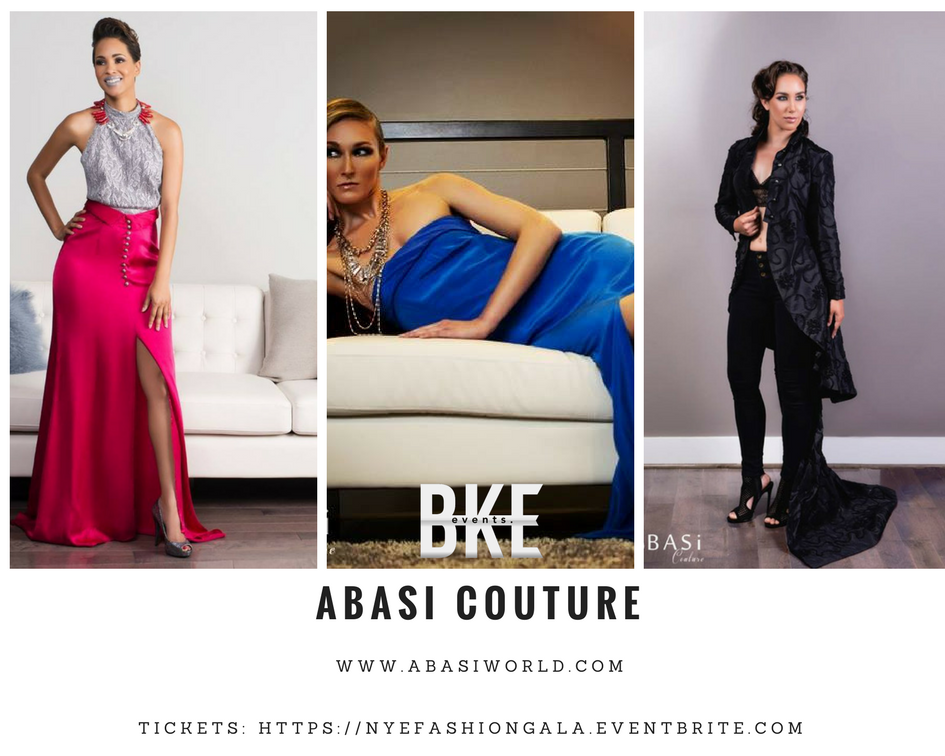 WoolWonders by Irina Levkovich

Eco-Fashion has come a long way in recent years with major designers recognizing an emerging market and demand for clothing that is both eco-friendly and stylish. Gone are the days of plain, simple designs and rough, scratchy feeling materials. In are the visually appealing, elaborate designs and svelte, comfortable feeling materials that today's consumers expect.
Previously, eco-minded consumers that made a decision and commitment to live according to their values had limited choices for clothing. Clothing made from sustainable, eco-friendly fabrics and materials, such as hemp, were course feeling, often times heavy and lent themselves to very simplistic designs with limited color choices. Thankfully, due to demand and technological advances, a large selection of eco-friendly fabrics is available in many vibrant colors and prints. Far from being uncomfortable many of these fabrics are light-weight, have a luxurious, comforting feel and are durable. A few examples: organic cotton, silk (peace or vegan), bamboo, lyocell, soy fabrics, hemp, cashmere, linen, wool, eco-fur, alpaca, polyester (made from recycled materials)
Monica Jones the Founder, Designer, and President of NanaLola Couture. She is an advocate for the awareness and research into Myasthenia Gravis. For those of you who may not be familiar with this disease, Myasthenia Gravis is a chronic autoimmune neuromuscular disease that attacks the muscles of the body causing pain, muscle spasms, and chronic fatigue. It can also lead to death.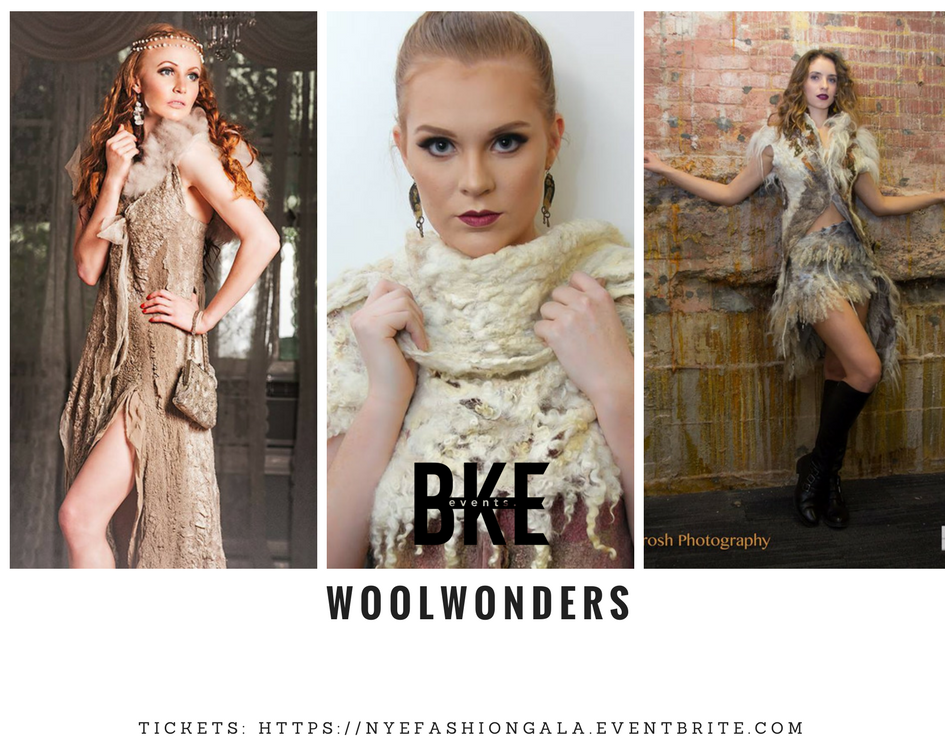 Monica Jones
Monica Jones the Ceo and Designer of NanaLola Couture, a brand dedicated to filling a niche in the fashion world for women of all sizes. To reach out to all women. No matter what size, shape age color or religion. Every woman is beautiful no matter what size she is! Monica Jones believes in total diversity. Her motto is "Clothing for the Everyday Model within"
There is already a lot of body positivity out there. But you should always be comfortable in the skin you're in. Mentally, Physically and emotionally. It is what I want to be able to offer all women. The chance to not only look beautiful.. but feel beautiful, confident and happy with who they are. NanaLola Couture has been seen on several Runways. New York Fashion Week February 2017, New York fashion week September 2017 and San Francisco fashion week 2017. Not all is not only an internationally known brand but soon will be grace in the Runways of London Fashion Week 2018 and Paris Fashion Week 2018.