New Year's EVE Dinner Party at Farmhouse Kitchen Thai Cuisine Portland, OR
About this Event
New Year's Eve SPECIAL Menu is available at Farmhouse Kitchen Thai Cuisine
Join us for a Super fun Super delicious night of celebration. Come see the usuals and the unusuals. Thai Street Food to Table + Thai Delicacies + Live Music by Background Jazz LLC www.backgroundjazz.com
Have one last amazing meal to end 2019 🌟🥂🍽 We are hosting a special event on December 31st "One Night in Thailand" for our New Year's Eve Festive Feast (4 course prix fixe dinner included 3 drinks).
NYE VIP Ticket $75 / person
* 3 glasses of selected beverage (+21 for Alcohol with State ID)
* Appetizers, salad, entrees, and dessert for $75
+++ You can also upgrade a Tsunami Lobster Pot for an extra $30 +++
(These prices exclude the cost of extra beverages, fees & gratuity)
Starter (Select Two)
Vegan Fresh Rolls (V,G) Fresh rice paper roll, Ota Tofu, mixed green, bean sprouts, mint, cilantro and Vermicelli noodle. Chili peanut sauce
Ahi Scoop (G) Pan-seared sesame crusted Ahi tuna*, cucumber, seaweed salad, crispy yam, dill, lemongrass, chili lime
Mieng Kum Kung (Vegan version available upon request) Crispy crusted prawns or Tofu, leafy green wrapped with a zesty mixture of lime, ginger, onion, roasted coconut & peanuts with Tamarind sauce
Nuea Num Tok Roll Grilled Snake River Farm Wagyu Beef wrapped with mint, cilantro, cucumber served with cilantro lime vinaigrette
Samosa (V) Red Norland potato, caramelized onion, carrot wrapped in pastry skin. Served with coconut curry sauce
Salad
Herbal Rice Salad (V)
A traditional dish known as "Khao Yum" (Bangkok Style)Toasted coconut, peanuts, shredded green mango, shallots, lemongrass, cilantro, sliced long beans, chili, kaffir lime, peanuts with Tamarind dressing
Entree (Select One)
Panang Nueau Slow braised Bone-in-Short-Rib in a Panang curry, grilled broccolini,bell pepper, onion, fried basil & Blue Rice
Crab Fried Rice (G) Dungeness crab meat, cage free egg, onion, tomato, cilantro wrapped twice cooked rice in lotus leave, amazing Thai seafood sauce
Hat Yai Fried Chicken Southern Style. Mary's Organic Chicken breast, turmeric & herbs, fried shallots, yellow curry for dipping, Roti Bread & Blue Rice
Grilled Jumbo Prawns Pad Thai Fresh Thin rice noodles, cage free egg, tofu, bean sprouts, chive, shallot, peanuts serve with Grilled Jumbo Prawns
Kang Kua Prawns One of a kind Southern shrimps curry made with SPICY fresh red turmeric roots sprinkled w/ kaffir leaves & young coconut meat.
Run Juan Sizzling (V) Organic tofu (Ota, PDX) sautéed in homemade SPICY curry paste, basil, onion, bell pepper, jalapenos.
Tsunami Lobster Pot ($30) (G) New England Live Lobster, white shrimp, scallops, PEI mussels with yellow curry paste and coconut milk served over rice clay pot
Sweet Ending
Chef's selection
Throughout the night, we will have special performances, live band and fun games. Super Farang Super Delicious!! Let's spend the last day of the decade with us Farmhouse Style
Reserve Now !
503-432-8115
thai@farmhousepdx.com
Farmhouse Kitchen PDX
3354 SE Hawthorne Blvd
Portland, OR 97214
WWW.FARMHOUSETHAI.COM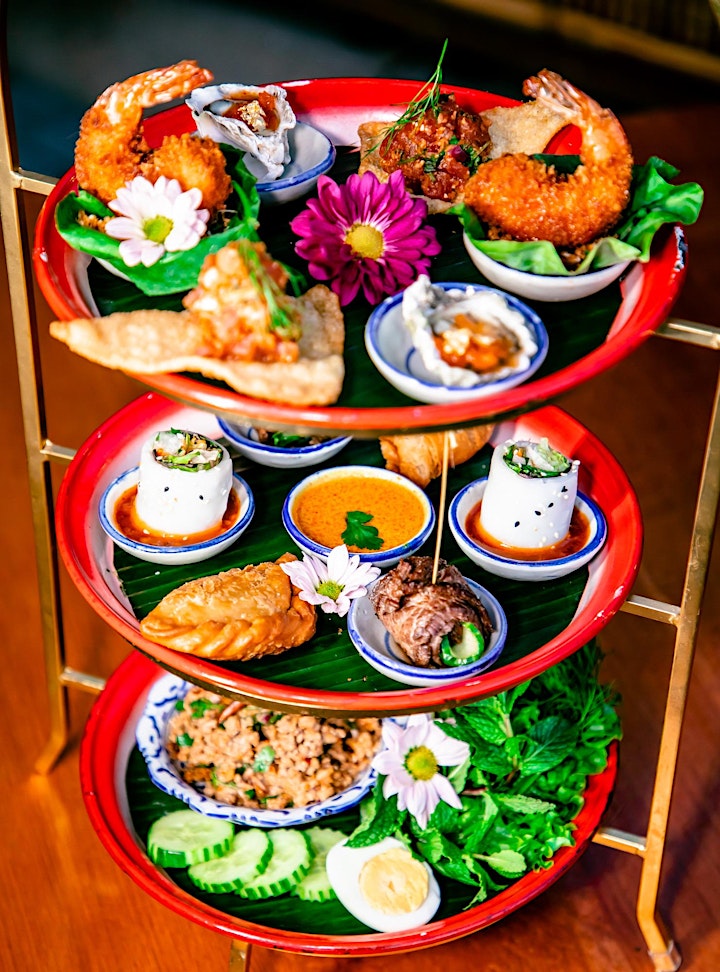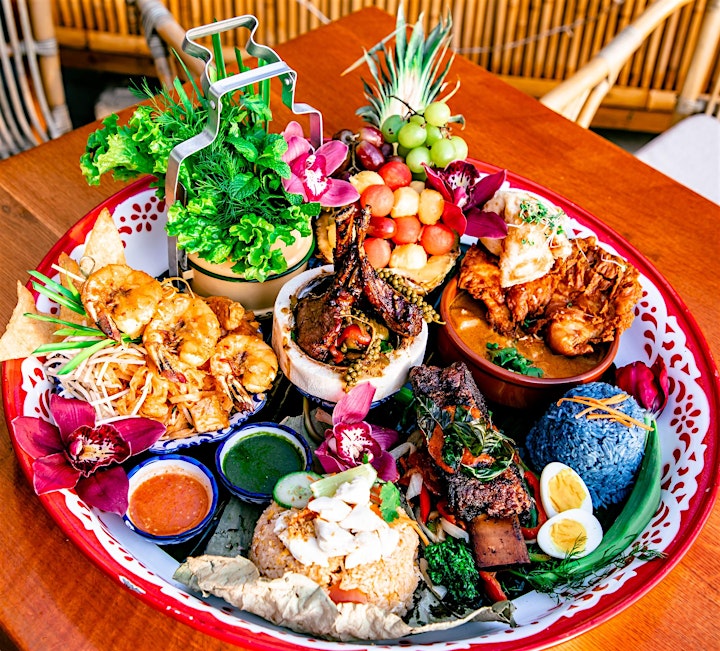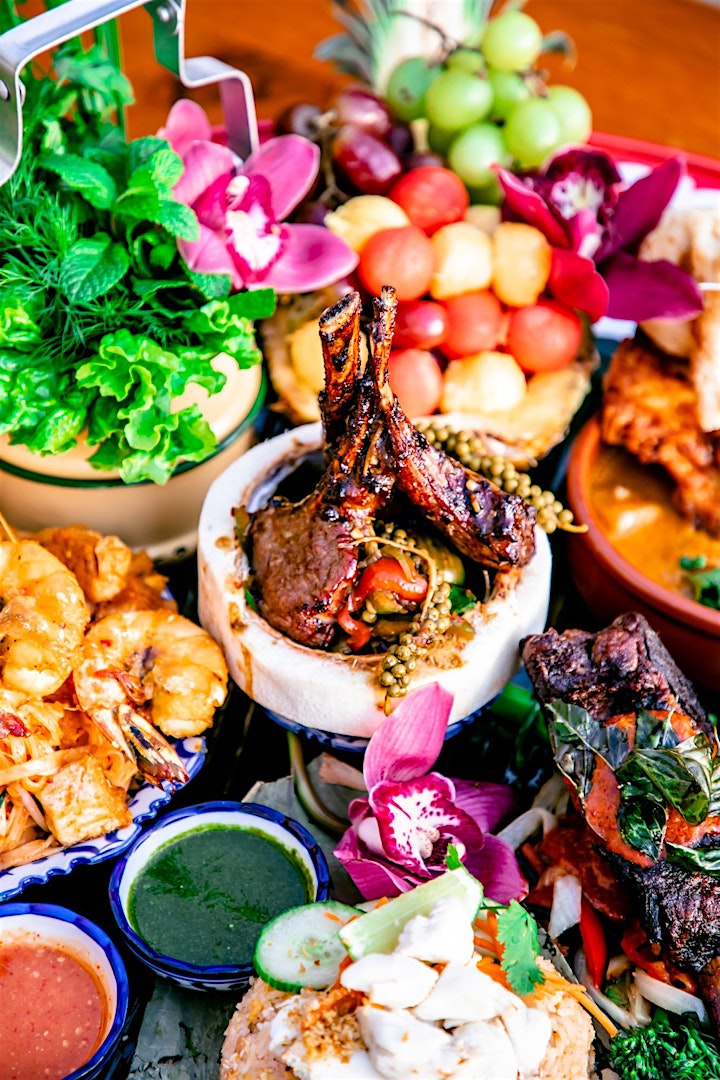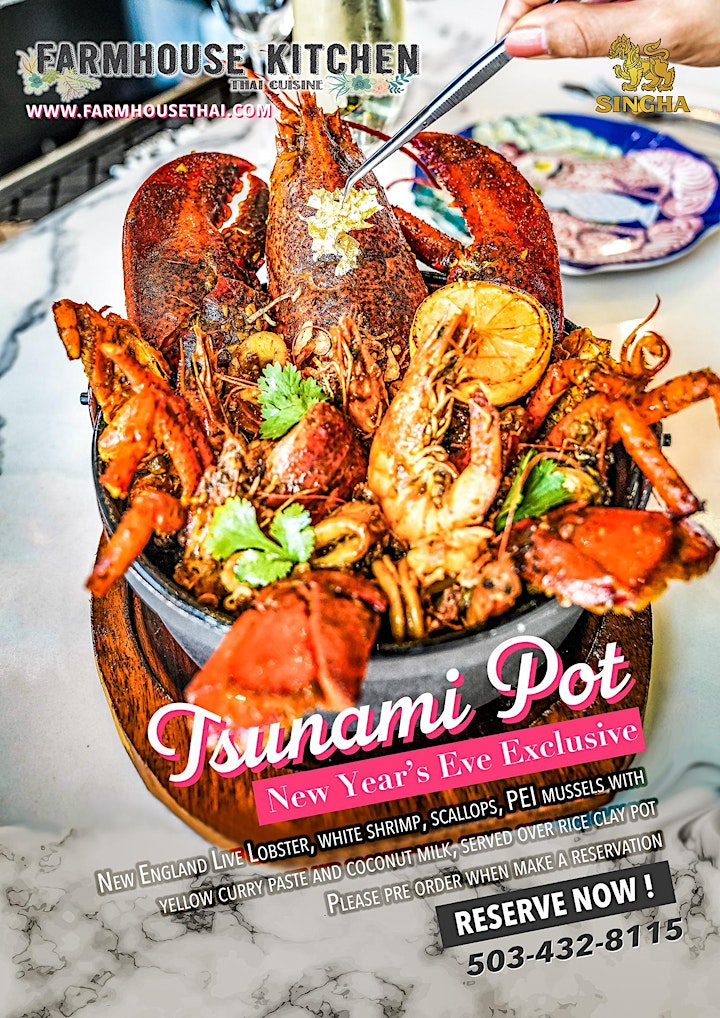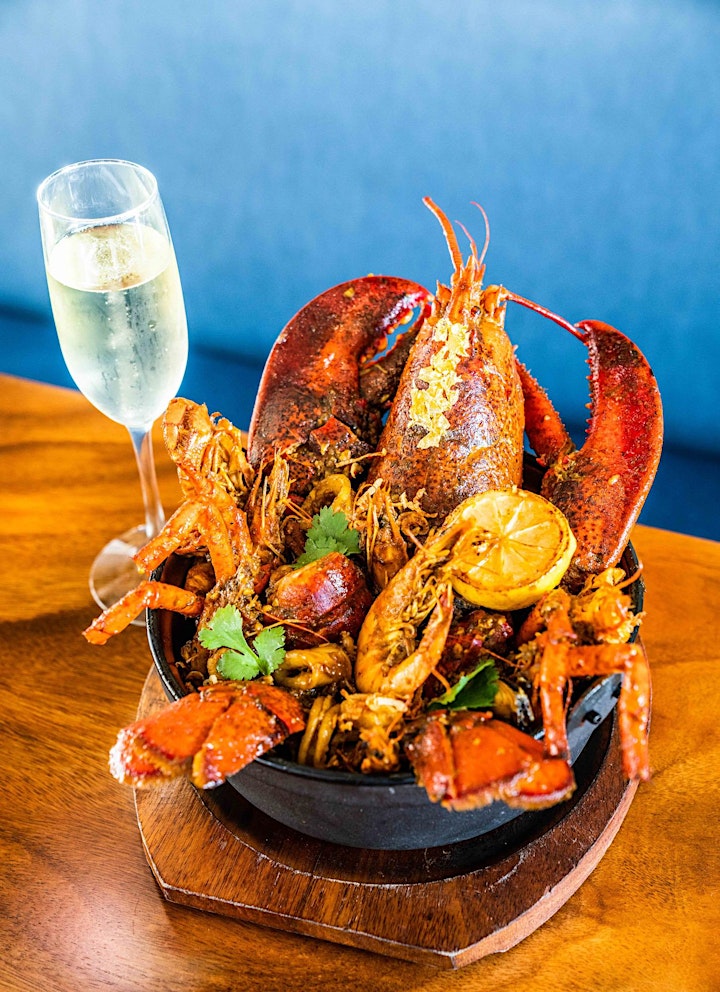 We are featuring the grandeur Tsunami Pot add on (+$30)
((New England Live Lobster, white shrimp, scallops,
PEI mussels with yellow curry paste and coconut milk,
served over rice clay pot))*** Limited
$75 as a special on NYE
***Please pre order when make a reservation***