Event Information
Refund policy
Contact the organizer to request a refund.
Eventbrite's fee is nonrefundable.
Join us for a life-changing and inspiring week in radiant Costa Rica, at one of the most special communities in the world - Brave Earth.
About this event
"Nature itself is the best physician." – Hippocrates
After a year of unprecedented challenges, many of us are left with a shift in perspectives and values, and an inquiry of how to integrate what we have learned. Our struggles are given the chance to transition into wisdom and new visions when properly processed with some form of community or entrusted space. As "things open back up," this sort of intentional integration space is notably absent. The mission of this retreat is to bring us together as a community as we call in 2022, honoring the deep learning of this year, providing space for complete mind-body-spirit rejuvenation, and sparking deeper personal inspiration and clarity through connecting to the Earth and to music.
For 8 days and 7 nights (from December 27 to January 3), we will gather in the jungle of Costa Rica.
On-Site Activities:
Daily morning yoga and meditation
Temezcal (sweat lodge) shamanic ceremony with ceremonial tobacco
Cacao ceremony with local, small-batch Two Monkeys Cacao
Soundbath
Breathwork
Edible garden tour
Voice activations and Chakra balancing
Workshops with Brave Earth founders
Song circles
Council ritual
Chanting
Spectacular stargazing
Off-Site Activities:
Day trip to hot springs at the healing Eco Termales
Waterfall visit with rainforest hike
Fuerza de Amor Community Day
*All activities are optional and we invite everyone to honor their inner guidance if you feel like opting out of any activities.
The retreat is inspired by the "Activating the Voice" course—a personal, spiritual, and artistic exploration program that is based on the chakras and uses singing to help individuals connect to both their own voice and their inner truth. Each day of the retreat will similarly be based on exploring the themes of all seven chakras, and will also be anchored in optional morning voice activation practices.
The location of the retreat is itself a very vocal field, with many animals making noises and singing. Birds, cicadas, and frogs are some of the louder voices.
About Costa Rica:
Costa Rica is one of the most peaceful nations on the planet, making it an ideal place to learn from and spend time in. You may have heard the phrase Pura Vida. Translating as "pure life," Pura Vida is the Costa Rican philosophy and way of being, signifying both a deep respect for life, a relaxed nature, and a humble appreciation for simplicity—the joy of watching a sunset or swimming in the sea. Once you have visited, you will know the feeling of Pura Vida and carry its wisdom with you.
About Brave Earth:
Brave Earth is a healing arts center, community, regenerative farm, and living laboratory exploring ways of being that are based on reciprocity, resilience, regeneration, solidarity, and ecological symbiosis. Architectural elements at Brave Earth were designed according to the principles of biomimicry, anchored in nature's inherent intelligence and sustainability. Spending time in these structures reignites the imagination, filling one with a profound sense of wonder at the possibility that another way is truly possible.
Brave Earth is located near the sacred Arenal Volcano. A lush jungle thriving with plants and animals, the land has the power to impart a profound healing experience. The proximity to the volcano suggests an energy where things hidden beneath the surface have space to find release, and Brave Earth provides all the tools for healing: spectacular nature, rejuvenating hot springs, supportive community, and spaces for meditation and personal inquiry.
As part of efforts to minimize waste and live in harmony with Brave Earth's intentions of sustainability, the community is equipped with compost toilets and shared bathrooms and shower units. Individual showers can be found in the Domes (see below for more information on housing options).
Food:
Delicious, nourishing, and biodynamic meals will be provided for. We will be enjoying a vegetarian and vegan diet on this retreat with occasional pescatarian options. Some of the food is grown right on the land! Enjoy a smoothie filled with freshly-picked greens, for example. Gluten-free options are also possible. We will eat together, in an open-air community dining space.
Luxury meets Community:
While Brave Earth is quite a luxurious space to move through, it is more than just a retreat center. Central to its philosophy is the creation of a space for people to live in community and care for one another, something that we believe will be deeply healing after the isolation of the pandemic. In practical matters, this means that visitors to Brave Earth are expected to wash their own plates and silverware after meals and to navigate the retreat center with a sense of awareness of others who live there (including the very delicate ecosystem with plants and animals.)
About the Facilitator:
Sonia Kreitzer is a singer, songwriter, sound healer, certified yoga teacher, and Reiki practitioner. She releases music under the name Doe Paoro, and her music has been featured internationally on film, television, and radio. She sees music as a healing and unifying energy and has toured with artists such as The Gipsy Kings and Son Little. She studied Tibetan opera singing and yoga for many years in India, and has also facilitated sound healings and cacao ceremonies intended to help participants work through and release trauma.
Room Descriptions:
Gaia Dome *SOLD OUT*
Nestled in tropical foliage where butterflies and hummingbirds delight, and illuminated by moonbeams and early morning light, the Gaia Domes are cozy, cocoon-like dwellings built from adobe and wood. They can sleep up to 3 people with a beautiful handcrafted queen bed and a daybed overlooking the jungle.
Features:
En suite sink
Writing desk
Handcrafted queen beds
Day bed overlooking the jungle
Forest views out of wooden window frames
Closet with dry element and safe
En suite hot showers including biodegradable shampoo, conditioner and body wash
Easy access to shared bathroom facilities with compost toilets
Regular Pricing (after August 31st):
Queen bed for one person: $2799
Queen bed for two people: $2499 per person
Queen bed + day bed for group of 3: $2299 per person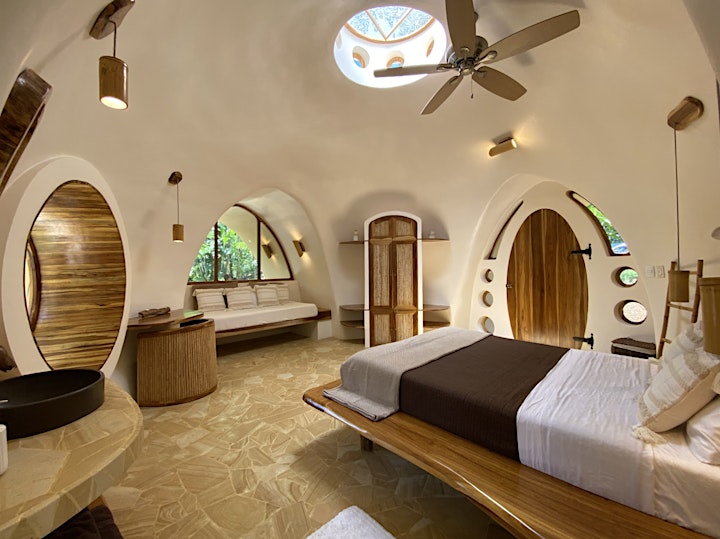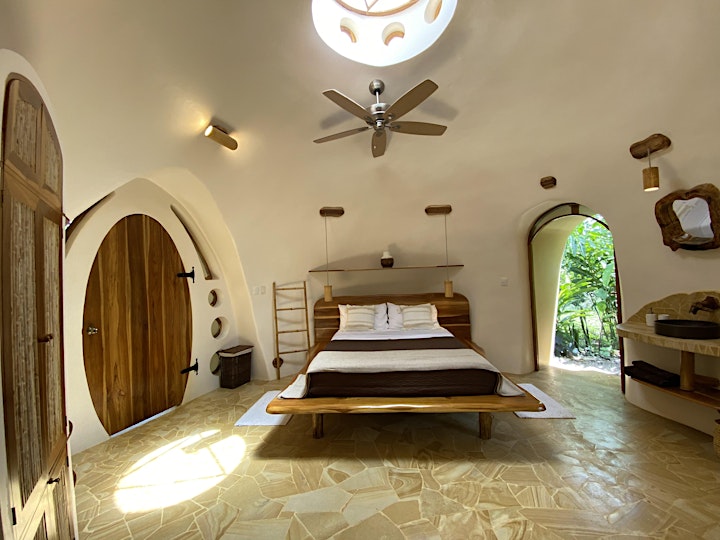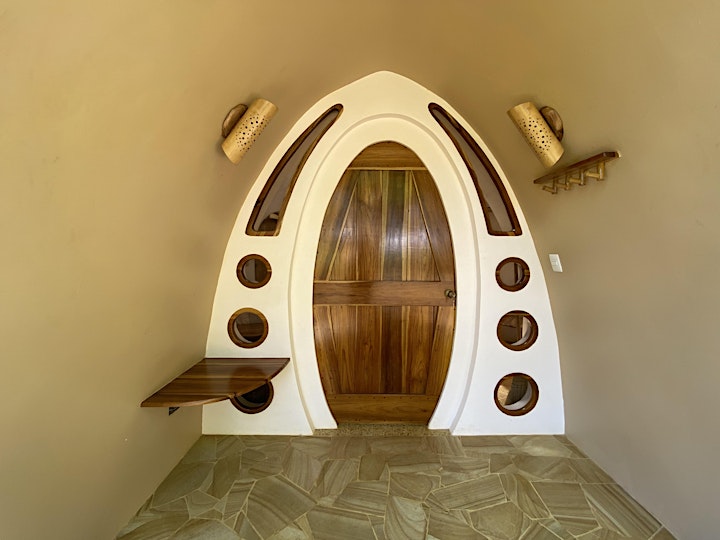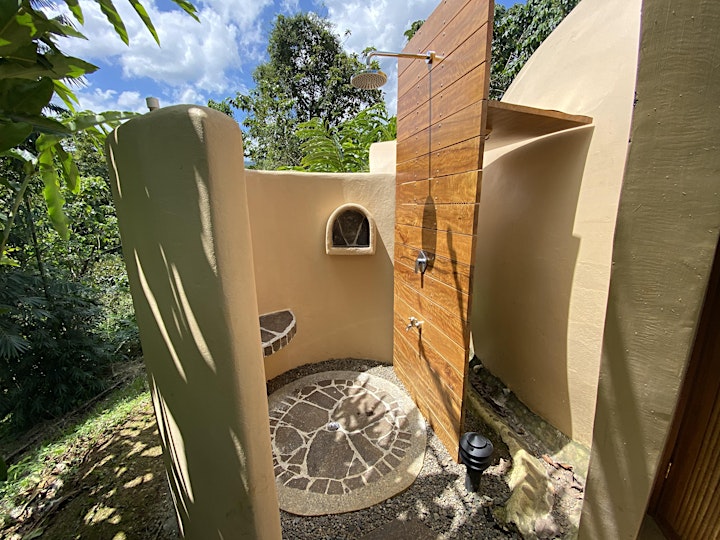 Jungle Huts *1 left*
Take in the sights and sounds of the rainforest in our Jungle Huts. Elegant, clean lines, high ceilings and artful, handcrafted touches gives these spaces a luxurious feel while immersed in Nature. Get cozy in the hammock with a book on the outside deck or take in the jungle sounds from the comfort of your bed. This space is made using locally-sourced bamboo and wood from the land. This is a great option if you are looking for a bit more privacy from the rest of the group as these are pushed a bit farther back into the jungle. Sleeps a maximum of 2 people.
Features:
En suite sink with biodegradable soap
Handcrafted king bed or two single beds
Ceiling fan
Outdoor deck overlooking the rainforest with hammock
Sacred geometry wood detail on floor
Dry box with key
Easy access to shared bathroom facilities with hot showers and compost toilets
Regular Pricing (after August 31):
King bed for one person: $2699
Two single beds or two people in King bed: $2399 per person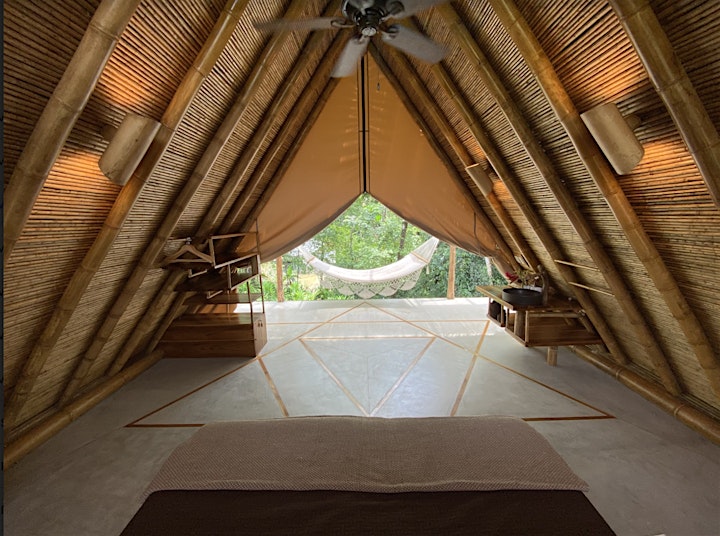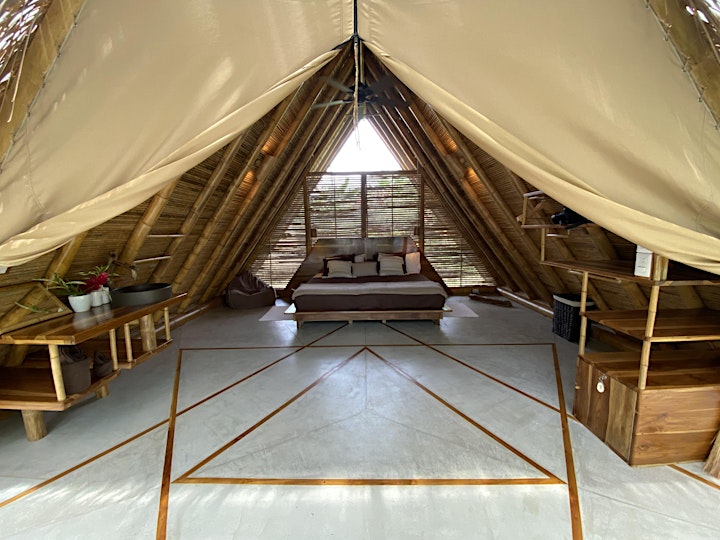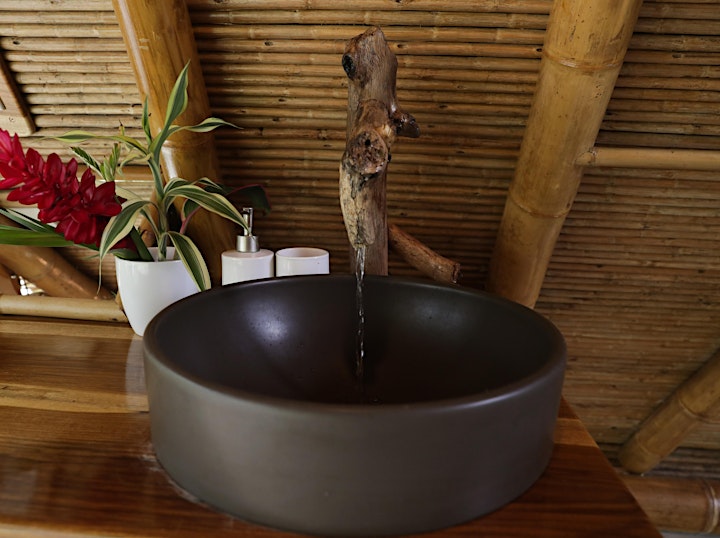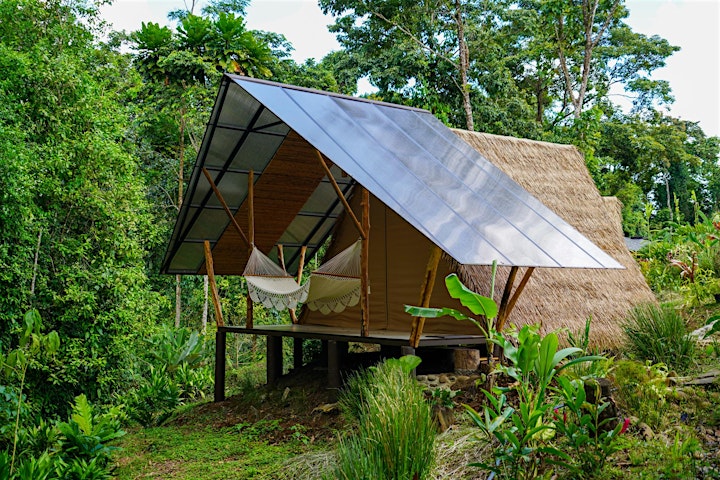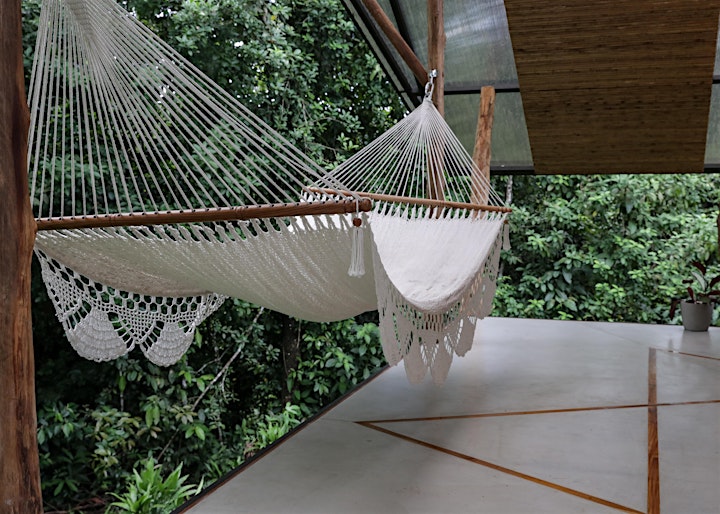 Earth Tambo *SOLD OUT*
Earth Tambos are adobe structures made from red clay and bamboo from the land. The Earth walls and floors give the space a very grounding feeling and inspire a deep stillness. Intentionally designed using organic forms, materials, and textures to inspire the senses and connect to Nature. The tambos are illuminated through the spiral design of the bamboo roof bringing a defining quality to this sanctuary space. Earth Tambos sleep a maximum of 2 people.
Features:
Handcrafted queen bed
En suite sink with biodegradable soap
Ceiling fan
Writing desk
Outdoor deck with hammock overlooking the rainforest
Dry box with key
Easy access to shared bathroom facilities with hot showers and compost toilets
Regular Pricing (after August 31st)
Queen bed for one person: $2699 per person
Queen bed for two people: $2399 per person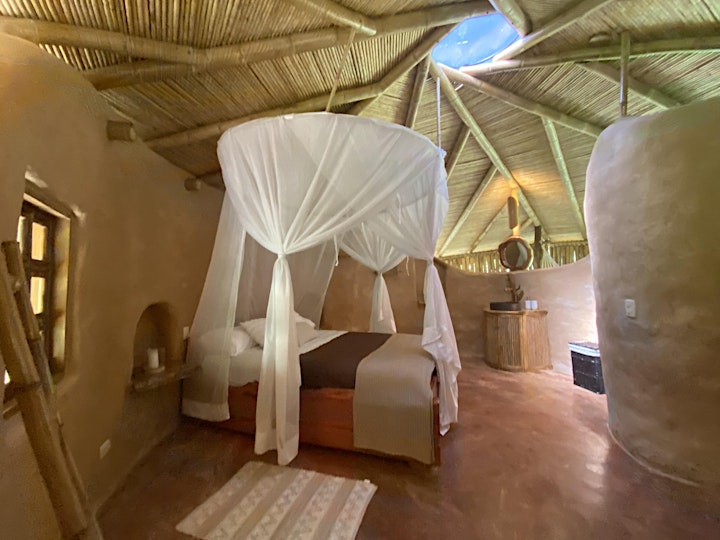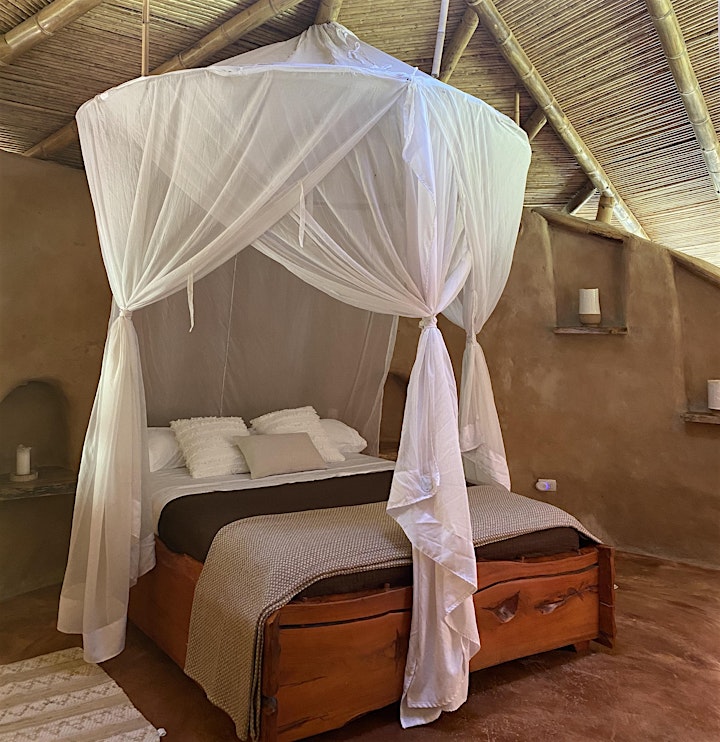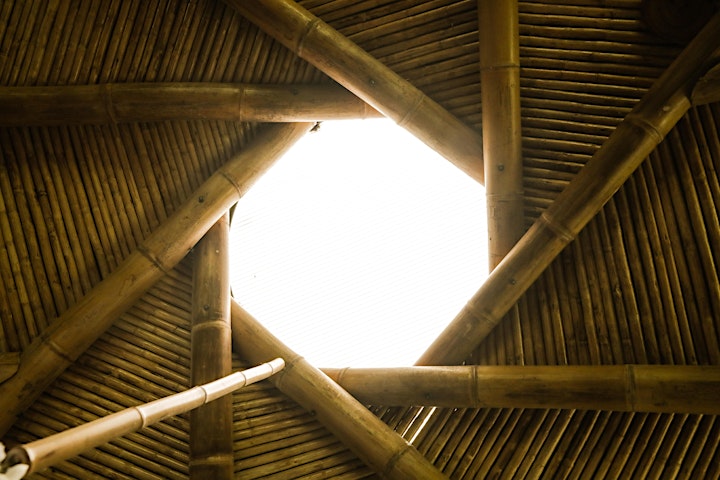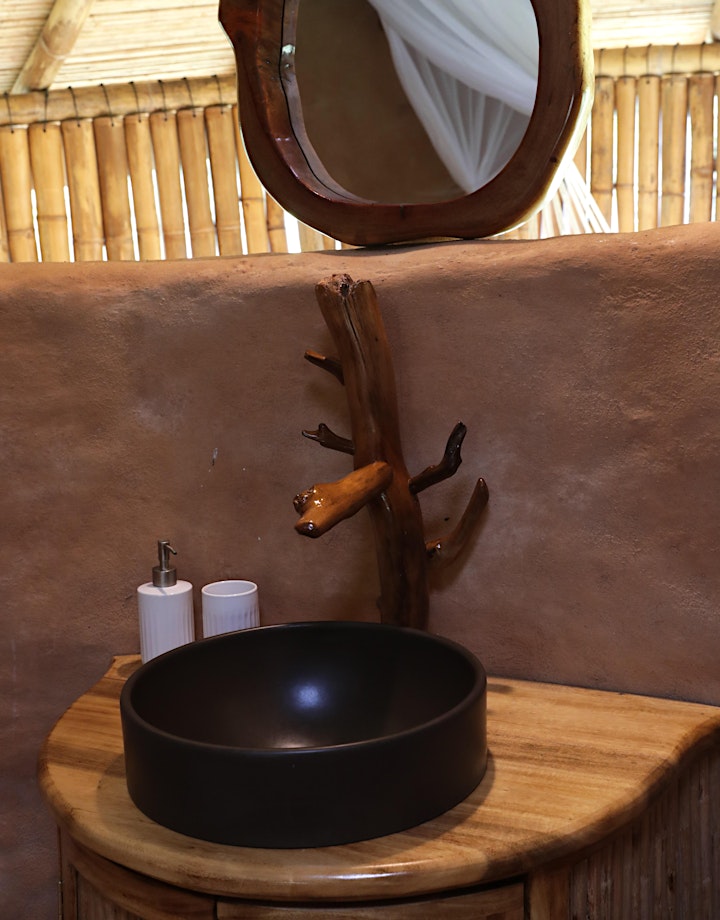 Mini Jungle Hut *SOLD OUT*
These raised Jungle Huts are cozy spaces that are perfect for families or friends who are traveling together. The two rooms are connected by a shared lounge space over looking the jungle and pond. Inside each Family Jungle Hut you'll find a handcrafted queen size bed to lay your head after all your jungle adventures. Crafted with bamboo and wood from the land, these are designed to be comfortable spaces to cocoon in nature.
Mini Jungle Hut sleeps a maximum of 2 people in each hut for a total of 4 people. Please let us know if you are coming with a group of 4 and would like to stay in connecting huts.
Features:
Shared lounge space
Handcrafted queen beds
En suite sink with biodegradable soap
In-room fans
Safe and dry box
Easy access to shared bathroom facilities with hot showers and compost toilets
Regular Pricing (after August 31):
Double bed for one person: $2449 per person
Double bed for two people: $2199 per person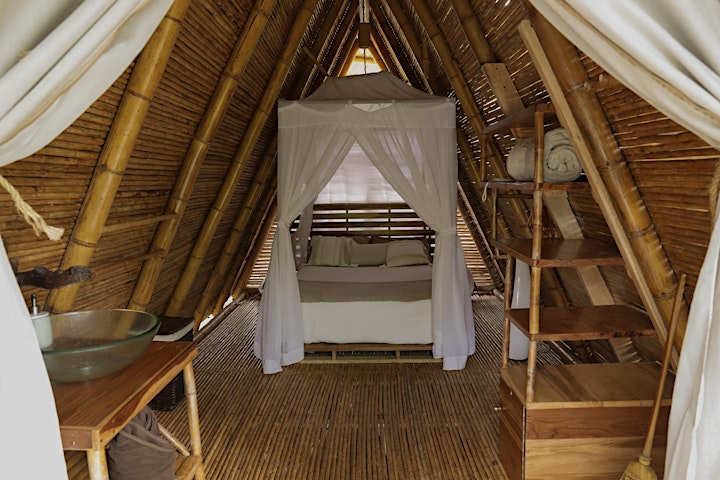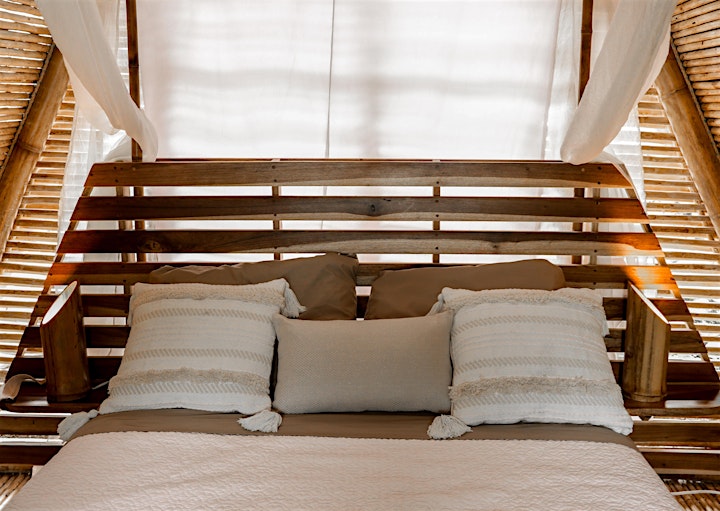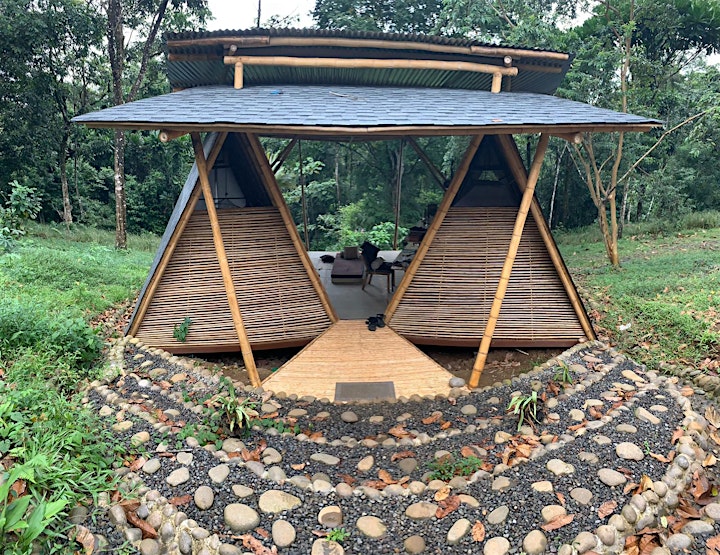 Farm Loft Singles *SOLD OUT*
The Farm Loft singles are our most affordable option, located in a shared dormitory-style farm loft. Each unit itself is very basic, with a single bed . There is a beautiful common space to connect with others, two bathrooms on site, and a large shower which overlooks the jungle. Please note that the Farm Loft is a five-minute walk away from the other accommodations.
Features:
Shared lounge space
Single Beds
In-room fans
Shared bathroom and beautiful shower overlooking the jungle.
Early Bird Pricing (until August 31st)
Single bed for one person: $1899 per person
Regular Pricing (after August 31st)
Single bed for one person: $2199 per person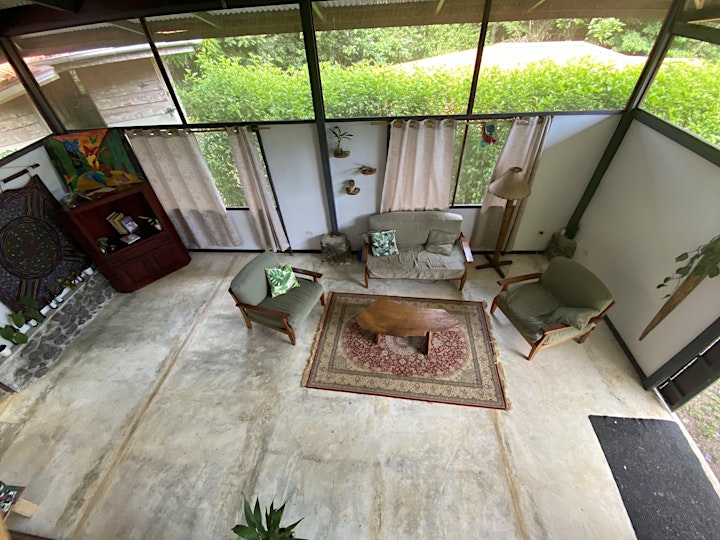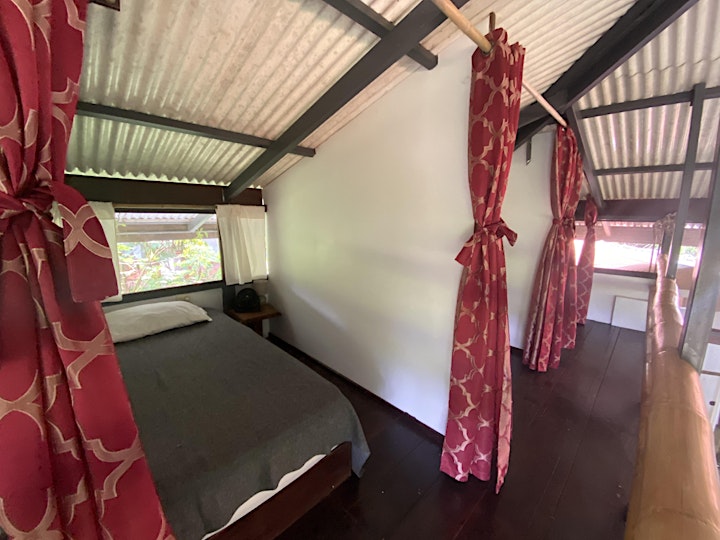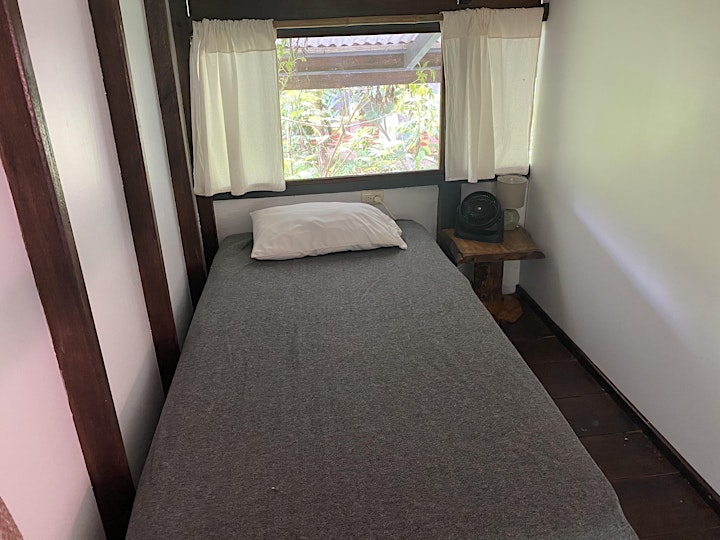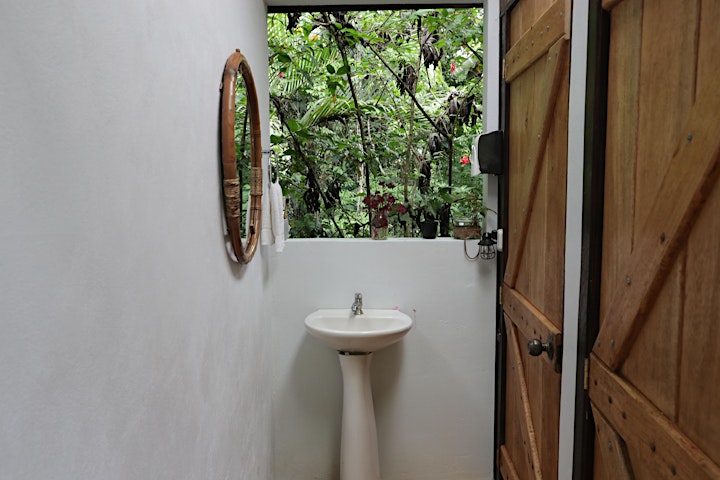 What's Included:
Your 7 night accommodation at Brave Earth
All organic and delicious meals
All on-site and off-site activities
Ground transportation to/from SJO airport on Dec 27th and Jan 3rd
What's Not Included:
Your flights to/from SJO
Travel insurance (required by the government)
Any transfers and hotel stays that fall outside of Dec 27-Jan3
Alcoholic drinks
Vaccinations, additional preventative medical needs
Payment Information:
For booking, please complete this form. We will review your preferences and send you an invoice. We are doing this this way instead of using Eventbrite payments as prices vary depending on accommodation and whether you are traveling alone/sharing a space, and it's easier to clarify this part through the form. This also allows you to avoid Eventbrite fees. Rooms will be offered on a first come, first serve basis. If you know you are interested in a specific room we recommend you act fast, as we expect certain accommodations to sell out quickly.
Payment plans are possible up to 3 installments. Please indicate your preference in the form.
Payment is fully refundable up to October 15th. Exceptions will be made only in case of any COVID related setbacks that render travel impossible, such as a change in travel restrictions between your country and Costa Rica.
Scholarships:
We are offering two partial scholarships for Black, Indigenous and People of Color, Costa Ricans, and/or anyone doing major activism work. The total cost after the scholarship will be $650 for the week and the rooms being offered are our Farm Loft singles. Brave Earth will be selecting the recipients. To apply for this (it is just a quick questionnaire) please email nyecostaricaretreat@gmail.com and let us know you are interested in submitting.
COVID-19 Information:
We acknowledge the hardships and suffering caused by Covid-19 and our hearts and thoughts are with everyone who has been impacted by the virus. Please know that your health and safety is our highest priority and we will be monitoring the COVID situation in Costa Rica closely and making any adjustments should the conditions change.
To respect everyone's comfort and safety, we ask that you provide a negative COVID-19 test taken within 72 hours of the beginning of the retreat.
For the most part, we will be tucked away in our own little piece of heaven at Brave Earth. We have three off-site activities planned, but they are outdoors and far from any crowds. We will be eating our meals at Brave Earth in a private outdoor space. Our daily group activities will take place in spacious areas that provide plenty of ventilation. Masks will not be required during the retreat, though we do ask that you use them when receiving food in the dining area, to protect those serving food (all staff at Brave Earth will be wearing masks).
Please read this statement by the Costa Rica Tourism Board on entry requirements.
Questions?
Please contact us at nyecostaricaretreat@gmail.com
We look forward to retreating with you!
Shared Spaces and Facilities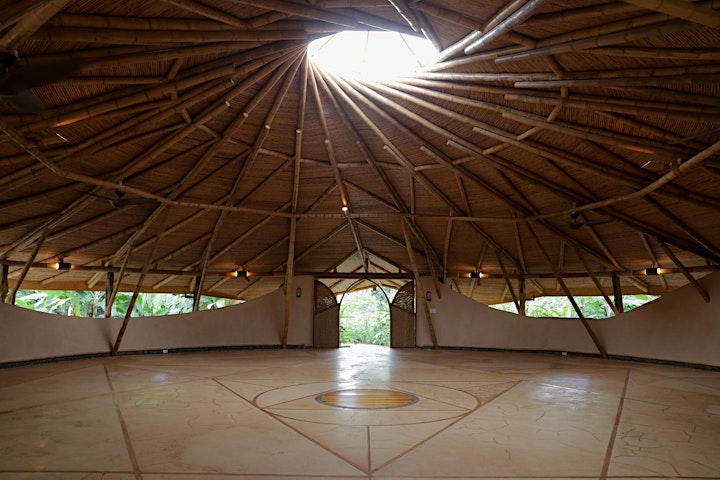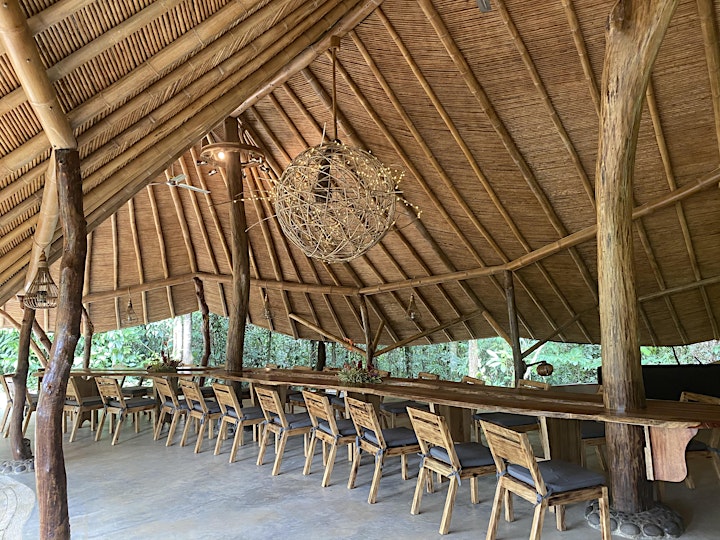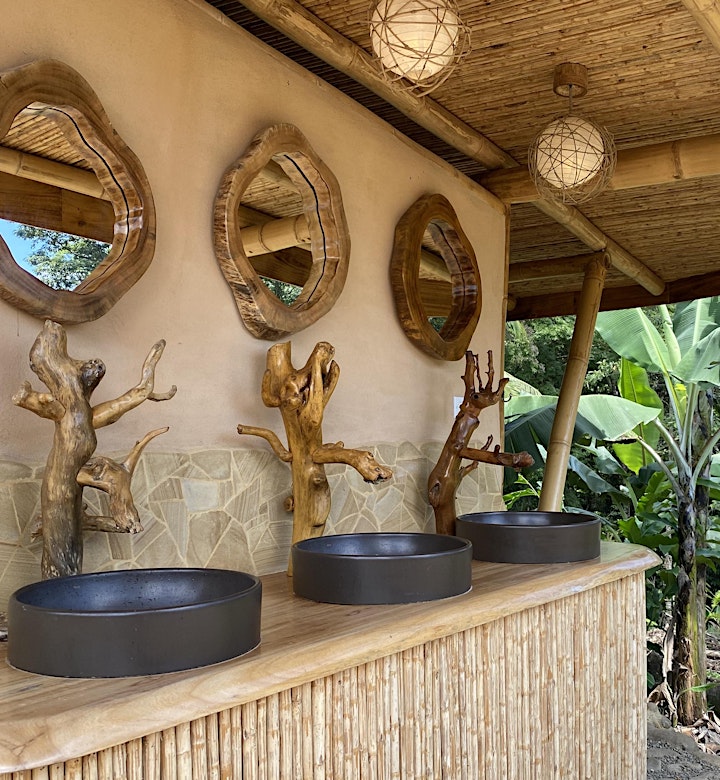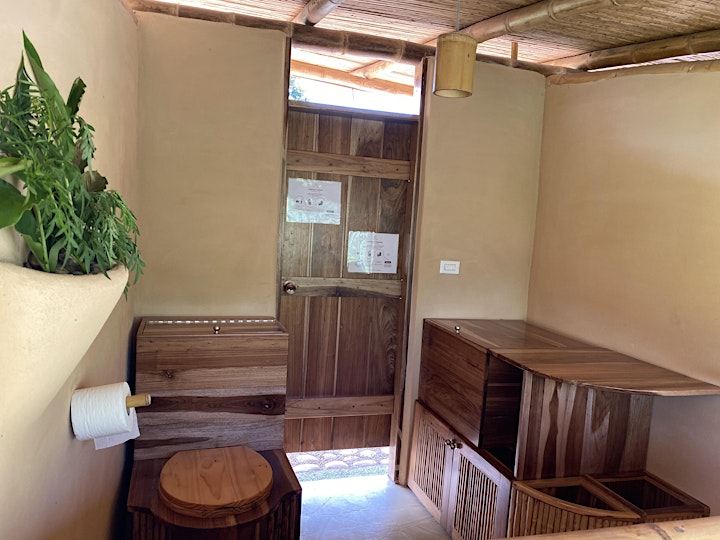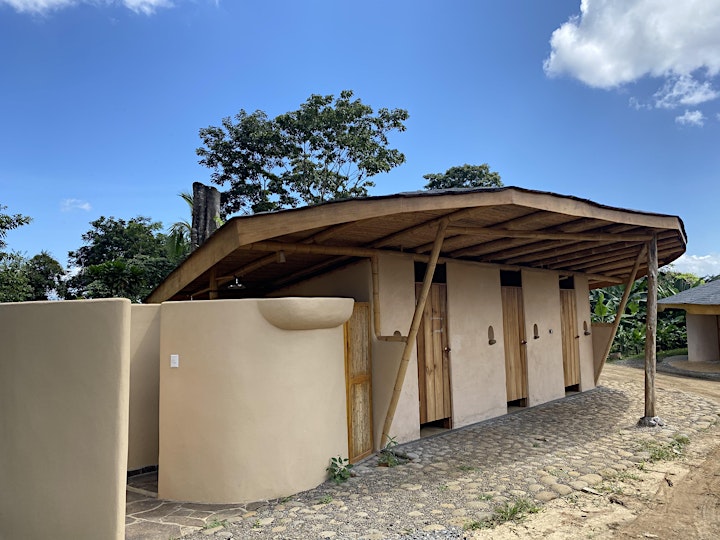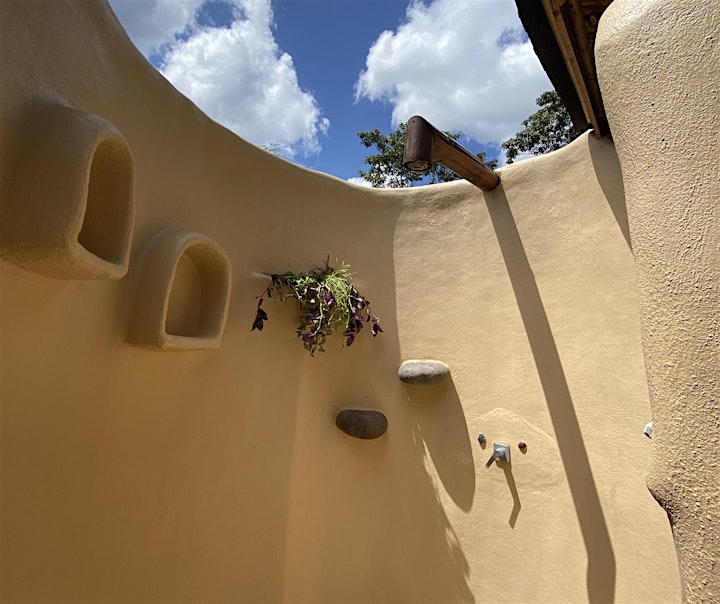 Organizer of New Years Eve Activating the Voice Costa Rica Retreat: Earth Medicine