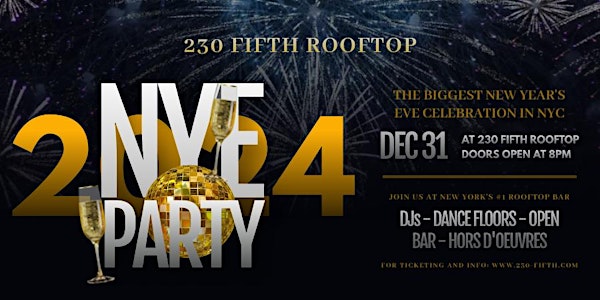 NEW YEAR'S EVE 2024 @230 Fifth Rooftop
Celebrate New Year's Eve at NYC's largest indoor & outdoor bar! Join us for our annual New Year's Eve Extravaganza!
Date and time
December 31 · 8pm - January 1, 2024 · 4am EST
Location
230 5th Ave 230 5th Avenue New York, NY 10001
About this event
New Year's Eve 2024 @ 230 Fifth
Celebrate New Year's at NYC's most famous rooftop venue - 230 FIFTH!
Welcome 2024 with good friends, good food, and good times! Come over for appetizers, dancing, and a champagne toast.
We've got 2 DJs, 2 dance floors, and 33000 sq. ft. of indoor and outdoor space. Enjoy the amazing views and great vibes!
Follow us on Instagram and Facebook
Offerings:
Two live DJs playing non-stop dance, rock, top 40s, and classic 80s for guests to dance the night away!
Open Bar from 9pm-1am & Cash Bar from 1am-3am
Food served from 9:30pm-11:30pm. Light bites, NOT full dinner.
Champagne toast
Premium alcohol of your choice: Absolut, Grey Goose, Tito's, Johnnie Walker Black, Ketel One, Bombay Sapphire, Patron, Jack Daniel's, Bacardi
Good food and delicious handcrafted cocktails
Access to NYC's most famous rooftop & penthouse - 230 Fifth
Prime Manhattan location
Incredible skyline view of the city and the Empire State Building
Hundreds of guests to meet
Amazing lighting, sound, and decor
IMPORTANT REMINDERS:
Tables are inside unless it is an igloo ticket.
Guests have access to both indoor and outdoor spaces.
Food served will be appetizers, not full formal meals.
All guests must be 21 years of age or older.
A driver's license will be accepted. There is no need to bring your passport.
We are NOT sure if we can view fireworks from the venue. It will depend on the Empire State Building.
You CAN'T see Times Square from our rooftop.
You do not need to print your tickets. The email or a picture of the QR is enough. If you can't access it, we can look up your ticket with your name.
Tables include admission.
Guidelines and Policies:
Age Requirement: Must be 21 years of age or older. (Unfortunately, even if the parent will be around.)
ID to Enter: Bring a valid ID that matches purchaser's name.
Time: Doors open at 8 PM. Event starts at 9 PM. Door closes at 2 AM.
Dress Code: Cocktail attire recommended.
Vaccination: Is NOT required to enter.
No Refunds, All Sales Final: Unforeseen circumstances beyond our control will not be grounds for a refund, including but not limited to the following: local or national weather conditions, natural disasters, waiting in lines, extended waits in lines, family emergencies, medical emergencies including COVID-19 results, employment issues including layoffs, traffic, parking, public or private transportation issues, etc. If you purchased for the incorrect date, location, event, etc, we are not obligated to provide a refund, credit, exchange or transfer. We reserve the right to refuse entry to any ticket-holder, without a refund, for any reason, including but not limited to: disorderly behavior, failing to comply with the rules of the venue, incorrect attire, intoxication, venue capacity, breach of security, and other restrictions. You are aware that Talent is subject to change without notice, which is not grounds for a refund. You are aware that amenities promised are not guaranteed and are not grounds for a refund. Dissatisfaction with any aspect of the event is not grounds for a refund, including but not limited to: music, DJ(s), decorations or lack thereof, party favors or lack thereof, beverages or lack thereof, alcohol selection, bar staff, food availability and selection, fellow patrons/attendees, venue staff, event staff, security, performances, ambiance, amenities, venue, check-in process, seating or lack of seating, wait in lines, emergency closures of event, delayed commencing of events, early ending of events, etc. 230 Fifth reserves the right to increase pricing without prior notice.
Support: If you encounter a problem at the event, a complaint must be filed within 5 calendar days following the date of the event; failure to contact within the 5-day period will be a complete waiver of your right to request compensation whether monetary or otherwise. You can reach us at events@230-fifth.com
Event Booking: By purchasing a ticket, you're entitled to entry to event you're purchasing it for; with its corresponding date, start time, and end time. If you do not show up to the event, you understand that you are forfeiting your ticket(s) and therefore your ticketing fee (the entirety of what you paid) will not be returned to you. You are fully liable for your purchase whether or not you are able to attend the event.
Event Cancellations: If the event is cancelled, you will be refunded the face value of your ticket.
Release of Liability: By purchasing the tickets through Eventbrite, you hereby release and forever discharge us from any liability or claims for damages that may arise as a result of your attendance and participation at the event, including claims for personal injury, or damage to personal property, or any other claims for negligence on our part. It is hereby understood that the purchase of tickets by you and your participation in the events shall not be construed as an assumption on our part of responsibility, liability, or control of the events.
Indemnity: By Purchasing tickets for this event, you agree to indemnify and hold us harmless from and against all claims, damages, losses, and expenses, including reasonable attorney's fees arising out of or by reason of complying with this Indemnity Clause. You hereby release, remise, and forever discharge us from all manner of actions, causes of actions, suits, debts, judgments, executions, claims, demands whatsoever, known or unknown, in law or equity, which you have ever had, now have, may have, or claim against us.
Photo and Video Consent: By purchasing this ticket, I hereby authorize 230 Fifth to publish photographs and videos that may or may not be taken of me on the 2024 New Year's Eve event for use in print, online and video based marketing materials, social media, as well as company publications.
By placing an order, you are confirming that you received this policy and are agreeing to abide by the clauses within. This policy is a binding contract between you and the venue.
FAQs:
Q: Do I have to be 21 + ?
A: Yes, no exceptions. Please be advised that we do check all identification at the door prior to admitting entry. Refunds will not be provided for underage guests who may have purchased tickets by mistake.
Q: I have a copy of my passport or out of state ID, is that okay?
A: A valid ID and a ticket is required to enter 230 Fifth's 2024 New Year's celebration. This policy is STRICTLY enforced and no expired forms of identification will be accepted.
Q: Can we see the ball drop in Times Square?
A: Unfortunately, we do NOT have a direct view of Times Square, but we will be showing the ball drop on all of our televisions and projectors, accompanied by a full countdown and champagne toast at midnight.
Q: Can I access the indoor and outdoor areas with my general admission ticket?
A: Yes, your New Year's Eve ticket will include access to both the indoor space and the Rooftop Garden area.
Q: What does an open bar mean?
A: Open Bar essentially means that you may order any beverage of your choice, for a set prepaid cost (included in all New Year's Eve tickets). This includes all cocktails (including top-shelf liquor), beers, wines, and all non-alcoholic beverages. The Open Bar will last from 9pm–1am.
Q: Will there be food served?
A: We will have light hors d'oeuvres and stationary appetizers available. Food will only be served from 9:30pm-11:30pm. We recommend grabbing dinner before joining us until midnight.
Q: Does the General Admission ticket come with a seat and or table?
A: General Admission tickets will solely include admission, as well as Open Bar from 9pm–1am and food. No seating will be reserved for General Admission ticket holders. Seating will be available on the Rooftop Garden.
Q: Is the bar outside or inside?
A: Our New Year's Eve celebration will mainly take place within our indoor space. The 20th floor is a completely enclosed indoor area with large windows offering views of the Manhattan skyline. The Rooftop Garden is located directly above the indoor spaces and is easily accessible to all New Year's Eve ticket holders. The Rooftop is partially heated and we offer our signature red robes for guests to wear for added warmth. Please be advised that we also have designated smoking areas available on the Rooftop.
Q: Will the event go on even if it rains or snows?
A: Despite rain or snow, the New Year's Eve celebration will still continue as scheduled, as all reserved seating will be located indoors, regardless.
Q: Are there any refunds for guests that can't make it on New Year's?
A: All New Year's Eve sales are final and no refunds will be issued in any event. No exceptions.
Q: Will there be a place to keep my coat or bag?
A: We will have complimentary coat check available on New Year's Eve.
Q: Do tables for 2, 4, 6, 8, 10, and 12 tickets include a table and seating?
A: All table-tickets will include reserved seating and a table for the amount of guests indicated in the purchase. If there are additional members of your party that are not a part of your table but have purchased general admission tickets, they will not have seating. You will have a server that will be taking drink orders, as well as servers passing hors d'oeuvres and appetizers throughout the venue. Please be advised that only light hors d'oeuvres and appetizers will be available. Our regular a la carte menu will not be available during this event.
Q: I purchased a table for New Year's. Can I sit by a window?
A: Table placement is entirely done on a first come, first served basis. The earlier you purchase your tickets, the better chance you have at getting a table near a window. Regardless, most of our rooms provide picturesque views of the Manhattan skyline.
Q: I have a guest who would like to sit with us at our table. Can we add a seat for him/her?
A: Unfortunately, we cannot do that. Your extra guest may purchase Top Shelf Open Bar Admission and accompany you for the night, but we will not have seating for them. If available, you can purchase a larger table to accommodate your guest.
About the organizer
230 Fifth Rooftop is a world-famous bar/restaurant/event space in Manhattan. With its top-tier facilities and prime location, it is a popular destination among tourists and locals alike. Various talk of the town events are held in 230 Fifth like weekend dance parties, bottomless brunch, holiday celebrations, and many more!