Actions and Detail Panel
NEW YEARS EVE 2017 CREME DE LA CREME at ENGINE ROOM || DEC 31st 2016 || HOU...
Sat, Dec 31, 2016, 9:00 PM – Sun, Jan 1, 2017, 2:00 AM CST
Description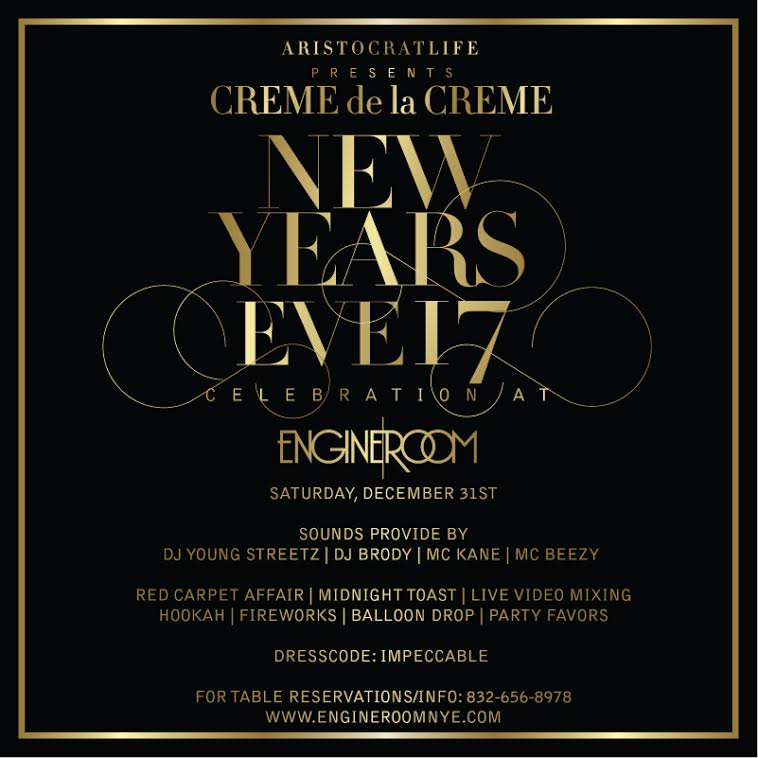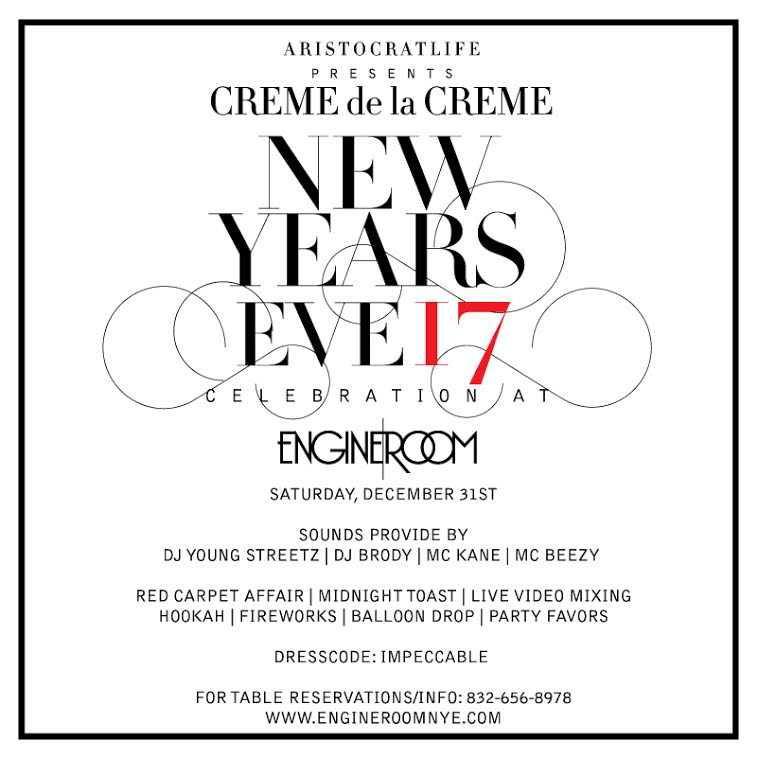 DUSSE COGNAC | DELEON TEQUILA | ENGINE ROOM HOUSTON presents..
CREME DE LA CREME
NEW YEARS EVE CELEBRATION
Saturday, December 31, 2016
ENGINE ROOM
1515 Pease St
Houston, Tx 77002
Doors Open 9pm-2am
◙◙◙◙◙◙◙◙◙◙◙◙◙◙◙◙◙◙◙◙◙◙◙◙◙◙◙◙◙◙◙◙◙◙◙◙◙◙◙◙◙◙◙
Here we stand at the beginning of a path long forgotten. A new chapter in our journey full of laughter, fun, mystery, love, excitement, adventure, new faces, and surprises. Prepare yourself for THE PARTY OF THE YEAR!
◙◙◙◙◙◙◙◙◙◙◙◙◙◙◙◙◙◙◙◙◙◙◙◙◙◙◙◙◙◙◙◙◙◙◙◙◙◙◙◙◙◙◙
Event Details:
◙◙◙◙◙◙◙◙◙◙◙
~ 2 THEMED AREAS TO PARTY ~
~ PERFORMERS BY ~
~ SOUNDS BY THE CITIES HOTTEST DJS ~
~ PARTY FAVORS ~
~ LASER LIGHT SHOW ~
~MIDNIGHT CHAMPAGNE TOAST ~
~ EXCLUSIVE VIP SEATING AVAILABLE ~
◙◙◙◙◙◙◙◙◙◙◙◙◙◙◙◙◙◙◙◙◙◙◙◙◙◙◙◙◙◙◙◙◙◙◙
★ ENGINE ROOM:
- Music: Hip Hop & Top 40
★ JET LOUNGE:
- House & International
DRESSCODE: Impeccable
VIP Group Packages with Full Service Bottle Service:
◙◙◙◙◙◙◙◙◙◙◙◙◙◙◙◙◙◙◙◙◙◙◙◙◙◙◙◙◙◙◙◙◙◙◙◙◙◙◙◙
▽ $550 TABLE PACKAGE INCLUDES:
- 1 Liter Bottle of Premium Liquor
- A table & a seated section
- 6 VIP Tickets
- 4 Mixers (Except for Red Bull or Water)
- Tax & Gratuity Included
▽ $2000 TABLE PACKAGE INCLUDES:
- 4 Liter Bottles of Premium Liquor
- A table & a seated section
- 10 VIP Tickets
- 4 Mixers Per Bottle (Except for Red Bull or Water)
- Tax & Gratuity Included
▽ $2500 TABLE PACKAGE INCLUDES:
- 5 Liter Bottles of Premium Liquor
- A table & a seated section
- 10 VIP Tickets
- 4 Mixers Per Bottle (Except for Red Bull or Water)
- Tax & Gratuity Included
FOR VIP TABLE RESERVATIONS:
◙◙◙◙◙◙◙◙◙◙◙◙◙◙◙◙◙◙◙◙◙◙◙◙◙◙◙◙◙◙◙◙◙◙◙◙◙◙◙◙
EngineRoomNYE17@Gmail.com
Event Info:
281.849.6900
This Event Is
21+
ENGINE ROOM
1515 Pease St.
Houston, TX 77002