Event Information
Location
Vinyl Music Hall
2 S. Palafox St.
Pensacola, FL 35202
About this Event
General Admission * Standing Room Only * All Ages * Additonal $5 Cash Surcharge At The Door For Under 21 * Attendees Under 16 Must Be Accompanied By A Ticketed, Adult Guardian * Posted Times Are Door Times- Events Generally Begin 30-60 Minutes After Doors Open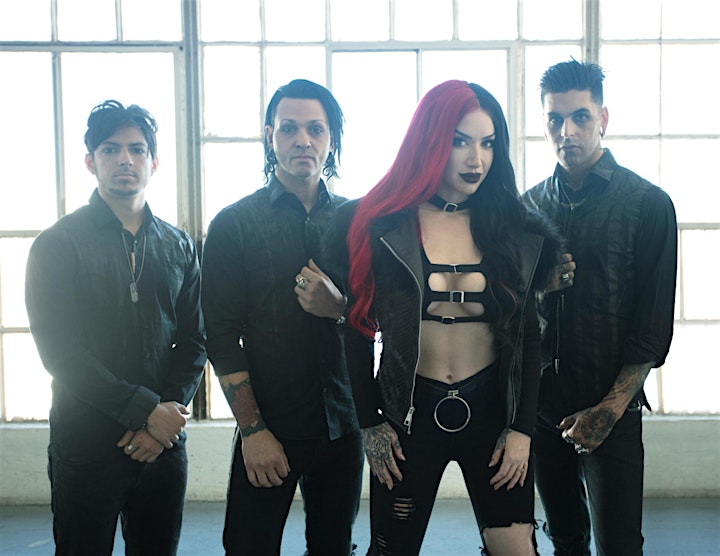 For2019's Unbreakable,SoCal lineup New Years Day "set out to write the poppiest metal album, or the most metal pop album."The2018 release of"Skeletons" from Unbreakablesurpassed 1 million worldwide streams, and"Shut Up" and 'Come For Me" likewise capture a young band in its creative prime. Singer Ash Costello says,"I feel like New Years Day was really born when our EP Epidemic(2014) came out; it was the first taste of who we really are. Then Malevolencedropped, it was sort of our punch in the dick to the music industry, and we did our first headlining tour in 2015." Malevolencehit #45 on the Billboard200 and thanks to singles including "Defame Me" and "Kill Or Be Killed," and alongwith stints on the Warped Tour anda festival tour with Halestorm, NYDhoned a sound that, on Unbreakable, melds "the super-melodic and the dirty, ratchety stuff." Writers/producers Mitch Marlow (All ThatRemains, In This Moment) and Scott Stevens (Halestorm, Shinedown) wrote with Costello, honing her focus. "You put the two guys together, and I'm the person who embodies both sides, musically. I'm a little horror, a little blood and guts, and a little 'I love Mickey Mouse' happy," the singer says. "It's a little ugly, it's a little pretty. On Unbreakable,the music is finally reflecting that." The members of New Years Day had some dark days in the years leading up to Unbreakable,ultimately emerging as powerful as the title track suggests. As Costello concludes: "We've got this shit. We're tight. We've lifted ourselves out of the dirt."
If you're not pissed off, then you're not paying attention. Ded thrives on the aggressive spirit that is authentic to the heavy music genre. "There is an honesty and attitude about heavy music that I don't feel as often anymore" says lead singer Joe Cotela – "and we want to bring that back". Ded is loud and aggressive - but it serves as a positive outlet: the band produces an unapologetic sound that draws from the art of fantasy and expressive screams. Their debut album "Mis-An-thrope" was released on 7/21/17.
Ded was born in the music scene of Phoenix, Arizona and has been together for almost 3 years. Band members Joe Cotela (Vocals), David Ludlow (Guitar), Kyle Koelsch (Bass), and Matt Reinhard (Drums) developed a friendship and ultimately a musical partnership that mixes horror and dark imagery to develop a familiar, yet unique sound that sets them apart from other bands. Cotela says "With our music - we want to make the listener feel like how you feel after you've watched a really good horror movie – on edge, jittery… And very much alive". They incorporate these volatile elements into their lyrics – with the hopes that it will breathe new life into the hard-core genre. Imagine an inspired take on outward thinking that transcends screaming, and low tuned riffs. Their sound is meant to "be in your face and tell it like it is", while paying homage to Korn and Pantera, who served as early inspirations. Ded are also influenced by more recent bands like Slipknot and Bring Me The Horizon. This is modern hard rock & alternative metal that goes beyond anger - including themes like existentialism and ego in everyday life. The lyrics are timely and resonate with an audience navigating the chaotic world we live in.
The band's work ethic, drive, and dedication led them to record an EP that quickly made the rounds of the music industry, and started a buzz that opened doors. Using that as a springboard, the band hit the road and toured with Beartooth, Asking Alexandria, Atreyu, Every Time I Die, Upon a Burning Body, The Acacia Strain, John 5, Powerman 5000, and Insane Clown Posse among others.
Their touring helped grow awareness in the business and brought them to the attention of producer John Feldmann (Disturbed, Blink-182, Beartooth). Their collaboration with Feldmann culminated in the band signing with Jordan Schur @ Suretone Records – who discovered and grew the careers of platinum rock acts Staind and Limp Bizkit, among others. Suretone released their first song and video for "FMFY" in December 2016.
2017 was very busy year for Ded - they played all Major Rock U.S. festivals, played more than 150 live shows and toured 25 + dates with KORN and Stone Sour. Both of their 1st two singles "Anti-Everything" and "Remember The Enemy" reached the Top 20 on the Active Rock Radio charts. "Anti-Everything" was #8 on SiriusXM Octane's Top 10 for 2017 and they named the band "Artist Discovery of the Year". "Anti-Everything" & "Remember The Enemy" were featured on high profile curated Hard Rock & Metal playlists at all major streaming services including Spotify, Apple Music, Pandora, Amazon Music, Youtube, and Google Play Music. The video for "Anti-Everything" has more than 1.4 million views on Youtube. The band is repped by CAA for booking.
They have just released their 3rd single "Hate Me" and it's already in Power Rotation on SiriusXM Octane, has cracked the Top 40 @ Active Rock Radio after only 5 weeks and has been added to key playlists including Spotify's "Rock Hard", Apple Music's "Breaking Hard Rock", Amazon Music's "Fresh Rock" and "Introducing Rock", Pandora "New Rock" and Google Play Music's "Hard Rock Hotlist".
Performers
Date and Time
Location
Vinyl Music Hall
2 S. Palafox St.
Pensacola, FL 35202
Refund Policy