Description
The Endup proudly presents:
New Beginnings: New Year's Afterhours

with Colette & DJ Heather



After the fireworks are over and all the champagne is gone, most of the City goes to sleep... And that's when the real New Year's party starts at The Endup!
Let's ring in 2019 with Colette & DJ Heather, delivering the quintessential house music that defines San Francisco!

2am Monday night, December 31st - 10am Tuesday morning, January 1st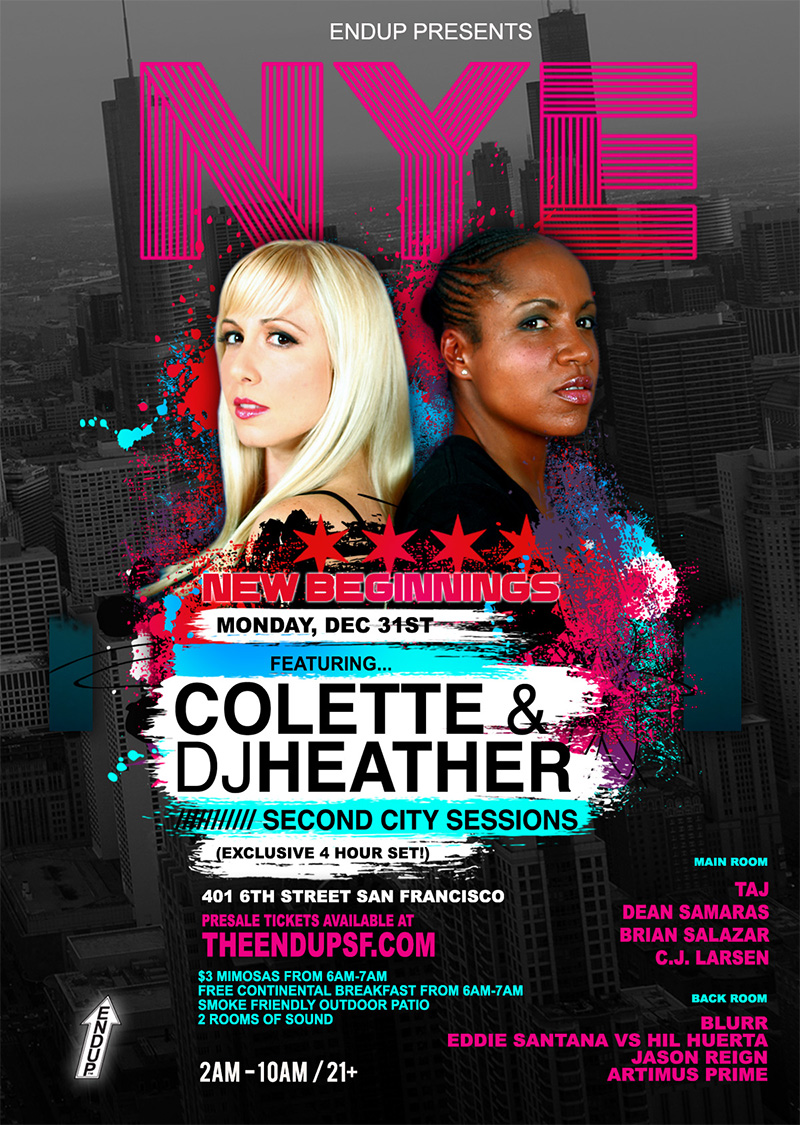 Featuring:

COLETTE & DJ HEATHER - exclusive 4-hour New Year's set from 3am - 7am!
Colette & DJ Heather join forces for Second City Sessions Tour, bringing heat to dance floors throughout North America with their slammin' tag team show!

Along with your favorite local DJs in 2 rooms of music:
Main Room:
DEAN SAMARAS : : 2am - 3am
(Sense SF, The Show)
TAJ : : 7am - 8am
(Rel8, Wax, Rise-n-Shine)
C.J. LARSEN : : 8am - 9am
(Substance, Delta Funk, Sunshine People)

BRIAN SALAZAR : : 9am - close
(Soul Camp, Housemen)
Back Room:
BLURR : : 2am - 4am

EDDIE SANTANA vs. HIL HUERTA : : 4am - 6am

JASON REIGN & ARTIMUS PRIME : : 6am - close
__________________________________________

New Year's Day Specials:
FREE Continental Breakfast from 6am - 7am!
$3 Mimosas from 6am - 7am

Sign up for a $5 discount off the door cover, valid all night and morning!


2am - 10am
Bar reopens at 6am
Smoke friendly outdoor patio!
21+

The Endup
401 6th St.
San Francisco, CA