New Year: Unstoppable Career & The Role of the DIT @ LAPPG

Wednesday, January 8, 2014 at 7:00 PM (PST)
Event Details
You are invited to attend:
Understanding the Role and Work of a
Digital Image Technician 
&
How to Be Unstoppable In Your Career
on

Wednesday, January 8th, 2014 @ 7pm
Understanding the Role and Work of a Digital Image Technician

Join us as we welcome bi-coastal DIT, photographer, cinematographer and digital capture expert, Von Thomas who will enlighten us about what a Digital Image Technician does and why you would use one and even how to become one! He'll go over proper use of LiveGrade and why to use it, why to use the gray card in digital cinema for easy one light color correction, primary color correction, synching audio and the basics of back up and checksum software along with final delivery. Von will all your answer questions about this important filmmaking position.
How to Be Unstoppable In Your Career
Start the new year off with a clearer understanding of what you need to do to be unstoppable in your career. Imagine what it feels like. Everything is clicking. Your hard work is paying off. You make new relationships easily. You book work and it feels almost effortless.
Join us as Career Coach Shawn Tolleson returns to the LAPPG to show us the practical tools we we need to be successful, including creating a crystal clear vision, a strategic plan, a supportive team, a powerful execution of the plan and how to overcome obstacles to get back into effective action. Whether you are looking to move up the ladder or to find your next gig, Shawn will show you how to make 2014 your unstoppable year!
About the Coach:
Shawn Tolleson is the premiere career coach for entertainment industry professionals of all disciplines. She gives you the practical tools you need to accomplish your dream career. She has coached editors to booking jobs on award-winning features and television as well as entertainment industry professionals of all disciplines to booking their dreams jobs. For more info, blogs & videos, visit www.entertainmentcareerstrategy.com.
$5.00 requested at the door. There will be coffee, time to network with other industry professionals and the opportunity to participate in our amazing monthly giveaway.
 




Roth Hall

1714 21th Street
Santa Monica, CA 90404


*** Street parking is available on 21st Street, on Michigan east of 21st Street, and in our 22nd Street parking lot (between Michigan and Pennsylvania).

---
SAVE THE DATES! UPCOMING INDUSTRY EVENTS -
Thursday, January 23rd, 2014 - LAPPG PRESENTS: Industry Mixer and Film Festival Panel at The Parlor in the Melrose District.

Honor that New Years' resolution to network more in the new year!  Be on the look out for an Eventbrite invitation coming shortly. Get your tickets online: $10 registration earlybird until January 14th (includes a drink ticket) and after Jan. 14th $15 (includes a drink ticket). $20 at the door. The panel:
THE ROLE OF THE FILM FESTIVAL TODAY AND TOMORROW:
What filmmakers need to know to succeed now and in the future
will be moderated by Jon Gann, founder of the DC Shorts Film Festival, author of Behind the Screens: Programmers Reveal How Film Festivals Really Work, and newly appointed Executive Director of the CINE Golden Eagle Competition. These fine festivals will be represented: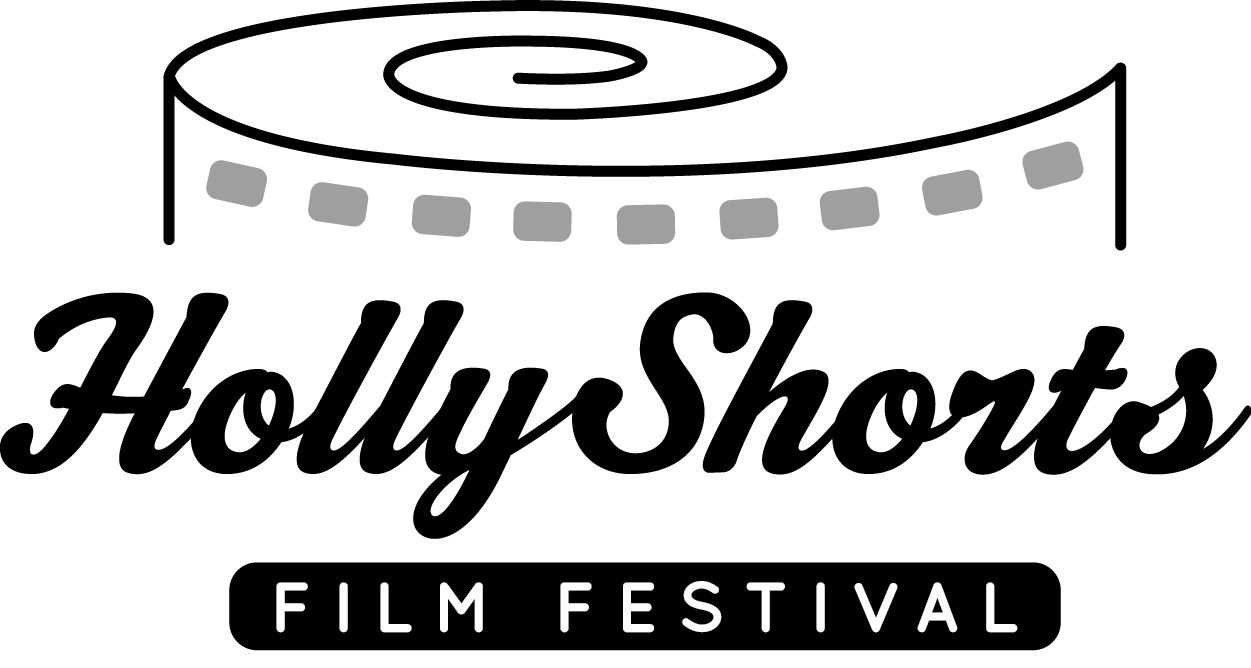 Saturday, February 22nd, 2014 - LAPPG PRESENTS: Entertainment Industry Tax Seminar.  Join us as we welcome Robert Hall & Associates' federally licensed tax practitioner Tony Watson as he offers us valuable information for maximizing your deductions while minimizing your liabilities as well as changes we need to know about in the 2014 tax law. There will be plenty of time to have your individual questions answered. Registration will be available shortly at $15/seat.

---
LAPPG MEMBERS DONATE TO WESTSIDE FOOD BANK

Over 200 cans of food were collected and donated to Westside Food Bank at our
December meeting. In our third annual food drive, the turnout and generosity was overwhelming and comes at a time when so many families need a little extra help around the holidays. The Westside Food Bank supplies food to the food assistance programs of social service agencies in Santa Monica, Venice, Culver City, West Los Angeles, West Hollywood, Inglewood, and the LAX area. Thank you to our amazing members!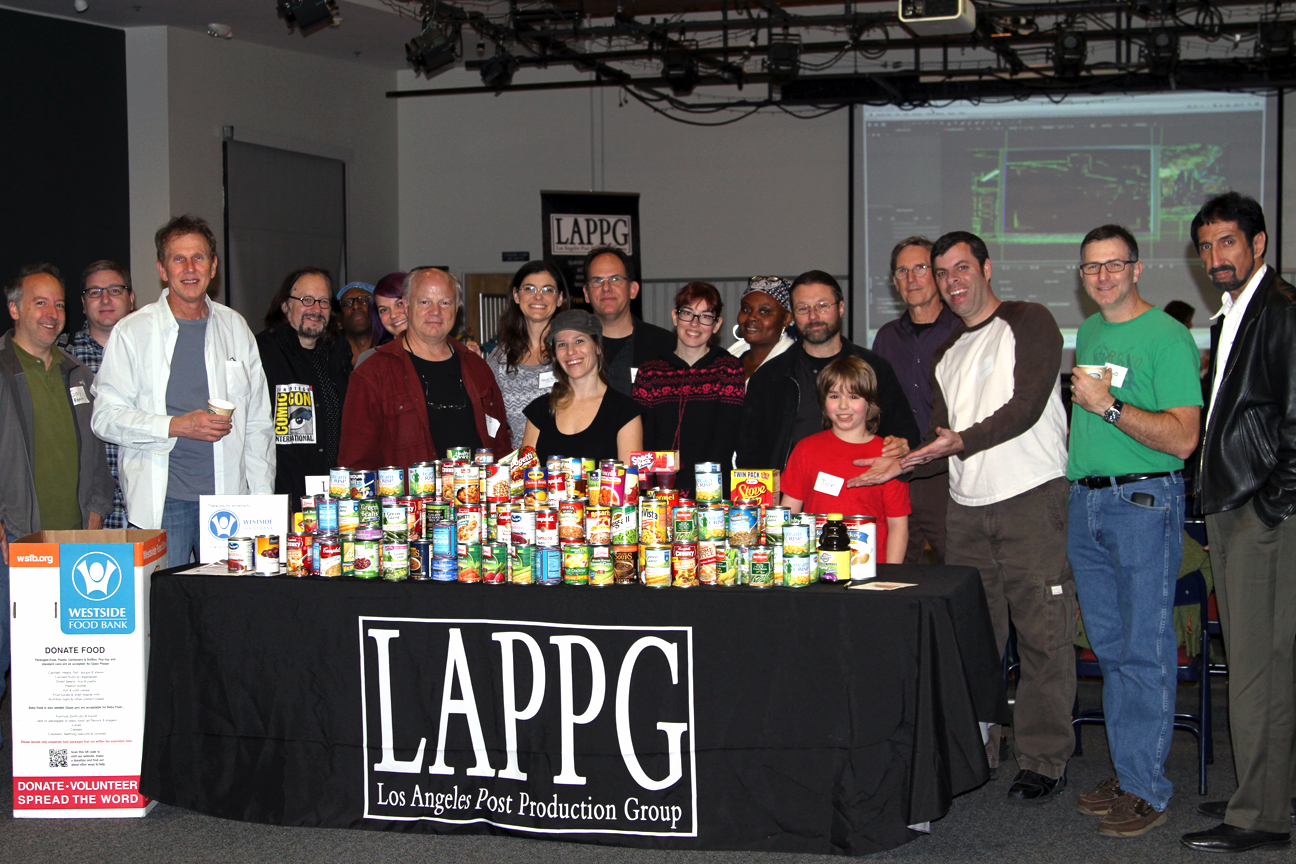 ---
Interested in sharing your work with the group? Our 4th Member Showcase
will be coming up this spring. If you are interested in participating, please drop an email to membership@lappg.com. When the spots fill up we will begin a waitlist for the next one.  All projects must be 5 minutes or less and there will be a short Q & A following each presentation. Don't be shy!  Share a clip from a film, webisode, music video, short or tv show you worked on. It's a great opportunity for people to see your talent.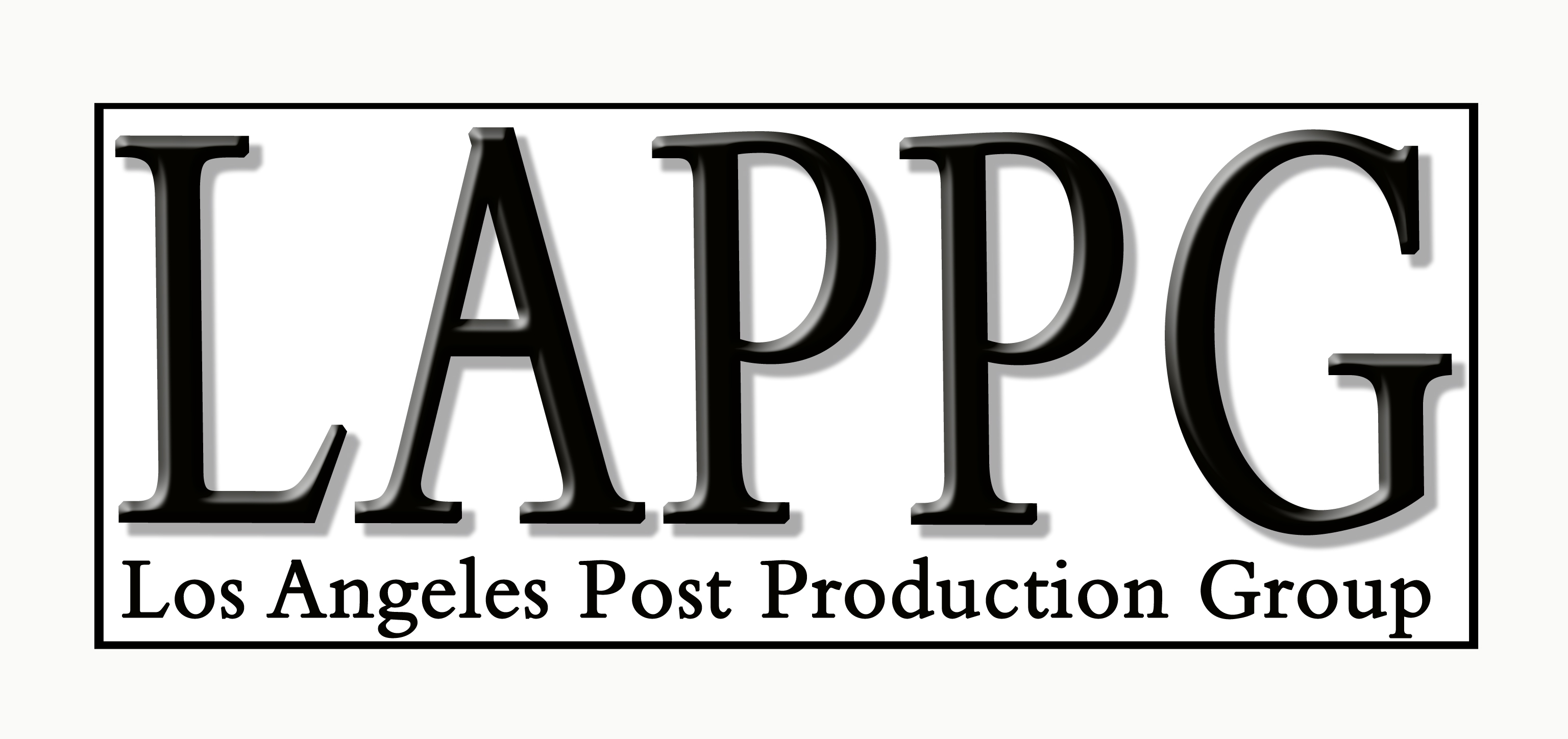 GET RECHARGED IN THE NEW YEAR WITH LARRY'S POWERUP SEMINAR
The world of professional video is quickly moving to higher resolutions than HD. 4K, and even-higher-resolution images are becoming ever more common.
In his upcoming "PowerUp: 4K and Final Cut Pro X" seminar on January 14th, 2014 leading Final Cut author and trainer, Larry Jordan showcases real-world, practical workflows, hardware and the best practices that help make the transition into UltraHD and 4K images. Delivering a comprehensive view of 4K technologies, Larry is pleased to welcome the experts from the leading 4K innovators to participate in a panel discussion as well as show us some of their latest innovations!

---
STAY CONNECTED
Keep up-to-date with special member offers, discounts and news!

"Like" our Facebook LAPPG fanpage!
And don't forget to follow us at twitter.com/losangelespost!
---
We graciously thank the following partners for their generosity and support for our monthly meetings. Please visit them:
Adobe, Advantage Video Systems, Art of the Guillotine, Artbeats, Blackmagic Design, BorisFX, Creative Handbook, CrumplePop, Digieffects, Digital Rebellion, Digital Video Expo, FilmTVSound.com, Focal Press, Hewlett Packard, HollyShorts, Imagineer Systems, Intelligent Assistance, Larry Jordan & Associates, Lynda.com, MelroseMAC, Moviola, Noise Industries, Peachpit, Pond5, Post Production Buyers Guide, Pro Sound Effects, ProductionHUB, Shutterstock, Sidekick Music Library, SmartSound, Take 1 Transcription, Telestream, WoodysSoundAdvice.com.
We look forward to seeing you on January 8th!
Sincerely,

Los Angeles Post Production Group
Please visit www.lappg.com for member offers, book reviews, job listings, industry news and more.
When & Where

Crossroads School for Arts & Sciences - Roth Hall
1714 21st Street
Santa Monica, CA 90404


Wednesday, January 8, 2014 at 7:00 PM (PST)
Add to my calendar
Organizer
Los Angeles Post Production Group
The Los Angeles Post Production Group is a professional organization for people with a passion for film, video and the digital media finishing process.

The LAPPG discusses all aspects of post production, from picture and sound editing to color correction, visual effects, codecs, storage and post workflows.

Expert presenters and leading companies come to our monthly meetings and share new technologies, techniques, tools, products and best practices to aid us in telling great stories.
We also provide our members with great offers and discounts as well as opportunities to network and make industry connections.
Membership is free and you need not live in Los Angeles to take advantage of this great resource.
To become a member please email your name and information about yourself to membership@lappg.com.
New Year: Unstoppable Career & The Role of the DIT @ LAPPG