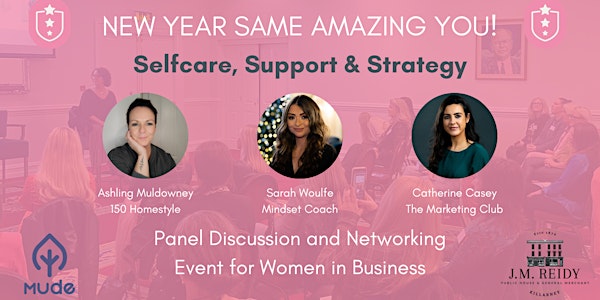 New Year Same Amazing You!
Join us for an evening of self-care, support and strategy.
Date and time
Mon, 27 Feb 2023 18:00 - 20:00 GMT
Location
John M. Reidy 4 Main Street V93 CC82 Killarney Ireland
Refund Policy
Contact the organiser to request a refund.
About this event
We are delighted to bring to you our first event in Kerry. This very special evening event in the renowned J M. Reidys, Killarney.
Join us for an evening of networking and panel discussions where we will cover everything from self-care, support and strategy. Helping you put together that strategy to make you top of your priority list for 2023.
This event is for you if you have your own business, thinking of starting a business, or if you would just like a fun evening after work with a group of lovely women. Come by yourself or with your friends, either way, you will receive a warm welcome and Reidys is going to provide us with some food and Mude will provide us with some amazing non-alcoholic drinks.
On the Panel will be Ashling Muldowney founder of 150 Homestyle, Sarah Woulfe Mindset Coach, and Catherine Casey, founder of The Marketing Club.
The MC on the night will be Sian Horn, Business mentor, Coach and Founder of The Club.
The Club Women's Network
We all know how lonely and overwhelming the business sphere can be. Loneliness, lack of confidence and business knowledge can be overwhelming at many points in our journey. The Club is the essential membership for all women, solopreneurs and smes alike. A support and learning network like no other helping to build your confidence, create a business strategy, understand financials and cash flow to peer to peer coaching, workshops, marketing and the list goes on. The Club is truly where the empowered empower.
https://theclubwomensnetwork.com/
Ashling Muldowney
Ashling is a full time secondary school teacher based in Cork but from Kerry.
Ashling has been busy growing her own fashion and lifestyle page for the last two years but in Nov 2020 a very significant loss forced Ashling to re evaluate life. Ashling, along with her sister Tracy and niece Janna decided to follow their dreams and set up their business 150 Home Style.
150 is a scent house (based in Tralee, Co Kerry) specialising in hand poured luxury candles. The aim is to create a sense of emotion, to spark a memory, to inspire and to add style to the home.
The girls are always mindful of looking after the Earth and as a result they are extremely eco conscious with all packaging being biodegradable/ recyclable. They use 100% soy wax and FSC certified wicks. Their tin vessel is unique and can be repurposed.
Each scent is accompanied with a unique Irish proverb that connects us to our heritage and mother tongue. The girls launched in Nov 2020 with huge success. 150 has been featured in The life Magazine supplement of The Sunday independent and also in the local publications of Cork and Kerry.
https://www.instagram.com/150homestyle/
Sarah is a certified & internationally accredited mindset coach, NLP, EFT and mindfulness practitioner, having launched her online coaching practice back in April 2021. Sarah's mission is to support others in their journey of becoming the best versions of themselves. Empowering women to wake up to their true potential is her lifelong passion. Having seen her own life do a 180 on the confidence scales through the work she's personally done, she truly believes your outer reality is a reflection of your inner state and how you perceive your world and your abilities. "It is incredible the shifts and breakthroughs that occur when you work on your mindset wholeheartedly and with passion", which is what her coaching program "Best Self Training" allows others to do. "When you create a deep, fulfilling relationship with yourself, you have the power to turn your desires into reality."
Sarah also wanted to offer women an alternative route to mainstream counselling, therapy, etc. even though she also believes coaching works wonderfully alongside these practices. She grew up in an alternative/holistic therapy family background, so learned a lot of what she passes onto women first hand.
https://www.instagram.com/sarahwoulfe.mindset/
Catherine Casey
Catherine is a digital marketing consultant who teaches small business owners how to skyrocket their business using organic marketing & sales strategies. With a first-class honours Marketing Master's Degree and 7 years of marketing experience, Catherine has a wealth of knowledge and expertise in her field.
Catherine has grown her Instagram following to over 190,000 followers, and her TikTok following to over 280,000. In January 2022, she quit her 9-5 job to pursue her dream of owning her own business and creates online programs to help small business owners take control of their marketing and skyrocket their sales.