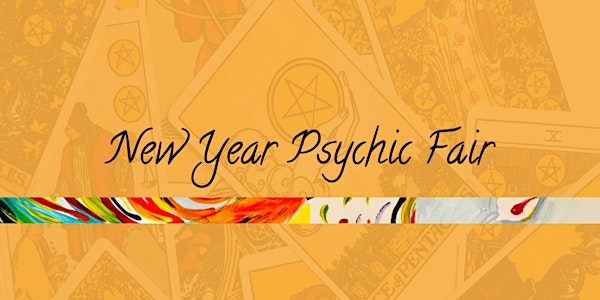 New Year Psychic Fair
A celebration of the new year with astrology, tarot, oracle and dream divination! Plus, live music, drinks, cacao and a few surprises!
When and where
Location
Full Circle Yoga and Therapy 1719 South Main Street Salt Lake City, UT 84115
Refund Policy
Contact the organizer to request a refund.
Eventbrite's fee is nonrefundable.
About this event
The Annual Psychic Fair is back!
After a long hiatus due to the pandemic, we are excited to gather again for an evening of insights, connections, and new year manifestation!
Featuring:
Live Music by Jared Ray Gilmore
Featured Visual Artist: Jen Banks
All proceeds will benefit the Jung Society of Utah. Our mission is to tend to the soul of our community (that's you!).
THANK YOU to our lead sponsor for this event, Full Circle Yoga & Therapy!
Bios for our nine psychic readers:
Machiel Klerk, Dream Divination
Machiel is a gifted dream worker recognized around the world for his research and work on dreams. Answering his calling as a dream worker, he has written Dream Guidance, founded the Jung Society of Utah, and Jung Platform—a leading organization on Jungian and depth psychology.
Sylvia Nibley, Intuitive Readings with Inquiry Cards
Inspired healer, visionary and prolific creator, Sylvia has channeled her passion for awakening into helping thousands of people transform their lives and tap into their own wisdom. Guided by a constant connection with spirit, Sylvia gets phenomenal results and brings love and transformation to everyone she touches.
Laura Godenick, Astrology
I've been a practicing Astrologer since 2019. I've had several teachers including Anne Windsor, Kelly Surtees, Acyuta-bhava Das, and Christopher Renstrom, and have written zodiac sign forecasts and served as an Astrologer on the Nebula Astrology app. Together, we can find the treasure that is hidden in the map of your birth chart!
Christen Bridgwater, Natal Astrology Readings
Liminal Astrology is my practice of archetypal counseling. I am certified as a natal chart reader through Adam Elenbaas' Nightlight Astrology School. I am here to help interpret the omens of the sky, but also to help you attune to the voice of deep knowing, love, and wisdom already within you.
Candice Mallicoat, Oracle Reader
Pick a crystal intuitively and receive a channeled message with crystal energy! Candice will also do card readings for what you most need to know, grow, and show in your life. A surprise twist at the end of your session with a unique and sassy message, AND a gift to take home with you!
Claudia Draper, Intuitive Readings
Bring any questions you'd like to get guidance with. We sit. I tune in. Sometimes I get a download of information. Sometimes we use things like oracle cards or a drawing of a room or house. I see and sense patterns and the subtle details at the heart of the matter. Every person is unique, so every reading is unique.
DaNell Boerup, Energy Healing
I have over 30 years of experience in energy healing modalities, which help me pinpoint imbalances and help you clear them. I do this through the MAP (Make Anything Possible) protocols, charts, dowsing and intuition. I can help you quickly uncover and breakthrough fears, beliefs and generational/past-life barriers that may be holding you back, no matter where you are in your life journey.
Alexis Worlock, Tarot & Dreams
Bring me your dreams, wishes, the longings of your heart. I'm an intuitive and experienced psychotherapist, Tarot reader, artist, writer, and dream worker in private practice. What you seek can be found; there is always a path.
Z Capito, Tarot & Oracle Reader
Identify your inquiry. Select the deck that resonates with you. Journey through your spread into your own clarity and wisdom. Z has been reading tarot and oracle cards for four years, including at monthly full and new moon circles and at the Wild Women retreats along the Wasatch Front, in southeastern Utah, and in Lava Hot Springs, Idaho.