Event Information
Refund Policy
Refunds up to 30 days before event
Description
Ready to go beyond the usual New Year's Resolutions?
Modern life is going by at a furious pace, and most of us have no time for quiet reflection and recalibrating our life. It's easy to let 5 or 10 years go by without looking up and scanning our lifescape to see how it matches with how we feel we should be living our life.
Spend a day with us, as we get to the Foundation of how you build your life: One choice at a time. Invest in yourself with this brief Soul check-up, and make a plan to get back on your path to living a more authentic life.
If this resonates with you, and you are ready to go beyond the usual the list of New Year's resolutions, then join us and experience this whole-person immersion into learning who you are RIGHT NOW, what you really want in life and to uncover your deepest desires and visions for a more fulfilling life.
Included in workshop:
- creativity exercises to reconnect with your true nature: vision board, values pie and more...
- guided visualizations to craft your goals
- building your own "Lifestyle Album"
- take a dosha quiz and customize a lifestyle plan which honors your unique mind/body constitution
- understand the impact of stress on your health in our Q&A with Dr. Venkat Srinivasan
- vegetarian lunch from Pharm Table
This workshop prepares you to develop a new system of life-planning, one that starts with the fundamentals and recognizes who you are as a whole-person, with unique characteristics. Discover the freedom and power you can feel when you let go of what no longer serves you, and focus on what lights you up and moves you forward.
Join us for this hands-on workshop, and learn how you can optimize your life. Space is limited to 20.
Enjoy the beauty and serenity of this workshop at the Japanese Tea Garden and reserve your spot today!
Together in spirit,
MaggieG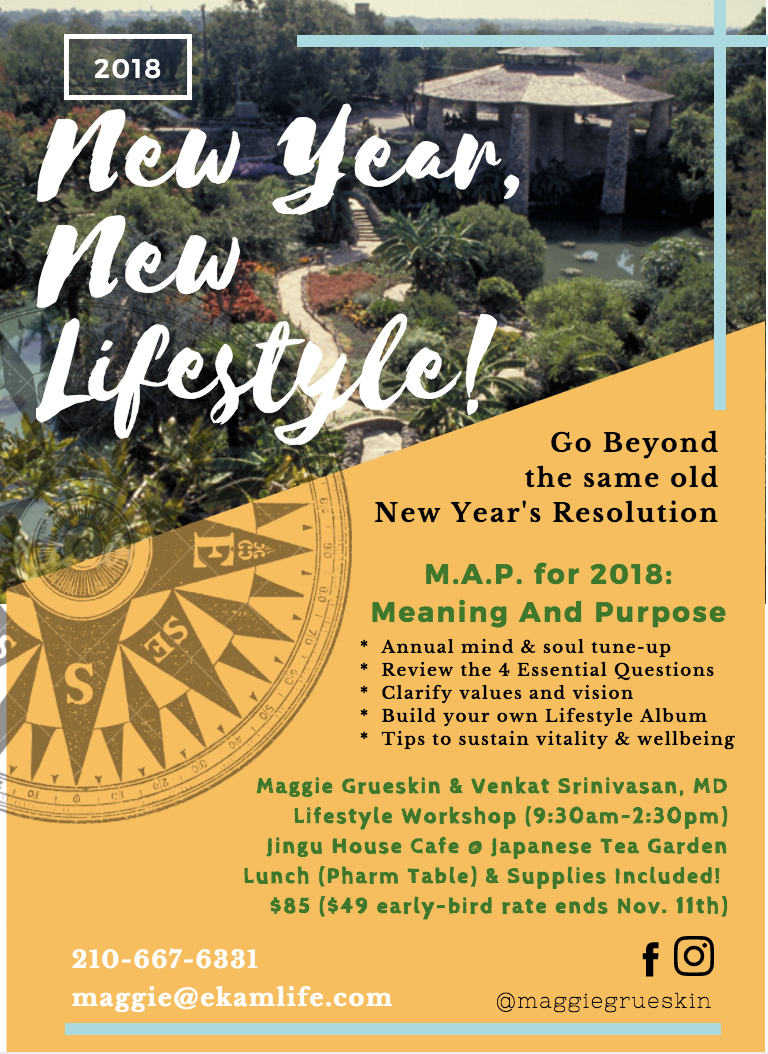 For the Event:
- Parking is free
- If you have any food allergies, please email us one week before the event
- please bring 3-5 old / used magazines that you are willing to donate to the Vision Board class
- if you have favorite colored pencils or pens, bring them; we will supply some for each table
- dress comfortably, in layers, we will be inside most of the time.
Date and Time
Location
Refund Policy
Refunds up to 30 days before event