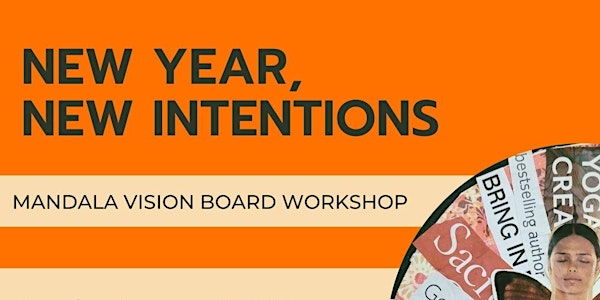 New Year, New Intentions: A Mandala Vision Board Workshop
A virtual creative journey to set your creative intentions via affirmations and creation of a mandala vision board workshop.
Refund Policy
Contact the organizer to request a refund.
Eventbrite's fee is nonrefundable.
About this event
Looking for a way to relaunch your creative life with more focus and ntention in 2022 ?
The Mandala Vision Board is one fun and relaxing way to do this as an alternative to the "vision board". A mandala is a symbol in some Eastern spiritual traditions that is symbolic representation of the universe with an inner and outer world. The word mandala comes from Sanskrit, an ancient Indian language that loosely means "circle." The circle is seen as magical, without beginning and end, just as the universe is believed to have no end.
This workshop is for those artists, creatives, authors, writers, muscians, or anyone who want to set intentions for their creative life for 2022!
In this workshop, we will set our creative intentions for 2022 to include a writing and meditation exercise. We will then we will create a mandala based on four quadrants representing creativitity and it's relationships ito key areas of your life:
- Creativity in Relationship to self
-Creativity in Relationship to others
-Creativity in Relationship with your environment
-Creativity in relationship with the world
What You Will Need Before the Workshop:
Art supplies ( depending on your favorite artistic form/expression: pen, colored pencils, glitter, craft paint, crayons, markers, etc.), old magazines, glue or glue stick, scissors, paper (contruction paper, cardboard, mat board or foamboard, sized to your preference)
You also will have the opportunity to meet for a one-to-one to discuss any goals or areas that you want for your creative practice in 2022.
We will have a fun time creating our mandala boards and setting our creative vision for 2022.
About the Instructor
Sharon J. Burton is an artist, art curator, Certified Creativity Coach and Founder of Spark Your Creative Coaching. She is a visual artist whose preferred medium is collage and mixed media and has exhibited her art in galleries, art venues and other settings across the country since 2007. Sharon has curated a number of art exhibitions in the Washington, DC area since 2006 and has served as an art consultant for novice art collectors.
Since 2017 she has focused on helping people in "creative recovery"...those looking to revive or jump start their creativity through workshops, her blog and as the host of Spark Your Creatve Podcast which features artists and other creatives who are using their unique talents to create more mindful communities and a safer world.
Sharon holds a Bachelor of Science in Business Administration and a Master of Public Administration. She completed requirements for the professional certificate in Art Business from New York University as of 2013 and a certificate in Art History through the Smithsonian. She received her certification in Creativity Coaching through the Creativity Coaching Association which she is a member. She is a Divine Sleep Yoga Nidra guide, a Level II, Reiki Certified practioner and received her and received her Breathwork + Meditation Teacher Certification from the Faith Hunter Wellness Academy, of Embrace Om based in Washington, DC. Sharon infuses her creativity coaching with wellness practices to help her clients break through the blocks that prevent them from fully engaging in their creative potential.