Event Information
Location
The Peninsula Hong Kong
Salisbury Road
Tsim Sha Tsui, KOW
Hong Kong
Happiness Factory has curated the ultimate luxurious wellness staycation with 6 workshops specially led by Hong Kong's top practitioners.
About this Event
NEW YEAR RETREAT FOR YOUR MIND, BODY AND SOUL
Recharge, reset and channel new possibilities into your lives in 2021!
***EARLY BIRD DISCOUNTS: Register before 31 December and save $500 per person for Wellness Staycation and two days of workshops; or save $300 per person for workshops only. Email HF@perfectlybalanced.org or Whatsapp +85294324385 for details.
New Year New Chi 2021
In Chinese trandition, we prepare our homes to attract the best Feng Shui and Chi at the beginning of a new year. Our body and mind also benefit from these mindful New Year rituals to attract strong and prosperous Chi.
Happiness Factory invites you to a 2-day luxurious wellness retreat at the iconic Peninsula Hotel. Timed to optimise the powerful energy following the first Full Moon of 2021, you will soak up the positive vibes on the Peninsula Pool and Sun Deck with panoramic views of the Hong Kong Habour. This retreat is a total health and wellness staycation with six workshops specially curated to open up, receive, and reinforce vibrant flow of Positive Chi to get you ready for the new year.
Delivered by Hong Kong's top practitioners and lululemon ambassadors, workshops include:
Inside Flow (Rebecca Jean Wong)
The Wim Hof Method and Ice-Bath experience (Brian Lai)
Full Moon Gong Bath (Malbert Lee)
New Year Sunshine Flow (Rebecca Jean Wong)
Integrated Heart-opening Flow and Chi Breathwork (Rebecca Jean Wong and Brian Lai)
Mindful Connection and Movement with Purpose (Rebecca Jean Wong and Jess Shih)
Total Wellness Retreat Packages
$5,888* includes a 1-night stay in a Deluxe Room, 2 days of workshops for 1 attendee;
$8,888* includes a 1-night stay in a Deluxe Room, 2 days of workshops for 2 attendees (shared occupancy);
$3,500* for 2 days of workshops for 1 attendee
Exclusive arrival transfer offer by Rolls-Royce is available at $628* one way
*plus 10% service
Other Retreat Privileges
Optional 1:1 private sessions with Rebecca Jean Wong, Brian Lai, Malbert Lee and Jess Shih
15% discount applicable at The Peninsula Spa
Afternoon Tea at The Lounge: guaranteed booking for you and two additional guests to indulge in The Peninsula's signature afternoon tea over your stay
15% discount applicable with in-house Personal Trainers at the Peninsula Gym
Schedule
SATURDAY JAN 30
11.00 - 12.00 Inside Flow with Rebecca Jean
Curated to the beat of music, you will breath, move and be carried away by the sounds of hip hop, pop, or even electro pop. This dynamic flow class comes from founder Young Ho Kim, who infuses a vinyasa flow with elements of music, dance, and martial arts.
12.00- 14.30 Break for Refreshments
14.30 - 17.30 Wim Hof Method: The Secret to Peak Performance with Brian
Learn the science and art of breathwork, including the Wim Hof Method, to increase your resilience towards stress, go beyond and experience a new level of mind and body with a safe and guided ice immersion at sunset against the backdrop of the Hong Kong Harbour.
17.30 - 21.00 Free time/ Private 1:1/ Spa Treatments and Dinner
21.00 - 22.00 Full Moon Gong Bath with Malbert
Celebrate the first full moon of 2021 by immersing in the alchemy of sounds, frequencies and vibrations, at the Peninsula Pool. Release tension and old energy that no longer serves you and create a clear opening to invite good chi to flow through your mind and body. At the end of the evening, you will feel a deep sense of relaxation and calm, to prepare you for the next day.
SUNDAY JAN 31
07:30 – 08:30 New Year Sunrise Flow with Rebecca
Soak up the positive vibes on the Peninsula Pool and Sun Deck at sunrise. Set positive intentions for 2021 during this feel good, mindful practice with the view of the Hong Kong Harbour. In this workshop, Rebecca will flow with you to bring clarity, positive energy, and a peace of mind.
08.30 – 10:00 Break for Breakfast
10:30 – 12.00 Mindful Communications with Rebecca and Jess (Feel Good Factory)
Learn to mindfully connect and effectively communicate with others and, more importantly, yourself. Rebecca and Jess of Feel Good Factory, will lead a workshop to guide you to listen, speak, and convey with purpose. This session begins with a meditation practice to clear your mind and includes light movement exercises to guide you through verbal, nonverbal, and modern ways to effectively connect.
12.00 – 14.00 Break for Lunch
14.00 - 16.00 Integrated Heart-opening Flow and Chi Breathwork with Rebecca and Brian
This workshop begins by opening up your heart and Chi with Feel Good Flow by Rebecca, to prepare your mind and body. Then Brian will guide you through a suite of breathwork designed to attract and receive strong, vibrant flow of Chi to nourish your energy. Together, you will breath and move with intention, to focus and achieve the goals you have set for yourself in 2021.
CANCELLATION POLICY
Do not attend if you are sick or display any symptoms of COVID-19
100% refunds are allowed up until 14 days before event
50% refunds are allowed up until 7 days before event
If the retreat is impacted by Hong Kong Government COVID-19 restrictions, the event will be postponed to 20 - 21 February 2021 (TBC). You will be entitled to a refund if the rescheduled date is not suitable for you.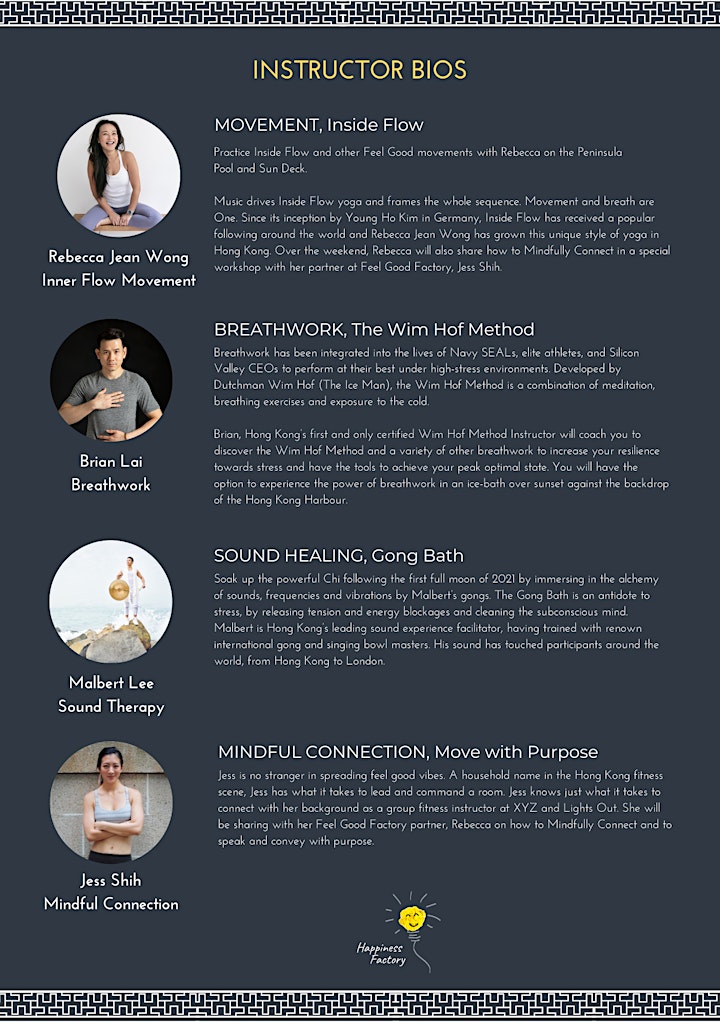 Date and Time
Location
The Peninsula Hong Kong
Salisbury Road
Tsim Sha Tsui, KOW
Hong Kong