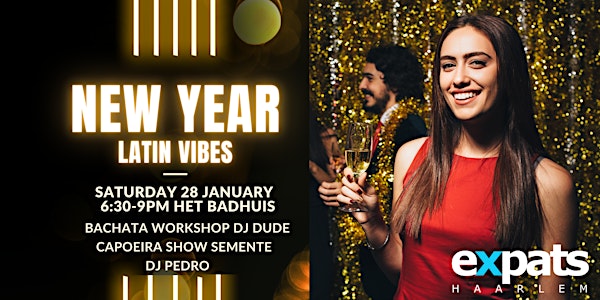 New Year Latin Vibes
It's time to celebrate the start of the new year in Latin style! Join us for a sizzling Latin New Year's event
When and where
Date and time
Saturday, January 28 · 6:30 - 9pm CET
Location
Badhuis Leidsebuurt Leidseplein 49 2012 CH Haarlem Netherlands
About this event
¡Feliz Año Nuevo!
It's time to celebrate the start of the new year in Latin style! Join us for a sizzling Latin New Year's event on Saturday 28 January 18:30-21:00 hours at Badhuis.
Come and enjoy Latin music, a mini bachata workshop by DJ Dude, a Capoeira show by the Semente Dance School in Haarlem and the vibrant notes of DJ Pedro. We look forward to seeing you! 🎼🍹💃
𝗝𝗼𝗶𝗻 𝘂𝘀 𝗮𝘁 𝗡𝗲𝘄 𝗬𝗲𝗮𝗿'𝘀 𝗟𝗮𝘁𝗶𝗻 𝗩𝗶𝗯𝗲𝘀 𝗼𝗻 𝗦𝗮𝘁𝘂𝗿𝗱𝗮𝘆 𝟮𝟴 𝗝𝗮𝗻𝘂𝗮𝗿𝘆, 𝗚𝗥𝗔𝗕 𝗬𝗢𝗨𝗥 𝗧𝗜𝗖𝗞𝗘𝗧𝗦 𝗡𝗢𝗪 >> ! https://NYLatinvibes.eventbrite.com
We'll be chatting, dancing on the hottest Latin beats, sipping a drink, and indulging in tasty Latin treats. Wear your nicest outfit and get ready to to have a chat, enjoy music, and heat up the dance floor with us. We can't wait to ring in the new year with you all!
Program
6.30 pm - 9:00 PM NEW YEAR LATIN VIBES
7:00-7:30 PM BACHATA WORKSHOP by DJ Dude of Dude's Dance Academy,
8:00 PM CAPOEIRA SHOW by Lisette of Capoeira School Semente
8:30-9:00 PM DJ PEDRO/DANCE SCHOOL SALSASYRENA
The bar will be open the whole duration of the event and serve drinks. Hungry? no problem, you can pick some nachos or go big straight away with the empanadas (if you're hungry, can't beat those).
Shows and Food & Drinks
Dude is a professional DJ of Latin parties in the Haarlem area. He is also the owner and dance teacher of dance school Dude's Dance Academy, where het gives workshops of Salsa, Bachata, Merengue, Kizomba, Latin House, Reggaeton, Djembe.
Would you like to hear the Brazilian Berimbau and see some feet in the air, come to watch the CAPOEIRA SHOW at 8 PM by Contramestre Lisette of Capoeira School Semente.
Capoeira comes from Brazil. It was a way for the slaves to make themselves free. Both physically and mentally. Capoeira contains attacking and evading movements, music and singing! It is a combination of sports and culture. Capoeira School Semente was founded by Contramestre Lisette, who has been teaching children and adults in the city centre of Haarlem for 19 years!
Peter alias Pedro is professional DJ and dance teacher. Peter danced many competitions and won many prizes. He teaches Ballroom, Latin, and Salsa at various dance schools throughout the Netherlands, among which SalsaSirena in Haarlem Schalkwijk. Peter is known for his clear and calm explanations in which learning figures combined with dance technique form the basis, all filled with a dose of humour. At our New Year's event he will bring us the best Latin vibes!
The local community for internationals. News, blogs, events, services.
Nachos and empanadas!
Venue
The Comedy's venue is the monumental building Badhuis/Bathhouse.
The Badhuis was built in 1903 to a design by the architect S. Roog. This second public bath in Haarlem served as a bathhouse for the citizens of the Leidsebuurt, a working-class neighborhood that developed from 1876 on the western edge of Haarlem. It served until 1979. The Badhuis will now be turned over in a cozy comedy spot.
Tickets
The ticket price is € 6. Get your tickets online >> https://NYLatinvibes.eventbrite.com
Kids younger than 15 years old: free entrance.
Don't miss it!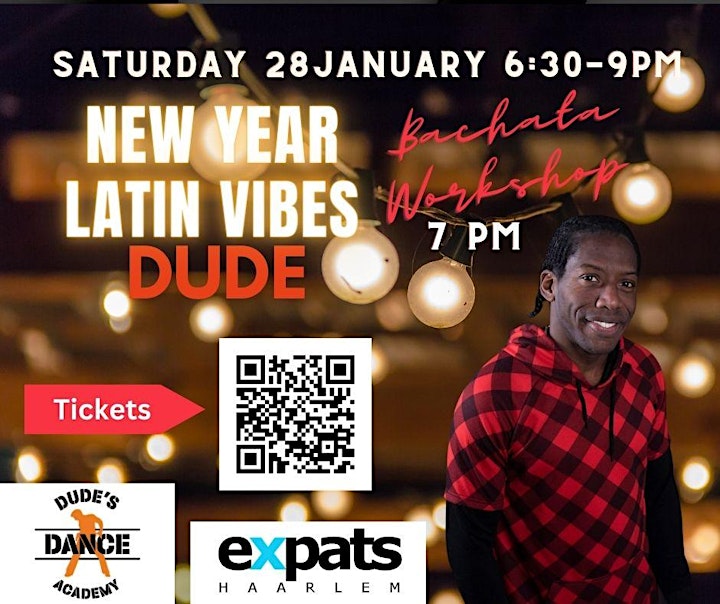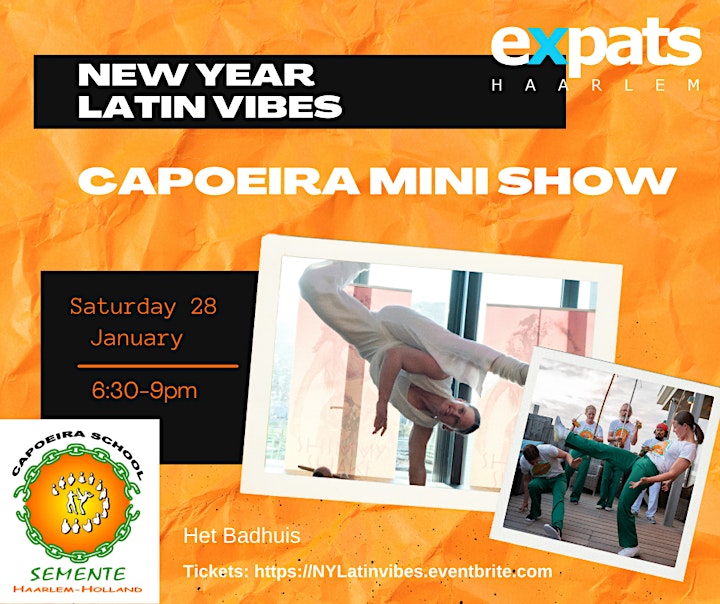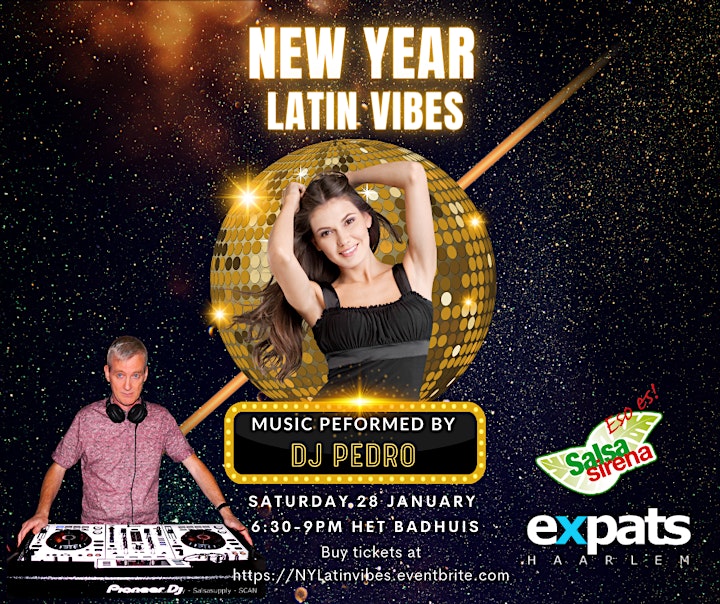 About the organizer
ExpatsHaarlem was founded in 2014. Our goal is to connect expats with each other and with the locals, or Dutchies, as we like to call them. To achieve this we have a website with news, articles, information and services provided by our selected professional Partners and organize events for adults, parents & kids, photographers and professionals. Don't miss out on our big events, the New Year's Drink and the Experience Haarlem Fair.