New Year Ikebana-Inspired (Japanese Flower Arranging) Workshop
Description
Happy Holidays from Ours to Yours!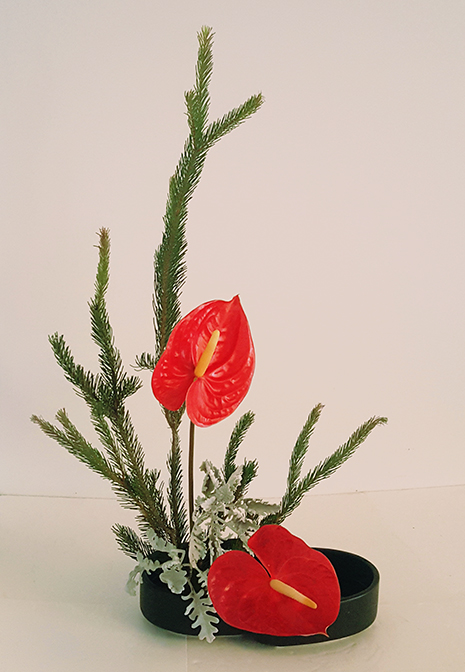 Come and join us to enjoy the beautiful flowers! Learn how to arrange a lovely flower arrangement of your own "Ikebana way" to ring in the enchanting New Year of 2018 for your home, work or play!
Take a break from your busy Holiday Season, relax a little, sip some hot green tea to warm your body, and indulge in the joy and therapeutic power of flowers! (And FREE PARKING AVAILABLE)
IKEBANA - Japanese flower arranging - means "Bring Life to Flowers." Michiko Kobayashi, Certified Ikebana Artist and Resident Ikebana Floral Designer at Chicago Flower Company, will teach the Basics of Ikebana and Japanese Aesthetics that are fundamental to Ikebana and life in general.
At this workshop, participants will learn the following:
1) Introduction to Ikebana - Basic forms of Ikebana and a step by step Japanese flower arranging, Ohara School of Ikebana Style (For this workshop, wet oasis will be used instead of Kenzan which is the formal Ikebana floral pin frog)
2) Japanese Aesthetics - The fundamental philosophies and concepts of Japanese aesthetics
Cost: $55, with an Option to upgrade the container at additional charge
All required materials are included in the cost. Materials for this workshop are pre-selected by Michiko; however, participants will have a chance to purchase any preferred flowers after the workshop at the site.
What is included in the cost:
* Materials for your New Year Ikebana arrangement
* Glass container 5" x 5"
* Wet Oasis
* Refreshments - Hot Green Tea & Chocolates
About Chicago Flower Company:
Please visit: Chicago Flower Company

About Michiko Kobayashi:
Please visit: MK-ikebanainspiration
Any questions?
Please feel free to contact Michiko at 312.998.8654 or Chicago Flower Company at 773.227.2555, or E-mail Michiko @ mkikebanainspiration@gmail.com.
Organizer of New Year Ikebana-Inspired (Japanese Flower Arranging) Workshop