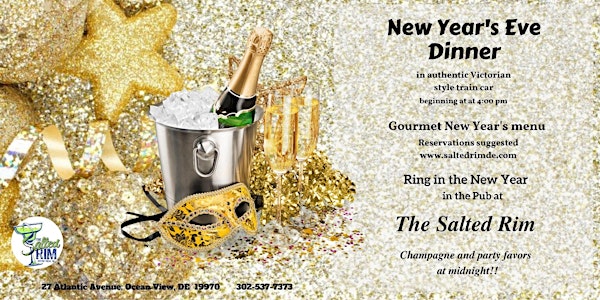 New Year' Eve Dinner in Authentic Train Car @ The Salted Rim
When and where
Location
27 Atlantic Ave 27 Atlantic Avenue Ocean View, DE 19970
Description
Enjoy New Year's Eve Dinner in an Authentic Victorian Train Car
4:00 - 9:00pm
RESERVATIONS ARE FREE
MENU IS AL-A-CARTE PRICING
We will be featuring a Gourmet menu to celebrate the coming New Year!
Make your reservations for dining in the train car only by calling Cindy at 410-371-9657 or book on line by going to our website www.saltedrimde.com and click on the tab for New Year's.
After dinner in the train stop by the Pub and enjoy our New Year's Eve Celebration with DJ Rupe
Dining in the Pub is on a first come, first serve basis, no reservations accepted for the PUB.
Champagne and party favors at midnight. Dance until 1am!


NEW YEAR'S EVE MENU
Starters
Antipasto for Two
Italian meats and cheeses served with crostini, crackers, fruits, roasted veggies and spreads 16.99
Bleu Steak Crostini
Filet mignon pan roasted medium rare on crostini with bleu cheese cream sauce and roasted tomato-garlic jam 12.99
Lobster Hushpuppies
Fresh homemade hushpuppies loaded with lobster meat and fried golden served with drawn butter 12.99
Steak Au Poivre Bites
Filet mignon pan roasted medium rare served atop baked potato bites and finished with au poivre sauce 12.99
Tuna Poke
Ahi tuna pan seared rare then combined with scallions, cucumbers, soy sauce, sesame seeds, and crushed red pepper 11.99
Baked Oysters
Fresh bourbon creek oysters topped with a whiskey bacon jam then baked 13.99
Soups
Butternut Squash Soup
Roasted butternut squash combined with a touch of cream and butter then blended velvety smooth with spices 6.99
Cream of Crab
House made specialty with jumbo lump crab and old bay. 9.99
Salads
Classic Caesar
House made dressing, croutons, parmesan cheese mixed with romaine hearts 8.99
Harvest
Mixed baby greens, roasted butternut squash, craisins, beets, and bleu cheese crumbles with house made maple vinaigrette 8.99
House Salad
Mixed baby greens, red onion, tomatoes, cucumbers, and green bell peppers. Choice of dressing 7.99
Entrees
Surf and Turf
Mini filet mignon pan roasted medium rare paired with jumbo shrimp served with a warm Brussel sprout salad 21.99
Stuffed Twin Lobster Tail
Fresh north Atlantic lobster tails stuffed with crab imperial and broiled served with drawn butter, roasted red potatoes, and fresh asparagus 42.99
Twin Crab Cake
House specialty all jumbo lump crab cakes broiled golden brown served with roasted red potatoes and fresh asparagus 28.99
Lobster Mac and Cheese
Fresh lobster meat blended into a cream cheese sauce and tossed with cavatappi pasta served with garlic toast 26.99
Filet Mignon
Pan roasted 8oz filet topped with a mixed berry port wine reduction served with roasted red potatoes and fresh asparagus 26.99
Lobster Grilled Cheese
Buttered and grilled sour dough bread loaded with sharp cheddar and lobster imperial served with fries 16.99
Roasted Chicken and Bacon Alfredo
Tender chicken breast sautéed tomatoes and mushrooms then finished with a creamy bacon alfredo sauce all tossed with fettucine pasta 16.99