New Wine, New Wineskins at Multnomah University and Seminary would love for you to join us for a forum on Community Economic Development.
About this event
The New Wine, New Wineskins' forum on Community Economic Development features Dr. David Kresta and his recently published volume titled, Jesus on Main Street: Good News Through Community Economic Development (Cascade, 2021), which emerges from his PhD research in urban studies at PSU. We are passionate about this subject and the import of it for gentrified Portland. Dr. Kresta will give a brief presentation, which will be followed by responses from a highly knowledgeable and experienced group of panelists. The forum includes breakfast and runs for two hours (8-10AM).
Featuring:
Dr. David E. Kresta (PhD, MBA), is author of Jesus on Main Street, a book for churches looking to bring healing to their local economies. He is an Adjunct Assistant Professor of Urban Studies at Portland State University where he teaches community and economic development. He is also a Fellow at the Ormond Center, Duke Divinity School, working to foster congregations that are agents of community thriving.
With Panelists:
Elder Catherine Brown, is a bi-vocational elder and member of St. Paul Missionary Baptist Church where she serves as Business Manager, gospel preacher, and teacher under the leadership of Senior Pastor Craig L. Brown. She is also an elder associated with Vancouver Avenue First Baptist Church. Additionally, Ms. Brown is the Senior Vice President of Marsh USA, Marsh McLennan Companies based in Portland Oregon. There, she is involved with delivering insurance, risk management, and advisory services to publicly traded, private, not-for-profit, and public sector companies. Ms. Brown is a mother, grandmother, and woman of the Most High God.
Dr. Greg Burch (PhD), is the director of the M.A. degree program at Multnomah in Global Development and Justice. Greg and his family lived in Venezuela and Costa Rica where they were involved in ministry with street-living children and training leaders in community development work in support of vulnerable children around the world. Greg is the author of the book Community Children: A Ministry of Hope and Restoration for the Street Dwelling Child and other articles and book chapters on transformational development work and vulnerable children. Greg is host of the Development and Justice Podcast and teaches courses in Transformational Development, Intercultural Communication and Children at Risk Studies.
Mr. Rudy Carrasco, is a program director with the M.J. Murdock Charitable Trust. He is a past organizer of Christian Community Development Association's Market Solutions pre-conference. His articles on community and economic development have appeared in Forbes, Urban Faith, and Christianity Today.
Pastor J.W. Matt Hennessee serves as the Senior Servant of Vancouver Avenue First Baptist Church of Portland, Oregon. He has had the distinction of serving in a variety of leadership capacities locally, nationally, and globally in public administration; private business; non-profit boards and commissions. He has served on the Board of Trustees at Westmont College in Santa Barbara, CA for nine years and presently serves on the Board of Trustees at the Berkeley School of Theology in Berkeley, CA. Pastor Hennessee has a passion for teaching and working alongside others in equity, economic development, and restorative and social justice wishing to see the barriers between people destroyed.
Moderator:
Dr. Paul Louis Metzger (PhD), is Professor of Theology & Culture at Multnomah University and Seminary. He is also the Founder and Director of the university's Center for Integration & Cultural Engagement, Editor of New Wine's journal, Cultural Encounters: A Journal for the Theology of Culture, and author and editor of numerous volumes, including Consuming Jesus: Beyond Race and Class Divisions in a Consumer Church (Eerdmans). Dr. Metzger is a member of the Center of Theological Inquiry, Princeton, New Jersey, and served as Senior Mission Scholar in Residence, Spring 2018 at the Overseas Ministries Study Center, New Haven, Connecticut.
Parking information will be provided upon registration. Masks are required.
If you have any questions, please feel free to reach out to Elizabeth Grinko at elizabethgrinko@multnomah.edu.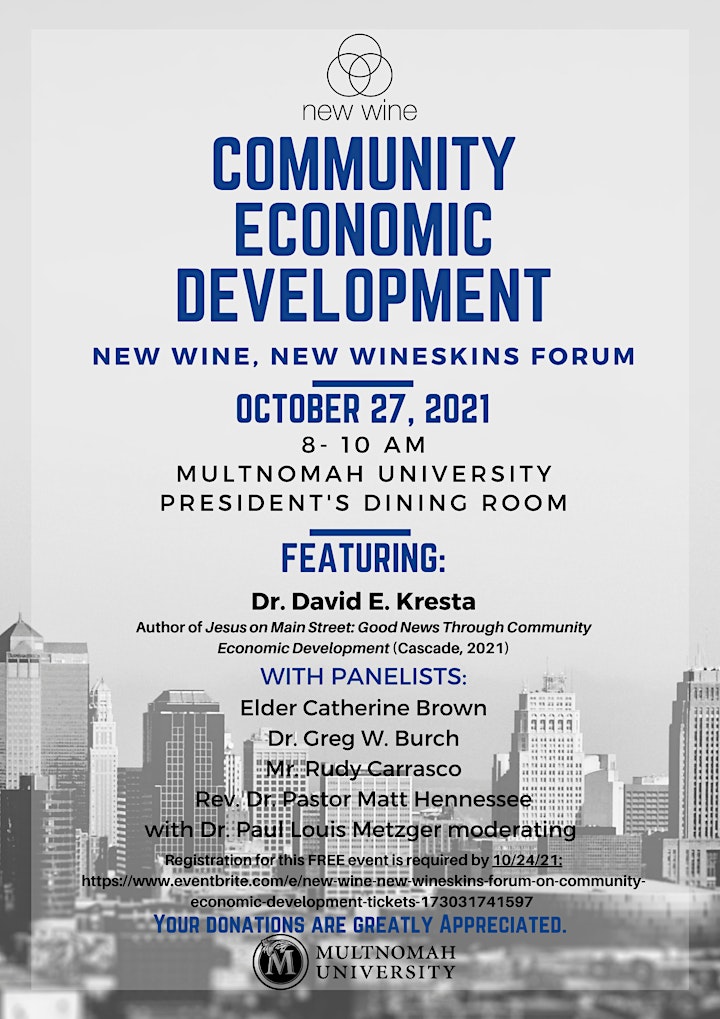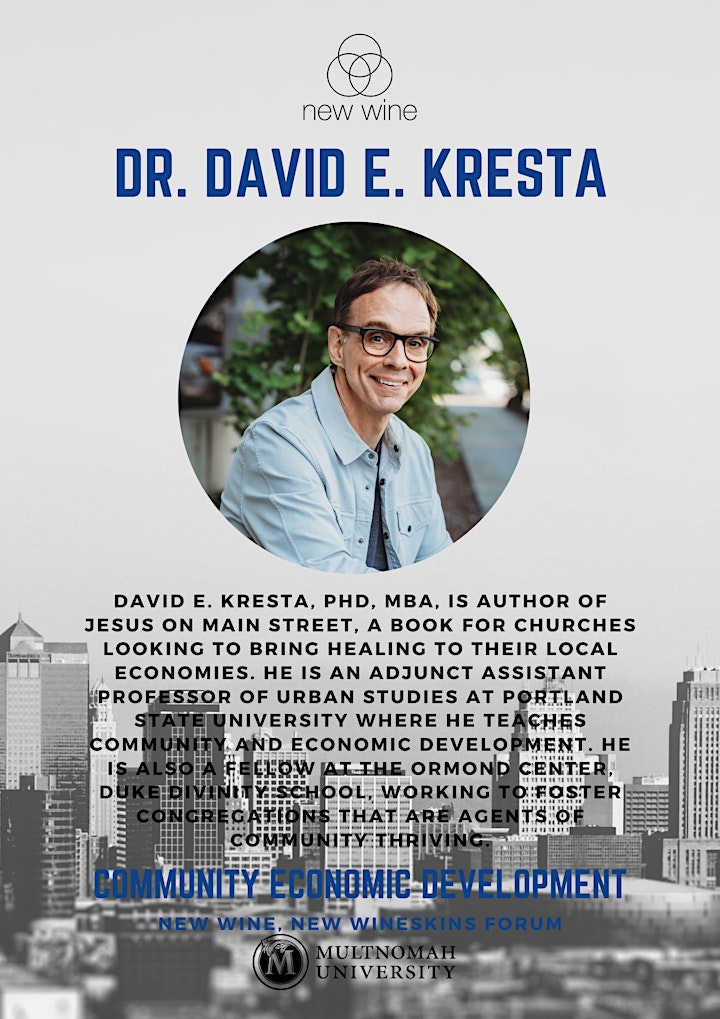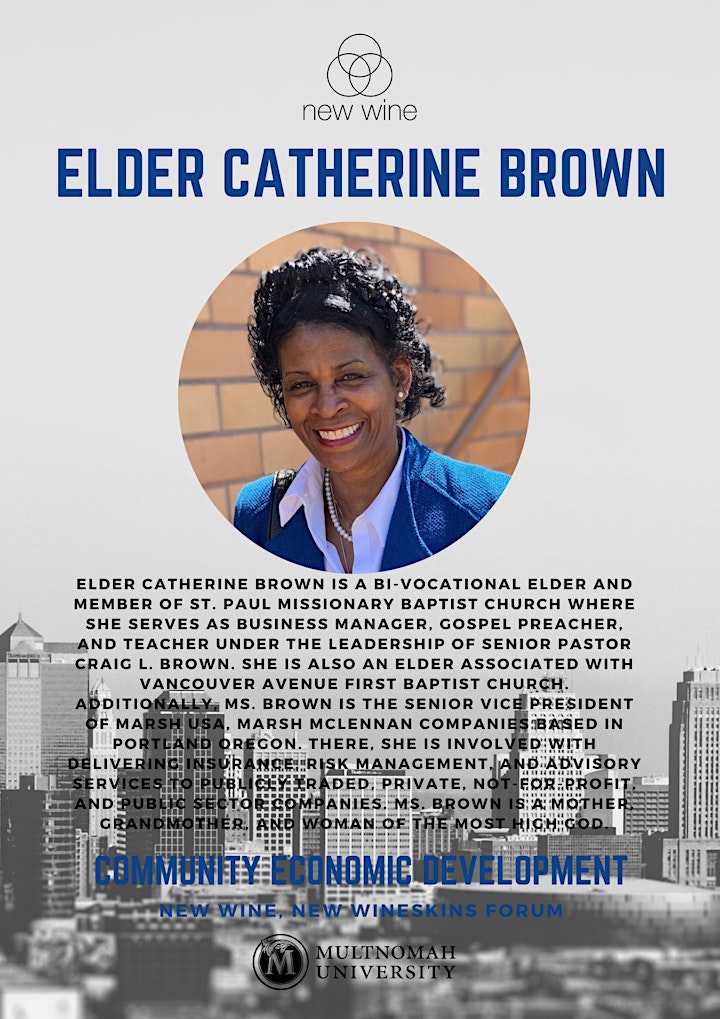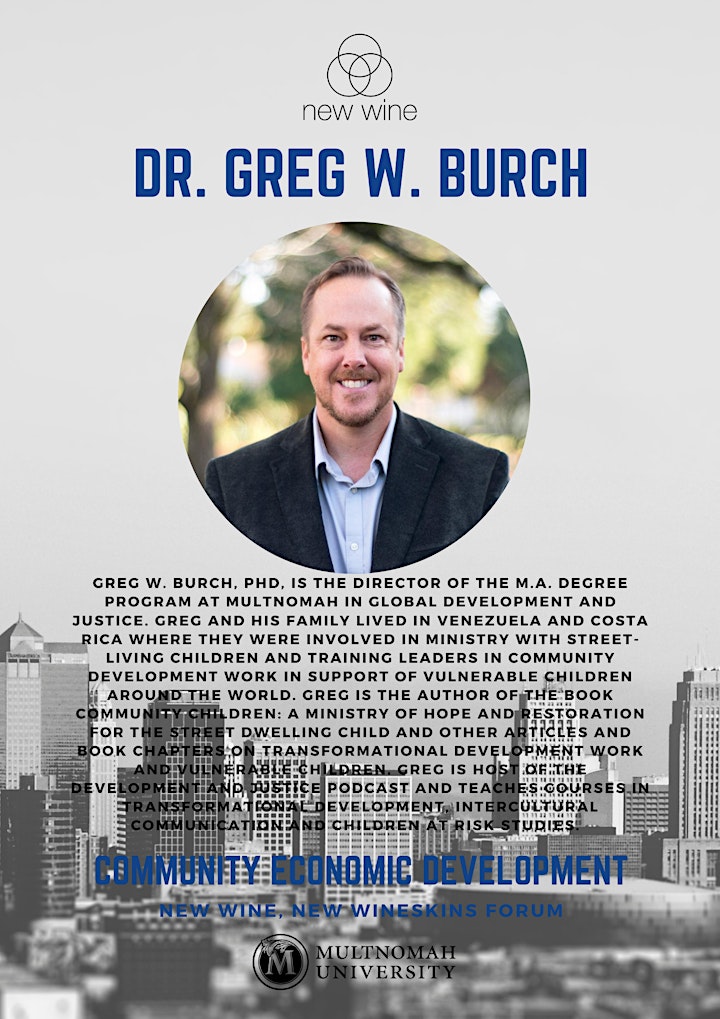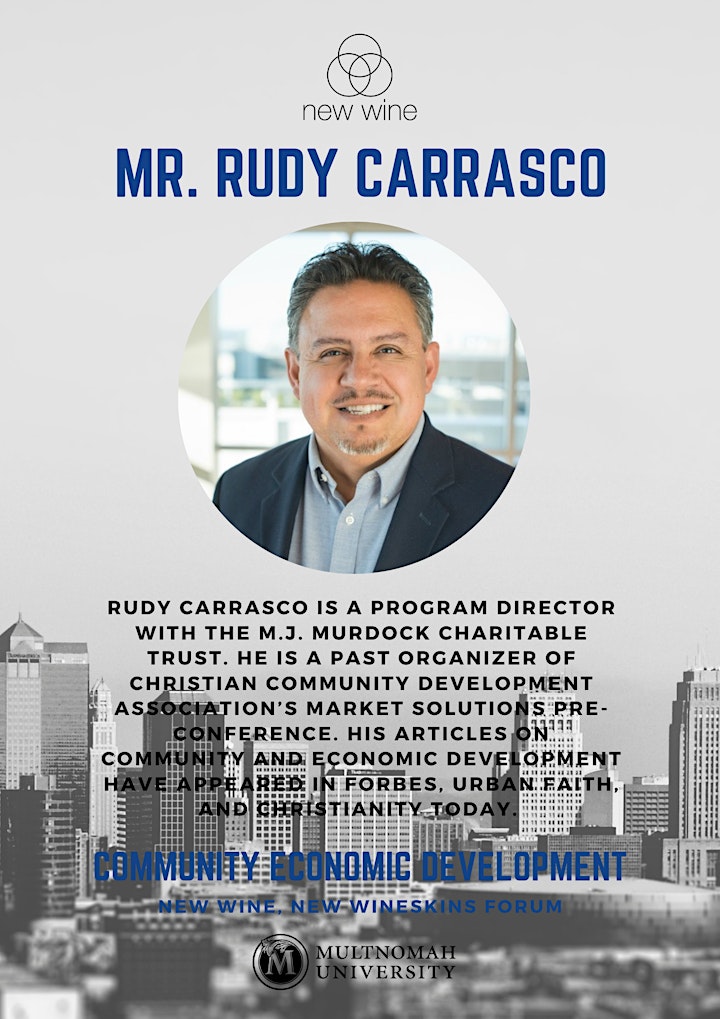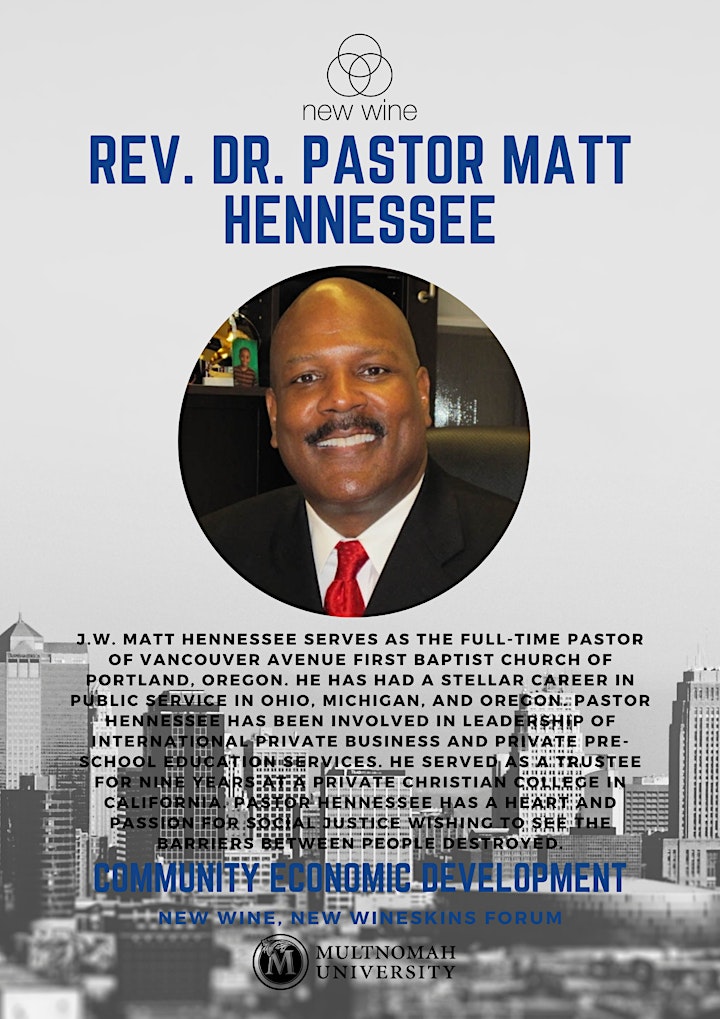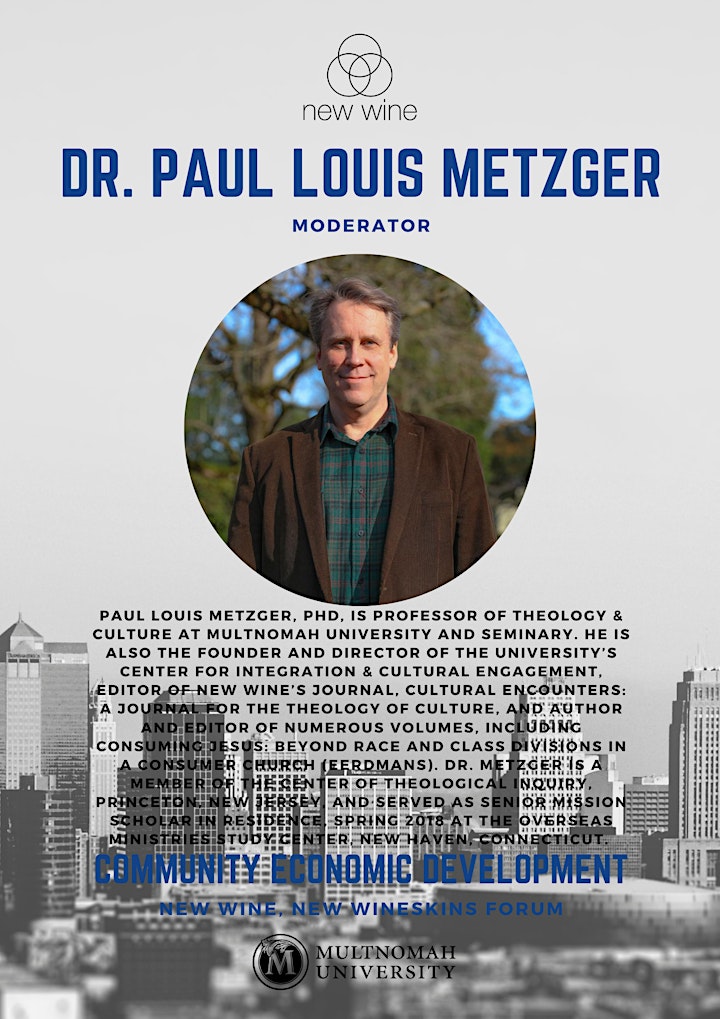 Organizer of New Wine, New Wineskins Forum on Community Economic Development
Visit us at www.new-wineskins.org. 

At The Institute for Cultural Engagement: New Wine, New Winekesins, we build relational bridges through Jesus.
While speaking out against the status quo of his day, Jesus referred to himself, his message, and its recipients as new wine poured out into new wineskins: Jesus was scandalous and intoxicating.
"No one pours new wine into old wineskins. If he does, the new wine will burst the skins, the wine will run out, and the wineskins will be ruined. No, new wine must be poured into new wineskins." – Luke 5:37-38
Jesus is still scandalous and intoxicating. The problem is that we who claim to follow him—no matter our status or stage in life—are so prone to pour the new wine of his life and word into the old rotten skins of "Churchianity" that cannot contain it, ruining both in the process.