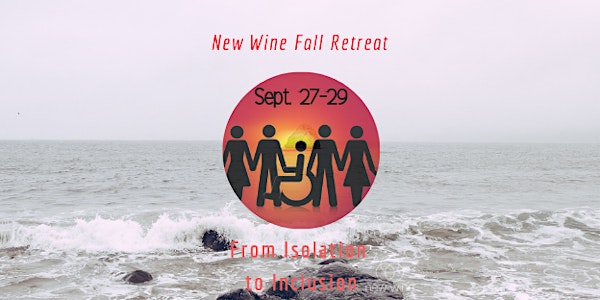 New Wine Fall Retreat 2019
When and where
Location
Cannon Beach Conference Center 289 North Spruce Street Cannon Beach, OR 97110
Refund Policy
Refunds up to 7 days before event
Description
In the Kingdom of Heaven every single person has a special place in the body of Christ. How can we make sure that every part of the body gets to participate fully?
Has your church or community encountered folks who have needs that challenged full participation?
Do you have kids or the elderly that need extra consideration?
Would you like to dialogue with others on how to make your church or community more engaging for folks that end up on the margins of life?
We will be addressing these questions and more at the New Wine, New Wineskins (new-wineskins.org) annual retreat at Cannon Beach Conference Center this year! We are excited to announce our theme is From Isolation to Inclusion: A Retreat on Disabilities. We started the discussion about disabilities and the church at our Annual Conference this Spring. Our desire to further the discussion and relationships we started earlier this year. We hope to move from isolation to inclusion to full participation by providing churches and individuals the opportunity to reflect on structures in the church and biases in our own hearts concerning people with disabilities that hinder full participation in Christ's church. Please join us for times of biblical reflection, interactive experiences, and discussion.
But in addition to our theme this year, this is a time where people who have partnered with us in the past, are partnered with us now, or are interested in seeing what we are about can get together, relax, fellowship, and have some great discussions at the beautiful Oregon coast!
Not all of us can always keep in touch or be together, that is why we feel our annual retreats are so important. We want to hear about how you are doing, things you are concerned about, and how we can pray for you. We also would love to update you about what is going on at New Wine as well. More than ever, our world needs relational bridges built through Jesus Christ, and that is what we are all about. We hope you can join us as we are all refreshed and renewed, and as we strategize, pray, and joyfully face the next year in the life of New Wine, New Wineskins!
We are excited to announce that due to generous scholarships provided by Multnomah University Student Life and others, reduced pricing is available for Multnomah University students and alumni.
Schedule:
Friday
7:30-8:00 pm Introduction to Retreat
8:00-8:45 pm Brad Franklin, "Ways to Promote Inclusion"
8:45-9:30 pm Evening Activities
Saturday
10:00 -10:45 am Speaker #1-Ruben Alvarado, "Reimagining Disability in Christian Theology"
11:15 - 12:15 pm Experiences & Breakouts
-Pastors "Challenges with Opening Wider the Doors of the Church"
-Parents "Encouraging your home church to be more inclusive"
-Students "Being inclusive on the college campus"
12:15-3:00 pm Lunch/Afternoon Free Time
3:00-3:15 pm Welcome Back, Worship
3:15 - 4:00 pm Speaker #2- Becky Lindsley, "The Body of Christ and All It's Indispensable Parts"
4:30 - 5:15 pm Speaker #3- Emily Braman, "Making a Legislative Impact for the Disability Community"
6:30 - 7:30 pm Experiences & Breakouts
-Pastors "A Dialogue with those with disabilities"
-Parents "Advocating with Patience and Grace"
-Students "The future of the church- living into future reality now"
Sunday
9:30-10:30 am Worship- Steve Hanamura
FAQs
Where can I contact the organizer with any questions?
If you have more questions, please do not hesitate to contact New Wine's Administrative Coordinator, Sara Mannen at saramannen@multnomah.edu.
Who can attend the retreat?
Anyone! We welcome those who have joined us in the past, or those who are interested in making new friends and connections.
Can I bring my family?
Yes! We welcome families. However, there will be limited to no childcare during the retreat (though children are welcome to attend all sessions, and there is plenty of beach if they grow restless!
When is the deadline to register?
We ask that you register at least one week before the retreat, by Friday September 20th.
Can I show up just the second day (Saturday)?
Yes! We want to have you come for full or part. On your ticket please indicate what your plans are if you are arriving late or leaving early. Or, should your plans change please contact Sara Mannen at saramannen@multnomah.edu. Please note however that partial attendance does not reduce ticket cost. If you are just attending Saturday with no overnight stay, there are reduced price tickets available.
Do you provide all meals?
Breakfast and Dinner Saturday, and breakfast Sunday are on us! There are plenty of lunch options in town at Cannon Beach for Saturday afternoon. Please be aware that there is no meal Friday evening (though we do have a snack potluck, so bring your favorite snack to share with everyone!)
I want to come but I cannot afford the ticket price?
We are excited to announce that due to generous scholarships provided by Multnomah University Student Life and others, reduced pricing is available for Multnomah University students and alumni. For those who are not Multnomah students or alumni and finances are a concern, please contact Sara Mannen for additional information on possible scholarships or reduced pricing. We want to do our best to help everyone attend the retreat who would like to participate.
What information do I need to communicate to the event organizers?
In the ticket purchasing process you will be prompted to answer a few questions including dietary restrictions, mobility and accessibility needs, housing preferences, etc. ... These questions help us know how to best serve your needs, and communicate them to our hosts at Cannon Beach. If there are additional concerns that you feel have not been addressed by the prompt questions, please contact Sara Mannen with your request (see above).
When can I show up?
Our reservation for Cannon Beach begins at 5pm September 27th feel free to come by then! Our casual snack potluck (see below in meals provided) begins at 5:30 pm and will go until roughly 6:00 as we transition into our evening program and open with worship. We ask that if you are attending Friday, that you arrive no later than 6:30pm when our first official session begins.
You are welcome to come for just Saturday, or Saturday-Sunday. However we ask that you communicate this to Sara Mannen (saramannen@multnomah.edu). You will be prompted to answer this question as you purchase your ticket. Please note: ticket prices do not change for staying one night.
What are my transport/parking options getting to the event?
There is ample parking on-site. When purchasing your ticket, you will be prompted to answer if you are willing to provide, or are in need of, carpool transportation. Once we receive that information, we at New Wine will do our absolute best to coordinate transportation for you. Please note that though we will give our best efforts to secure transport for you if you need it, we cannot guarantee transport, and you are ultimately responsible for getting to and from the retreat center.