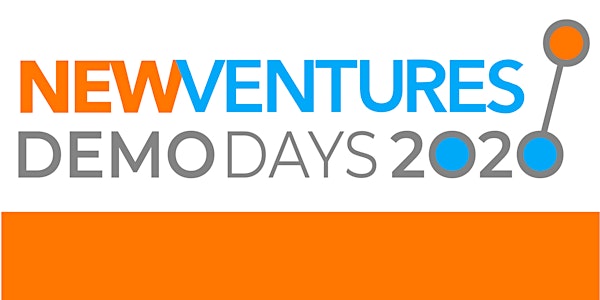 New Ventures Demo Days 2020
New Ventures Demo Days 2020 and nationally admired organizations focus on social and environmental impact over a 2-day virtual event.
Refund Policy
Contact the organizer to request a refund.
Eventbrite's fee is nonrefundable.
About this event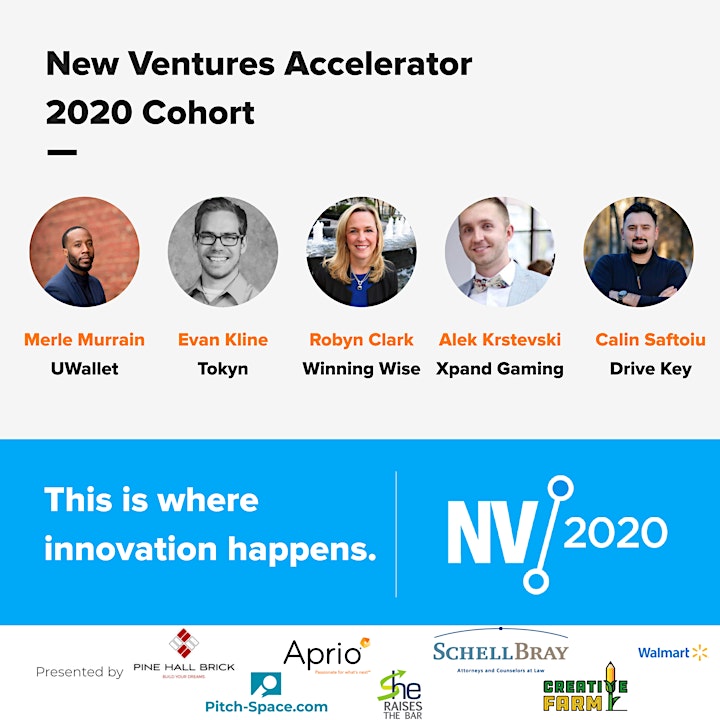 New Ventures, Flywheel Foundation, Builders & Backers, and Agile City bring you New Ventures Demo Days 2020
A startup celebration with demo floors filled with startups, 20+ participating investment groups. fireside chats an much, much more.
Showcase of Technology Startups
Global Impact Pitch Competition
Investors | Entrepreneurs | Founders
Software developers | Digital marketers
Builders and Backers Fellows
IdeaCity Beta Bonfire
Over 50 of the Southeast's best technology startups will be exhibiting and conducting live demos on our virtual conference floor over two days before the New Ventures Accelerator cohort presentations. New Ventures is the only inception-stage, investment startup accelerator in the Southeast. We are leaders for the regions vibrant startup community.
Thursday, November 12, 2020
12:00 PM Attendee onboarding / networking
12:30 PM Kickoff and Agenda - Karen Barnes
12:45 PM Fireside Chat - "Funding Black Founders"
1:15 PM Demo Floor - Investors meet and score startups
2:00 PM Fireside Chat - "Building and Backing a Better World"
2:45 PM Demo Floor - Investors meet and score startups
3:45 PM Global Impact Pitch Competition - Flywheel Foundation Executive Director Adrian Smith
4:45 PM Winners announced - Upcoming events - Karen Barnes
5:00 PM Idea City Beta Bonfire
Friday, November 13, 2020
12:00 PM Attendee onboarding / networking
12:30 PM Announcements and Inspirations - Karen Barnes
12:45 AM Demo Floor - Investors meet and score startups
1:15 PM Lightning Round - Tops 5 Startups - Peter Marsh
1:45 PM Builders + Backers Fellows & New Ventures 2020 Cohort Pitches - Donna Harris & Adrian Smith
4:45 PM Announcements - Karen Barnes
5:00 PM End of Event
Become an Exhibitor in our Demo Room
Be among the region's top startup companies to demo and present your one minute pitch to investors. Regional investors will be circulating the demo floor in teams to select 10 companies to present 1 minute lightning round pitches on the Demo Day main stage at 2 PM! 
IF YOU WOULD LIKE TO BE CONSIDERED FOR YOUR OWN DEMO TABLE APPLY HERE
Cost: $50
ABOUT NEW VENTURES
The New Ventures companies receive an average equity investment of $50k. New Ventures (NV) portfolio companies have raised over $4.4 Million in additional capital from regional seed funds and investors. Several high-growth startup companies that originated and were funded through New Ventures include Petrics, Ampogee, LeadingRole, Orbital RX, and Fluree.
INVESTOR AND MENTORSHIP COMMUNITY
19 investors are actively engaged in the 2020 New Ventures fund. NV entrepreneurs, technologists and investors have developed and launched new products, raised capital and negotiated manufacturing and distribution partnerships.
FLYWHEEL COWORKING Community | Coworking | Startups | Innovation
New Ventures is based at Flywheel Coworking - a community hub for bleeding edge technology research and high growth startups. With locations in Winston Salem, Concord, and Davidson NC, each year Flywheel attracts thousands of attendees to over 100 hosted programs such as Google for Entrepreneurs Startup Grind, Techstars Startup Weekend, and Triad Startup Demo Day.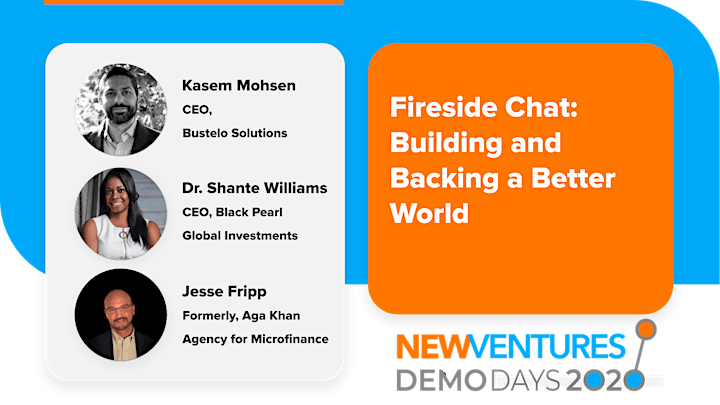 Building and Backing a Better World
Our systems are broken. From food and job security to healthcare and justice outcomes, we are seeing trends going in the wrong direction. These system failures disproportionately affect the most marginalized in our communities while billionaires have continued to get richer. The good news: as builders and backers, we have the resources, ingenuity and capacity to reverse these trends and to create a new, more equitable world for ourselves and our descendents.
This Fireside Chat will explore strategies that can be employed by backers to direct capital towards solving the pressing problems in our communities by harnessing the power of entrepreneurship and buildership. Join 2x exited, serial entrepreneur Kasem Rodriguez Mohsen as he moderates this fireside chat with Dr. Shanté Williams, CEO of Black Pearl Global Investments, and Jesse Fripp, Global Finance Expert and former GM of the Aga Khan Agency for Microfinance.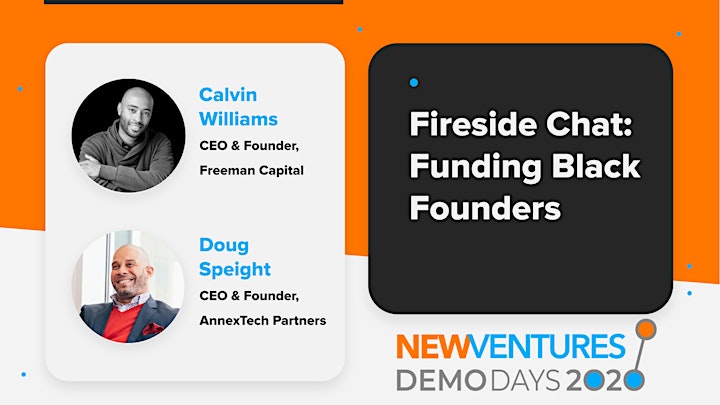 Funding Black Founders
2020 has seen historic protests, collective action, and national reckoning in the wake of continued police murders of unarmed Black people. Individuals, corporations, and industries shared proclamations of support, that Black Lives Matter, and commitment to racial justice. Venture Capital has faced the ugly truth that Black founders receive <1% of venture capital. Many funds have committed capital for black founders, and investors have committed to do better. But will anything change?
Hear from two successful black founders what their experience has been fundraising while black.
About the Speakers
Doug Speight in an innovator of epic proportions. He is Founding Partner and CEO of AnnexTech Partners, a divestment and joint venture studio. They perform corporate software carve outs for social & economic impact from corporate divestitures of non-core SaaS software products. We empower tech corporations to generate measurable economic and social impact by unifying the company's objectives across Mergers & Acquisitions, Product Portfolio and Corporate Social Responsibility divisions.
Calvin Williams is on a mission to close the wealth gap in America. His company, Freeman Capital, helps those who have been overlooked and pushed to the margins. Freeman Capital is an investment app that provides a hyper-personalized wealth journey that simplifies comprehensive wealth management into a monthly subscription service.
Calvin was just selected as a recipient of Google's Black Founders Fund, which offers between $50-$100K in non-dilutive funding along with hands-on support to help their startup grow. Calvin has also been selected by NC IDEA to serve on their Black Entrepreneurship Council.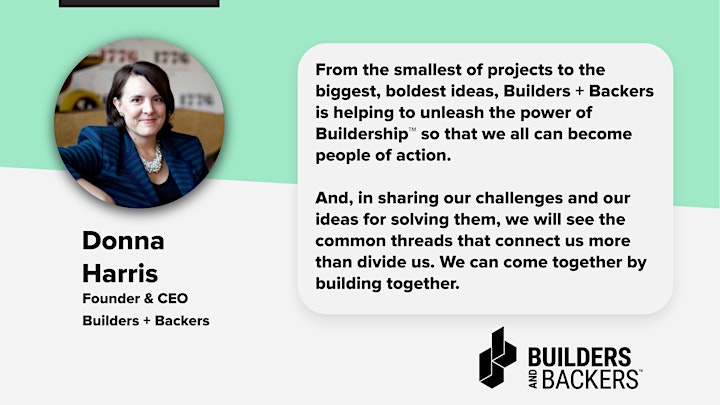 About Builders + Backers
In August 2020, Builders + Backers selected cross-sector leaders from nonprofits, faith, education, finance, and entrepreneurship for the inaugural Builders + Backers Fellowship program. The Fellows Cohort spent weeks in deep learning and reflection on why and how communities are the epicenter of brokenness. Using this context, they began ideating and building solutions to the challenges they saw. The Builders + Backers presentations at New Ventures Demo Days is the cohort's chance to share their stories and connect with Backers who can help to fund, institutionalize, grow and scale their ideas for greater impact.
About Donna Harris
Donna Harris is a Venture Partner at Praxis, the Founder of Builders + Backers, the Co-Founder & Managing Partner of 1776 Ventures and previously Managing Director of the Startup America Partnership. Donna also is a board member of both the Global Entrepreneurship Network and the National Center for Entrepreneurship, an Advisor to the Economic Innovation Group, and a Distinguished Fellow of the Ciocca Center for Principled Entrepreneurship at The Busch School.
Through her work and investments, Donna has helped thousands of startups worldwide to grow and scale while solving some of our greatest challenges and often in heavily regulated markets. Her latest endeavor with Builders + Backers is igniting change in communities across the world using best-in-class entrepreneurial tools and approaches.