About this Event
Pasadena Kick-Off 2020!
An exclusive training experience.
Kick-off the new year with the momentum, energy, and education to make 2020 a journey to new heights!
Learn about our newest products
Be trained by industry experts, thought leaders, and more, including:
Alexy Goldstein - New U Life Founder & CEO
Thomas DeLauer - Successful health and fitness author with ketogenic lifestyle expertise
Become empowered by learning from established and new New U Life field leaders
Early access to a premium, exclusive new product experience
Hear first-hand the vision and direction for 2020
Connect with your New U Life Family
Join us in Pasadena!
All ticket purchases are final. New U Life does not offer refunds for event registrations.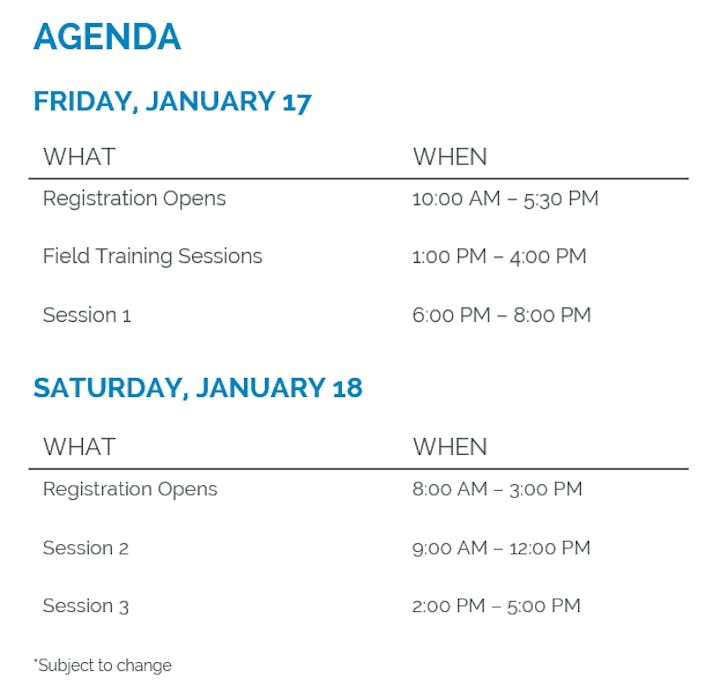 FREQUENTLY ASKED QUESTIONS
Q: Can I transfer my ticket to another person?
A: Yes. Ticket transfers are available until December 31, 2019. Please contact events@newulife.com to process your transfer.
Q: Can a guest attend the event with me?
A: Guests are absolutely welcome All guests and attendees must register for the event.
Q: Do I need to print my ticket?
A: Yes. Please bring a printout of your registration confirmation or ticket to check-in at the event.
Q: Can I get a refund on my registration?
A: New U Life event registrations are non-refundable from the time of purchase. If you cannot attend the event, you can transfer your ticket to someone up until December 31, 2019, by contacting events@newulife.com.
Q: What's included in the Kick-Off Event ticket?
A: The purchase of a ticket grants admission to all event-related activities including general sessions, speakers, and the New U Life Store.
Q: Do I need to be a New U Life distributor to attend the Kick-Off Event?
A: No. Prospective Distributors and Guests are welcome to purchase a ticket and attend the event.
Q: Are meals included in the event ticket?
A: Meals are not covered unless otherwise specified on the agenda.
Q: Can tickets be purchased on a payment plan?
A: No. There is no payment plan option.
Q: Are hard copies of the tickets mailed?
A: No. Hard copies aren't provided. Please print your ticket from your confirmation email and bring that to the event check-in.
Q: Are there ID and check-in requirements to enter the event?
A: To check-in at the event, you need your printed confirmation email. You may also download the Eventbrite app and provide the QR code directly from your phone.
Q: Can onsite registrants pay with cash?
A: No. If the event is not sold out and onsite registration is available, a credit card is required to register onsite.
TERMS & CONDITIONS
General: All tickets are subject to availability. Each ticket is non-refundable from the time of purchase. In the event a New U Life event attendee engages in behavior that, as determined by New U Life in its sole discretion, is inappropriate or threatening, illegal, or intended to abuse, threaten or harass any other person, New U Life reserves the right to refuse the attendee admission to the New U Life event and/or any related New U Life event with no further obligation. In the event a New U Life event attendee engages in behavior during the New U Life event that is illegal, tortious, or subjects the attendee to arrest or detention, New U Life shall have no obligation to pay any damages, fees, fines, judgments or other costs or expenses of any kind whatsoever incurred by the attendee as a result of such conduct. New U Life has the right to void any ticket purchased or transferred in violation of these ticket Terms and Conditions in its sole discretion.
Age Restriction: Individuals under the age of eighteen (18) are generally welcome to attend the New U Life events; however, they may not be able to attend all events or event functions depending on the specific location of and/or activities involved in such functions, or any policies or requirements of the Hotel, event function venue, or New U Life that may apply.
Release and Limitation of Liability: By purchasing a ticket and/or attending a New U Life event, you agree to release and hold harmless New U Life and their respective subsidiaries, affiliates, officers, directors, employees, agents and insurers (collectively, the "Released Parties") from and against any claim, loss, damage, cause of action, cost or expense (collectively, "Claim"), including but not limited to, any Claim arising out of any injury (including death) to you or any other party, and any other personal or property damage, or for damage to or loss of property or privacy arising out of your attendance and participation in a New U Life event.
BY PURCHASING A TICKET AND/OR ATTENDING THE NEW U LIFE EVENT, YOU AGREE THAT THE RELEASED PARTIES WILL NOT BE RESPONSIBLE OR LIABLE FOR ANY INJURIES, DAMAGES, OR LOSSES OF ANY KIND, AND IN NO EVENT SHALL THE RELEASED PARTIES BE LIABLE FOR SPECIAL, INDIRECT, INCIDENTAL, EXEMPLARY, CONSEQUENTIAL, PUNITIVE, OR ENHANCED DAMAGES ARISING OUT OF OR IN CONNECTION WITH YOUR ATTENDANCE AT A NEW U LIFE EVENT, REGARDLESS OF (A) WHETHER SUCH DAMAGES WERE FORESEEABLE, (B) WHETHER OR NOT NEW U LIFE WAS ADVISED OF THE POSSIBILITY OF SUCH DAMAGES, AND (C) THE LEGAL OR EQUITABLE THEORY (CONTRACT, TORT OR OTHERWISE) UPON WHICH THE CLAIM IS BASED. YOU AGREE THAT THESE LIMITATIONS WILL SURVIVE AND APPLY EVEN IF ANY REMEDY IS FOUND TO HAVE FAILED OF ITS ESSENTIAL PURPOSE. BECAUSE SOME JURISDICTIONS DO NOT ALLOW THE LIMITATION OR EXCLUSION OF CONSEQUENTIAL OR INCIDENTAL DAMAGES, THE ABOVE LIMITATION MAY NOT APPLY TO YOU. WITHOUT LIMITING THE FOREGOING, NEW U LIFE'S TOTAL CUMULATIVE LIABILITY TO YOU FOR ANY CLAIMS, JUDGMENTS AND/OR AWARDS ARISING OUT OF YOUR PURCHASE OF A TICKET OR ATTENDING THE NEW U LIFE EVENT, REGARDLESS OF THE LEGAL OR EQUITABLE THEORY UPON WHICH THE CLAIM IS BASED, WILL BE LIMITED TO AND WILL NOT EXCEED THE TOTAL AMOUNT OF THE PERSONALLY PURCHASED REGISTRATION.