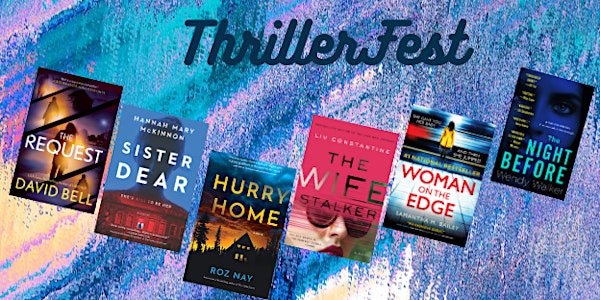 New Thrillers: A five-author virtual panel moderated by Wendy Walker
During ThrillerFest, five authors meet on Zoom to talk about their new thriller. Moderated by bestselling author Wendy Walker.
About this event
To order the books, click on the title you'd like to purchase.
Authors
Samantha M. Bailey is a Toronto-based novelist, journalist, and freelance editor. Her debut psychological thriller, WOMAN ON THE EDGE, is a #1 Toronto Star and Globe and Mail bestseller, received a starred review from Publisher's Weekly, and made the Pop Sugar list of "25 New Books to Add to Your Reading List This Spring".
David Bell is the USA Today-bestselling author of nine novels, including Layover, The Forgotten Girl and The Hiding Place. Winner of the Prix Polar International de Cognac 2013, for best crime novel by an international author. THE REQUEST is his 10th book.
Lynne Constantine, with her sister Valerie, form the writing duo Liv Constantine. The Last Mrs Parrish and The Last Time I Saw You are both in development for television or film. THE WIFE STALKER is their third book.
Hannah Mary McKinnon was born in Manchester, UK, lived in Switzerland and now lives in Ontario, Canada. After a career in business hi-tech, she decided to follow her passion and started writing. SISTER DEAR is her fourth book, and her third thriller.
Roz Nay's debut novel, Our Little Secret, was a national bestseller, won the Douglas Kennedy Prize for best foreign thriller in France, and was nominated for the Kobo Emerging Writer Prize for Mystery and the Arthur Ellis Best First Novel Award. HURRY HOME is her second book.
Wendy Walker is the author of the psychological suspense novels All is Not Forgotten, Emma In The Night, The Night Before and the soon-to-be-published Don't Look For Me. Her novels have been translated into 23 foreign languages and have topped bestseller lists both nationally and abroad. She will moderate the panel.
All books can be ordered from Shakespeare & Co.