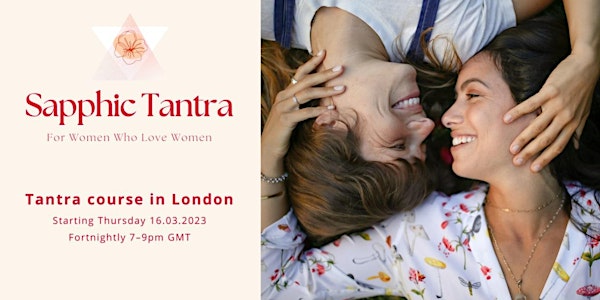 NEW Tantra Course - for women who love women
Sapphic Tantra is a unique tantric school for bisexual and lesbian women.
When and where
Location
Tara Yoga Centre 25-31 Ironmonger Row London EC1V 3QW United Kingdom
Refund Policy
Contact the organizer to request a refund.
Eventbrite's fee is nonrefundable.
About this event
𝗔𝗿𝗲 𝘆𝗼𝘂 𝗶𝗻𝘁𝗲𝗿𝗲𝘀𝘁𝗲𝗱 𝗶𝗻 𝘀𝗽𝗶𝗿𝗶𝘁𝘂𝗮𝗹𝗶𝘁𝘆, 𝗹o𝘃𝗲 𝗮𝗻𝗱 𝘀𝗮𝗰𝗿𝗲𝗱 𝗲𝗿𝗼𝘁𝗶𝗰𝗶𝘀𝗺?
This is an intense journey - the first of its kind – taking place in Old Street, London, offering you a tantric deep dive into love, eros and spirituality, that will transform your life and intimacy forever.
𝗪𝗵𝗮𝘁 𝘄𝗶𝗹𝗹 𝘆𝗼𝘂 𝗹𝗲𝗮𝗿𝗻 𝗶𝗻 𝘁𝗵𝗶𝘀 𝗶𝗻𝘁𝗲𝗻𝘀𝗶𝘃𝗲 𝗰𝗼𝘂𝗿𝘀𝗲?
-Sacred eroticism, tantric love making between women and inner alchemy
-Different types of orgasms, multiple orgasms and awakening your orgasmic capacity
-Shifting from sex to eros and how to live an erotic life
-Essential keys for developing erotic and emotional intelligence
-The important role of spiritually initiated women in modern society
-Creating and maintaining fulfilling spiritual couple relationships
-The wisdom of the heart and heart based living
-Activating the hidden power and aliveness of the Yoni
-Tantric massage: a spiritual practice of love & eros
-Purification techniques and spiritual healing for health and wellbeing
-Awakening feminine power, the inner man, self-confidence and self-worth
-Universal laws and principles governing our life
-Fundamental revelations of the Godly Attributes
-Guided meditations, rituals and much more…
𝗕𝘆 𝗷𝗼𝗶𝗻𝗶𝗻𝗴 𝘁𝗵𝗶𝘀 𝗰𝗼𝘂𝗿𝘀𝗲 𝘆𝗼𝘂 𝘄𝗶𝗹𝗹 𝗵𝗮𝘃𝗲 𝗮𝗰𝗰𝗲𝘀𝘀 𝘁𝗼:
- 2h fortnightly classes combining both theory and practice
- Online Sapphic Circle: a monthly spiritual journey and intimate cozy time together
- Network of Sapphic Hearts: our private community for women who love women
- Telegram group to support your spiritual journey
- Homework for deepening your practice
- Written materials with essential keys and exercises
- Guided Meditations mp3 files
- Bonus pre-recorded video lectures
- Ayurvedic recipes for wellbeing (natural herbs, aphrodisiacs, diet)
- Special spiritual initiations in the mysteries of tantric eroticism
𝗣𝗿𝗶𝗰𝗲: £30/month
In Sapphic Tantra you have the possibility to join a spiritual network and community of inspiring women from all over the world. Here you will have the chance to meet other sapphic women, to support each other, and share your journey and experiences together.
𝗡𝗕: Our tantric programs are meant for women that are open minded and constant in their wish for a true inner transformation