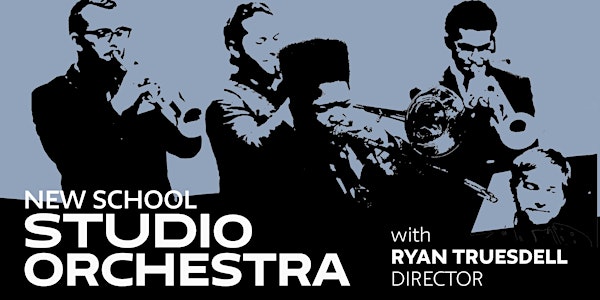 New School Studio Orchestra Concert with Ryan Truesdell, Director
When and where
Location
John L. Tishman Auditorium University Center 63 Fifth Avenue New York, NY 10003
Description
The College of Performing Arts's newest large ensemble, the New School Studio Orchestra is composed of students from the School of Jazz and Contemporary Music and Mannes School of Music, performing music from a wide variety of genres including jazz, soul, pop, and improvised music. This fall the group is led by special guest artist composer/producer Ryan Truesdell.
Composer, arranger, and producer Ryan Truesdell was voted "Best New Artist" in the 2012 JazzTimes Critic's Poll, and is best known for his award-winning Gil Evans Project. He composes and arranges music for an eclectic variety of ensembles ranging from small ensembles to big bands, wind ensembles to string quartets. Recent commissions include arrangements for trumpeter Ingrid Jensen with the U.S. Air Force Band of the Pacific, new music for pianist Frank Kimbrough with the University of Minnesota's Jazz Ensemble, and a new piece for Bob Brookmeyer's 80th birthday concert at the Eastman School of Music. Ryan was also awarded the First Music commission from the New York Youth Symphony's Jazz Band Classic, and conducted its premiere at the Allen Room at Jazz at Lincoln Center in 2009.
The performance on Oct. 16th features the music of jazz valve trombonist, pianist, arranger, and composer Robert Edward "Bob" Brookmeyer.
Ryan received his Master's degree in Jazz Composition at the New England Conservatory of Music and immersed himself in a broad range of musicals styles while studying composition with Bob Brookmeyer and Lee Hyla. When Bob passed the control of Bob's library was handed over to Ryan.
The performance on Dec 4th features the music of jazz pianist, arranger, composer and bandleader Gil Evans.
In his pursuit to restore and perform Evans' music directly from his original manuscripts, Truesdell discovered over sixty new, never-before-recorded pieces, 10 of which were released on CENTENNIAL: Newly Discovered Works of Gil Evans, in honor of Evans' 100th birthday. Unanimously praised by critics, among its many accolades, CENTENNIAL received three nominations and won Evans a posthumous 2013 GRAMMY® Award for "Best Instrumental Arrangement." Truesdell released the Project's sophomore album, LINES OF COLOR: Live at Jazz Standard, in 2015. By recovering and performing these lost works, Truesdell has filled in essential missing pieces of Evans' rich musical narrative, expanding the legacy of one of Jazz history's most revered composers and arrangers.
Presented by The School of Jazz and Contemporary Music at The College of Performing Arts