Family business owners! Join a FREE online conference. Network and learn from people who've taken their business where yours is going.
About this event
New Roots/New Routes
It means we're deepening our roots in our community and finding new routes for the future of our businesses.
The one-day virtual event includes…
Two Keynote Sessions
Concurrent Speaker Sessions (with two topics to choose from)
Virtual Networking Rooms
Music & Entertainment
Learn from experienced leaders in family-firms, network with fellow business owners, and discover new resources for your enterprise.

Schedule of Events
12:30 – 12:50 PM: Platform Access and Networking
12:50 - 1:00 PM: Welcome Remarks
1:00 – 1:40 PM: Opening Panel Conversation
1:50 – 2:20 PM: Concurrent Sessions 1A and 1B
2:40 – 3:20 PM: Concurrent Sessions 2A and 2B
3:30 – 4:00 PM: Networking Rooms
4:00 – 4:30 PM: Closing Panel Conversation
4:45 – 6:30 PM: Virtual Wine Tasting & Awards Reception
10 minute interludes between sessions.

Session Descriptions
**Check back here for more details as they get confirmed**
Platform Access and Networking
12:30 - 12:50 PM
Take this time to explore the virtual platform, InEvent, to get comfortable with where everything will be taking place during the event from the Activities to the Networking. Once you log in, get your work spaces settled, your snacks and water handy and say "hello" to fellow attendees who have also arrived as you prepare for an engaging, information-gathering, connection-filled day.
Welcome Remarks
12:50 - 1:00 PM
Let's kick off the day with welcome remarks from USF Gellert leaders.



Interlude
1:40 - 1:50 PM
Stretch, dance, hydrate and catch up on life during this brief interlude!

Meet The Funders: Affordable Money!
Session 1A | Track: New Roots | 1:50 - 2:20 PM
In this session, you'll have a chance to explore virtual "booths" hosted by a variety of small business microlenders, equity investors, business accelerators, and community-based, nonprofit technical assistance providers. Bring your questions and be ready to learn about the latest developments in federal, state and local COVID-related funding resources. Attendees will get to visit these "booths" at their leisure during the 30-minutes.
Featured Organizations To Meet:
Heidi Pickman, VP, Programs and Policy, CAMEO
Somiah Handy, Assistant Vice President, Nor-Cal FDC
Miriam Zouzounis, Outreach and Marketing Specialist, District International Trade Officer, US Small Business Administration
Bruce F. Jones, SBDC Senior Business Advisor, Small Business Development Center
Sara Razavi, CEO, Working Solutions, CDFI
Martha Gil, Client Success Manager, Renaissance Entrepreneurship Center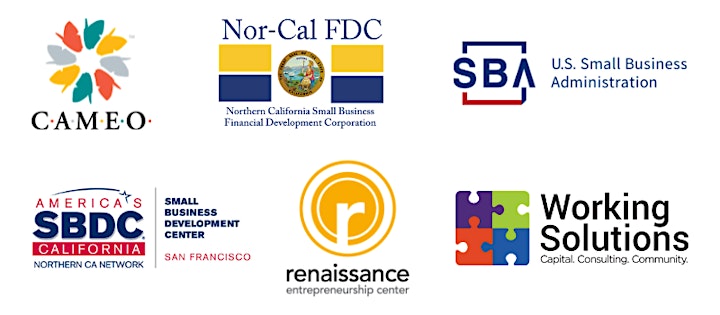 Employee Ownership: An Alternative Family Firm Legacy
Session 1B | Track: New Routes | 1:50 - 2:20 PM
Kirk Vartan says his ownership of Silicon Valley-based A Slice of New York is designed "to make people happy." That attitude created a slew of loyal employees, who Kirk and his wife and co-owner, Marguerite Lee, invited to join a worker-owned cooperative. Enjoy a lively conversation with Kirk about the advantages and challenges of worker-owned cooperatives as a business continuity option. All questions are fair game for this open, honest, and supportive discussion. Resources and additional information about this ownership path will be provided.
Moderator: Niall Adler, Marketing Director, Mission College
Speaker: Kirk Vartan, General Manager/Founder, A Slice of New York


Interlude
2:20 - 2:40 PM
Stretch, dance, hydrate and catch up on life during this brief interlude!

Celebration: Family Business Continuity
Session 2A | Track: New Roots | 2:40 - 3:20 PM
The legacy of Dorothy King, owner of Everett & Jones BBQ in Oakland, is being celebrated throughout the Bay Area. Two of Dorothy's daughters will share their mother's success stories and discuss how they plan to continue to steward this community-based business for the next generation.
Moderator: Shonda Scott, CEO/Founder, 360 Total Concept
Speakers:
Dorcia White, General Manager, Everett and Jones BBQ
Nina Moore, Manager, Everett and Jones BBQ


Sidewalk Stories: San Francisco's Hidden Gems
Session 2B | Track: New Routes | 2:40 - 3:20 PM
Join us for a series of "sidewalk stories" with a diverse array of businesses that anchor the Fillmore and Haight communities. Guests can enter rooms to hear these intimate conversations about their journeys over this past year, how they reinvented their products and services and the new paths that they'll be forging into the new business landscape.
Featured Businesses:
Miyako Old Fashioned Ice Cream


Interlude
3:20 - 3:30 PM
Stretch, dance, hydrate and catch up on life during this brief interlude!

Networking With Purpose
Networking Rooms | 3:30 - 4:00 PM
Create your own networking rooms with fellow attendees or join one of two moderated discussions featured below to ask questions, offer comments, get peer feedback, or just engage in good old-fashioned story swapping.
The two concurrent moderated discussion rooms are:
Group Room 1: Women and Family-Owned Enterprises
Since "women hold up half the sky" (Mao Zedong), why aren't their contributions to family-business success and longevity more widely acknowledged? Join us for a lively conversation about the unique dynamics associated with being female in family-owned enterprises. All are invited to the table even those who don't identify as a woman as we work together to close the gender gap.
Moderators:
Celine Casamina, Consultant, Business Consulting Resources
Jean Santos, Co-Founder/Chief Disruptor + Rebuilder, Business Consulting Resources

Group Room 2: Royal Pain
What lessons can we learn from the Harry and Megan fallout with the House of Windsor that can be applied to any multi-generational family business? From implementing objective policies from the start of the business to onboarding new members coming into the family, there are many things to consider when creating a sound plan for family governance. Bring your comments, ideas, and lessons you may have learned from your own experience as we dive into this particular royal family business. Your commentary may eventually be used for a USF case study around family governance.
Moderator: Dave Robertson, Retired Director of the Family Enterprise Center at UAFS


50 Years In Business: A Chat With The Owners of BiRite Foodservice Distributors
Closing Conversation | Track: New Roots | 4:00 - 4:30 PM
It took BiRite 50 years to grow from a two-person operation into one of the 30 largest independent foodservice distributors in the country. Meet the owners behind the brand, and learn how their company has managed to thrive through three generations of family ownership. How does the foundation of a strong family business legacy help when facing major business challenges? How can BiRite's lessons be applied to younger generations of business owners?
Moderator: Sean Hutchinson, Gellert Fellow and Partner at Ready for Next Advisory Group
Speakers:
Aaron Barulich, President, BiRite Foodservice Distributors
Bill Barulich, CEO, BiRite Foodservice Distributors
Zachary Barulich, Chief Financial Officer, BiRite Foodservice Distributors


The 2021 Gellert Awards Reception
4:45 - 6:30 PM
Join us for an interactive virtual wine tasting with Paula Harrell from P. Harrell Wines to kick off the evening's celebration. Be part of this scintillating tasting and wine education of three exclusive Dry Creek Valley wines including a Zinfandel, dry Riesling and Rosé. Use code: USF2021Awards for 15% off your purchase.
Deadline to order your wines for shipment: Tuesday, May 18 by 5:00PM PT
Deadline to order your wines for an East Bay pick up: Friday, May 21 by 5:00PM PT
For any questions, email: info@pharrellwines.com.
Meet the 2019 and 2021 Gellert awardees to close out an amazing, connection-filled day! Let's congratulate: