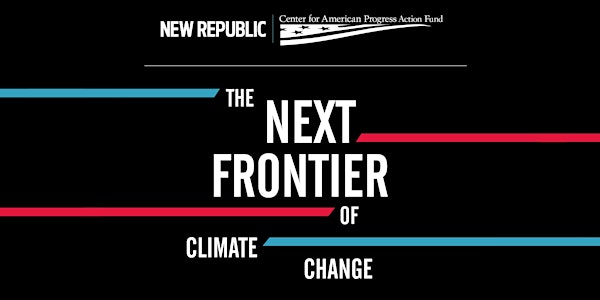 New Republic: The Next Frontier of Climate Change – Climate Justice
When and where
Location
Knight Conference Center at the Newseum 555 Pennsylvania Avenue, NW (Entrance at 6th Street NW "Freedom Forum") 8th Floor Washington , DC
Description
THE NEXT FRONTIER OF CLIMATE CHANGE
Climate Justice: The intersection of climate change and social justice
The Next Frontier of Climate Change is a policy series hosted by the New Republic with partners across the country, examining the public policy opportunities to address climate change and its impacts.

Please join us on June 1, 2016 for discussions about the effects of climate change through the lens of social and environmental justice. These conversations will be led by industry experts, government officials and respected academics, addressing key solutions to climate change.
Follow the conversation online at #ClimateDC
DETAILS
Knight Conference Center
Newseum: 555 Pennsylvania Avenue NW
(Enter through the Freedom Forum Entrance on 6th Street NW)
8:30AM Doors Open
8:30–8:55AM Breakfast
9:00–11:30AM Program

SPEAKERS
Mustafa Ali, Associate Assistant Administrator for Environmental Justice, EPA

Jacqui Patterson, Director of the NAACP Environmental and Climate Justice Program

Dr. Cecilia Martinez - Co-founder and Director of Research Programs at the Center for Earth, Energy and Democracy (CEED)

Timothy Manning - Deputy Administrator of FEMA for Protection and National Preparedness

Sandra Howard, Senior Environmental Health Advisor, Office of the Assistant Secretary for Health, U.S. Department of Health and Human Services

Vernice Miller-Travis, Maryland State Commission on Environmental Justice and Sustainable Communities

Khalil Shahyd – Project Manager in Urban Solutions at Natural Resources Defense Council

Cecil Corbin-Mark Deputy Director/Director of Policy Initiatives, WEACT
Questions? Contact Tori Campbell at vcampbell@tnr.com
Thank you!