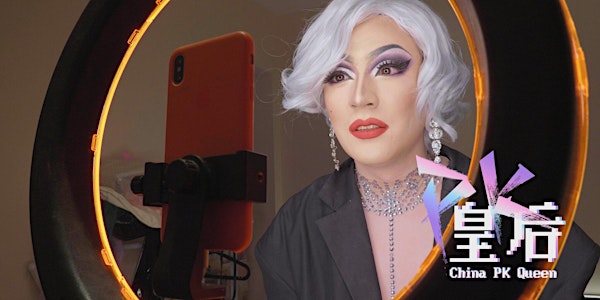 NEW RAINBOW CHINA
NEW RAINBOW CHINA: Chinese LGBTQ+ films and panel on history of Chinese LGBTQ+ activism
When and where
Location
The Student Hotel Amsterdam City 129 Wibautstraat 1091 GL Amsterdam Netherlands
About this event
Film screenings:
China PK Queen (2021 China) | Dir: Xiagang Wei | 37:30 mins
Jessica is an online professional Drag Queen in China. Each day of the week he gets online to perform and to receive "gifts" from his fans. Although he enjoys being a Drag Queen, he not only has to prove his talents and skills but also to fight against prejudices and discrimination. Even if the space for drag shows in China is constrained, he is always looking for opportunities to perform in front of live audiences.
New Beijing, New Marriage (2009 China) | Dir: Fan Popo | 18 mins
On Valentine's Day, a gay couple and a lesbian couple chose to have their wedding photos taken on the Qianmen Street. It was a beautiful Spring Day in Beijing. People who witnessed the event include local residents and tourists from all over the country. Would they understand what was going on?
Post films Q&A and panel discussion on LGBTQ+ activism in mainland China
Life has become more and more challenging for LGBTQ+ people in China with the Chinese authorities implementing strict censorship rules and controlling queer activities. The aforementioned documentaries show a representation of queer lives in China that are no longer possible. Our panel guests discuss how the situation has changed in recent years and how it influences their lives as activists and filmmakers, as well as the life of queer people in China in general.
Panel guests:
Xiaogang Wei
Xiaogang Wei was the executive director of the NGO Beijing Gender. Founded in 2002, it was the first Chinese NGO to focus on issues of gender, sexuality and sexual health, thus fulfilling a pioneering role in Chinese society. Together with the Beijing Gender, he launched a series of groundbreaking events in China, including Queer University, the China AIDS Walk, the China Rainbow Awards, the China LGBTI Conference and All Gender Toilet Program. He also helped organize the Beijing Queer Film Festival and the webcast Queer Comrades.
Fan Popo
Popo Fan is a Berlin-based filmmaker, writer, and activist from China, where his queer documentary films have made a notable impact. Since 2016, he has concentrated on writing and directing scripted, sex-positive shorts. He is the founder of the Queer University Video Training Camp and has been an organizer of the Beijing Queer Film Festival for more than a decade. Popo was invited to sit on the jury of the Teddy Award of the Berlinale in 2019.
Maoyi
Maoyi (they/them or TA) is a Rotterdam based artist, a former architect who is working across interdisciplinary studies on queer transnational studies, and a co-founder of Q-space (a queer feminist collective in Beijing, China (since 2016). The mission of the space is through organizing and advocating events, researches and publications on the basis of considering the dynamics of the relationship of queer practice with East Asian society, alternative space making and state surveillance. They are a current roaming alumni in critical theory and art praxis at Dutch Art Institute.
Jo
Jo (she/her) is currently based in Amsterdam. She was a co-founder of Q-space, a queer and feminist maker space in Beijing, together with Maoyi, and has worked mostly in experiental education. She is interested in community building and education that empowers participants to become agents of change. She came to the Netherlands to study international and human rights law, and hopes to use this in the future as a tool to advance human rights in East and South East Asia.
Moderator: Stijn Deklerck
Stijn Deklerck is Senior Officer Human Rights Programmes (China) at Amnesty International Netherlands, and teaches Chinese Law at the University of Leuven (Belgium). He holds a master's degree in law and obtained his PhD in sinology with a study of activism in China's contemporary LGBTI movement. He built up extensive activist experience as a core member of various Chinese and international NGOs, and is an accomplished producer of socially engaging documentaries.