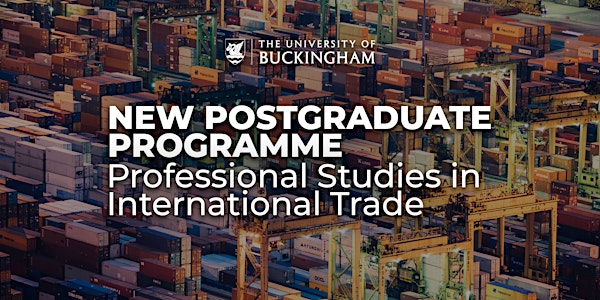 New postgraduate programme: Professional Studies in International Trade
Launching a new postgraduate programme: Professional Studies in International Trade PGC
When and where
Location
The University of Buckingham Hunter Street Buckingham MK18 1EG United Kingdom
About this event
The success of UK trade policy depends upon the skills, knowledge and networks of its Ministers and civil servants. Recognising this, the government's new curriculum and skills Campus aims to 'raise the floor and raise the ceiling' in all specialist skills and domain knowledge: a higher standard and expectation for the core, universal, capabilities, and an increased level of senior expertise. To do this, at scale and effectively, it must both improve internal knowledge transfer and training, and work with partners wherever expedient and cost-effective.
The University of Buckingham
The University of Buckingham was ranked 6th for Graduate Prospects in 2021 by The Times as well as 1st in the UK for student satisfaction from 2018 to 2020 and 1st for teaching excellence in 2017 by The Complete University Guide. Home of the two-year degree, the University's commitment to time-efficient courses and small class sizes is ideal for working professionals which is the reason we chose Buckingham as our partner.
A new postgraduate programme
The programme will consist of part-time and online Masters level modules covering a variety of subjects such as International Trade Law, Political Economy, Cybersecurity, Trade Finance and Economics, as well as deep-dives of specific technical and regional topics. These may be claimed toward an official Postgraduate Certificate or taken without credit.
In its first iteration, this course will be geared toward civil servants. In the future we plan to offer this more widely, as its content is relevant to private sector professionals working in supply chain management, sales or public relations; third-sector policy analysts; and graduates pursuing an academic career.
13 October: a one-day taster
This event will introduce audiences to key insights and skills to understand and navigate global trade policy and will launch the postgraduate programme that will be made available at the University of Buckingham.