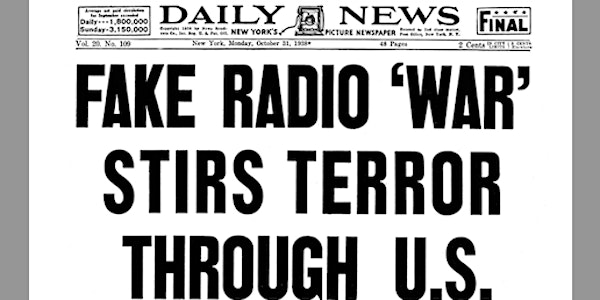 New Plaza Cinema Lecture w/ Steven C. Smith: Orson Welles - Mars Attacks
Join New Plaza Cinema for our Lecture Series with Steven C. Smith: Mars Attacks! Orson Wells and the night that panicked America.
Refund Policy
Contact the organizer to request a refund.
Eventbrite's fee is nonrefundable.
About this event
New Plaza Cinema is excited to present our guest lecturer, Steven C. Smith, award winning author and film maker.
MARS ATTACKS! ORSON WELLES AND THE NIGHT THAT PANICKED AMERICA
On the night of October 30, 1938—Halloween Eve—23-year-old producer-actor Orson Welles pulled off the most notorious case of fake news in the 20th century, with his live CBS radio broadcast of The War of the Worlds.
Aided by a stellar team of talent, including musical director Bernard Herrmann and future Casablanca co-writer Howard Koch, Orson gleefully turned H.G. Wells' 1898 novel about a Martian invasion into a "this-is-happening-now" series of fake news bulletins. In a time before TV and the internet, the drama was so convincing that thousands of radio listeners thought a Martian invasion of America was actually taking place.
The program's aftermath led to a media firestorm…and an offer to Orson from Hollywood, which led to the making of Citizen Kane.
Hosted by award-winning documentarian and author Steven C. Smith, the lecture will include:
A dramatic, you-are-there telling of the night of the broadcast, reflecting the intensity of its live performance
Highlights from the actual show, including the Martians' ray-beam destruction of New Jersey, which features one of radio's most famous "dead mike" moments
A look at how the show led to the creation of Citizen Kane, including a look at Kane's inventive "behind-the-scenes" movie trailer directed by Welles
Audio of Orson and H.G. Wells' only meeting