New Perspectives on Desire

Friday, June 22, 2012 from 9:00 AM to 5:00 PM (CDT)
Event Details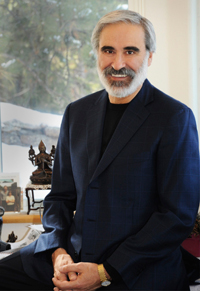 New Perspectives on Desire

A workshop with Dr. David Schnarch
June 22, 2012 from 9 a.m. to 5 p.m. (lunch included)
at Governors State University E-Lounge 
Registration begins April 3, 2012
6.5 CEUs available
A revolutionary approach to sexual desire
World-renowned sex and marital therapist, and international best-selling author, Dr. David Schnarch, will offer ground-breaking knowledge and time-proven solutions to turn these problems into profound desire, deeper intimacy, sexual passion, and personal growth. This revolutionary approach to sexual desire and sexual desire problems is based on 30 years of clinical experience.
Dr. Schnarch's most recent book is Intimacy & Desire. Visit his webiste for more information about him, his approach, and his newest book.
Dr. David Schnarch
David Schnarch is a licensed clinical psychologist and author of numerous books and articles on intimacy, sexuality, and relationships. His clinical abilities attract clients and students from across the globe. David chaired the Professional Education Committee and served on the Board of Directors of the American Association of Sex Educators, Counselors, and Therapists (AASECT) for eight years. He is an AASECT Certified Sex Therapist (Diplomat status), the first recipient of the AASECT "Professional Standard of Excellence" Award, and a Clinical Member of the American Association for Marriage and Family Therapy (AAMFT). David currently serves on the editorial board of AAMFT's Journal of Marriage and Family Therapy. For seventeen years he was an Associate Professor in the Depts. of Psychiatry and Urology at Louisiana State University Medical School.
Just recently at the September 2011 AAMFT Annual Conference, Dr. Schnarch received the AAMFT Award for Outstanding Contribution to the Field of Family Therapy. He was recognized for his entire body of work including both theoretical development and major advances in therapeutic intervention with couples and families using a differentiation based model.
In 1991, David wrote the landmark book, Constructing the Sexual Crucible: An Integration of Sexual and Marital Therapy (W. W. Norton & Co.), now used in clinical training programs across the country and read by therapists around the world. The Crucible Approach® is widely regarded as the most sophisticated integration of sexuality, intimacy, spirituality, personal development, and marital therapy developed to date. His second book, Passionate Marriage: Sex, Love, and Intimacy in Emotionally Committed Relationships (W. W. Norton & Co., March 1997, Owl Books, 1998), is a perennial best seller, offering the general public his revolutionary approach in a pragmatic and easy-to-understand form. His third book, Resurrecting Sex: Resolving Sexual Problems and Rejuvenating Your Relationship (HarperCollins, August, 2002), offers hope to millions of normal couples and singles who have sexual problems. His newest book, Intimacy and Desire: Awaken the Passion in your Relationship, Beaufort, 2009 details his unique approach to helping couples resolve sexual desire issues through the Crucible Neurobiological Therapy.™
For more information on Dr. Schnarch please follow this link:
http://passionatemarriage.com/
For more information on Governors State University please follow this link:
When & Where

Governors State University
1 University Pkwy
University Park, IL 60484


Friday, June 22, 2012 from 9:00 AM to 5:00 PM (CDT)
Add to my calendar
Organizer
Governors State University
If you're thinking about GSU as you plan your undergraduate or graduate education, you're thinking smart.
As the most affordable and accessible university in Chicagoland, GSU is perfect for students of any age. We offer fully accredited bachelor's, master's, and doctoral degrees, in a variety of subject areas.
GSU Offers:
55 degree programs
24 certificate programs
the most affordable undergraduate tuition in Chicagoland
in state Illinois tuition for Indiana residents
on campus, online, weekend, evening, and satellite campus classes
a diverse student body
an exceptional faculty
financial aid for full and part-time students
New Perspectives on Desire