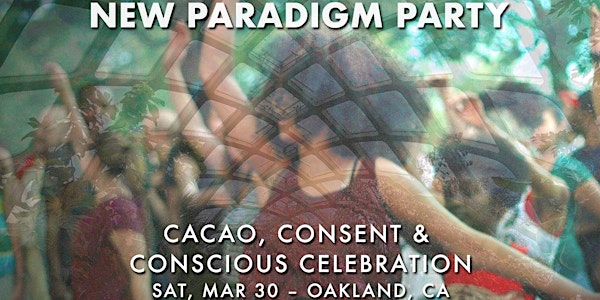 New Paradigm Party: Cacao, Consent & Conscious Celebration
When and where
Location
Omni Commons 4799 Shattuck Avenue Oakland, CA 94609
Description
NEW PARADIGM PARTY RETURNS AFTER SOLD-OUT EVENTS IN NOVEMBER AND JANUARY... THIS TIME IN A BIGGER VENUE: THE MAIN BALLROOM AT OMNI COMMONS!

Join us for a cacao-infused, fully immersive experience where we'll explore the cutting edge of humanity's social evolution through New Paradigm Partying. This will be our longest event yet, and the first time on a Saturday! We're envisioning something closer to a one-day festival.

Through an afternoon of workshops with skilled Bay Area facilitators, and a free-flowing nighttime party, we will navigate how conscious celebration can be both juicy and grounded, sexy and safe, spontaneously fun and sustainably transformative.

Think of it like a party that's also a workshop on how to party consciously. We'll be unfolding and evolving what it even means to gather for fun and connection. The whole journey will be curated and facilitated by skilled transformational guides.

An experienced support team will be available in case something comes up that you want or need help with. There will also be a tea lounge open and available to talk with others, stretch, cuddle, or simply BE.

☆ Dj Dakini and Bosque will be our DJs providing the sonic landscape. Crystallin Dillon, MA will lead a T-Group intro workshop. Blake Zealear (of Zentropy Coaching) will return to lead a connection games workshop for practice giving and receiving safe, platonic touch. And we'll also have a guest teacher lead a contact dance primer. More information about all of this to come in the Facilitator section below. ☆

☆☆☆☆☆☆☆☆☆
EVENT VISION:
• 4-7pm Three Workshops with Guest Facilitators
• 7-8pm Cacao Ceremony with Nick Meador
• 8pm-11:30pm Conscious Dance Party
• 11:30-Midnight Sound Healing and Closing CIrcle
• Healthy food for sale throughout the event by the Qwitchen Collective!

☆☆☆☆☆☆☆☆☆

4pm-Midnight
Saturday, March 30
Omni Commons
4799 Shattuck Ave
Oakland, CA 94609

☆ Doors will open at 3:45pm. Each afternoon workshop will be approximately 50 minutes long, starting on the hour (4pm, 5pm, 6pm). To participate in one you must arrive by the start time. ☆

☆ Doors for party-only tickets will open at 6:45pm. To create a safe container for the party, NEW ADMISSIONS WILL CLOSE AFTER 8:00PM. No exceptions made. ☆

☆ Taking of photos and videos is generally not allowed, unless you get verbal permission/consent from anyone who would be in the shot. ☆

☆ THIS IS A SUBSTANCE-FREE EVENT! Please come in an ordinary state of consciousness. Ages 18+ welcome. ☆

☆ Before registering, please read the New Paradigm Party Values and Guidelines here: http://bit.ly/NPPvaluesguide ☆

☆ Parking is limited around the venue. Please consider carpooling, biking, taking public transit or a taxi. ☆

CONTRIBUTION: WORKSHOPS + PARTY (Doors at 3:45pm. Each workshop starts promptly on the hour.)

• Early Bird tickets $40 (through Feb 17 or til gone)
• Advanced Registration/Tier 2 $48 (Feb 18-March 29 or til gone)
• Day of Event $55 by cash or Venmo (if tickets remain!)

CONTRIBUTION: PARTY ALONE (Doors at 6:45. New entry closes at 8:00pm.)

• Early Bird $20 (through Feb 17 or til gone)
• Advanced Registration/Tier 2 $28 (Feb 18-March 29 or til gone)
• Day of Event $35 by cash or Venmo (if tickets remain!)

*We're also releasing a limited number of discounted Alternative Economy tickets for people who both have a lower income and identify as being part of a marginalized group/having lower social privilege. These are available on the ticket page.

THE LAST TWO EVENTS SOLD OUT BEFORE THE DAY OF THE EVENT. DON'T MISS OUT!

REGISTRATION LINK COMING SOON

☆ Volunteer opportunities exist. For more info write to write to newparadigmparty@gmail.com. ☆

☆☆☆☆☆☆☆☆☆

A NOTE ON CACAO:

Entry includes a cup of ceremonial cacao! Pure cacao is a gentle plant medicine that opens the heart, deepens meditative experiences, and fosters inner/outer connection. With his social enterprise Soul Lift Cacao, Nick serves cacao grown organically at a family farm in eastern Guatemala, prepared by a women's collective at Lake Atitlán that he met personally, and obtained through ethical direct trade WITH FULL PERMISSION AND CONSENT TO SHARE IT IN THIS WAY. When Soul Lift Cacao buys from the women's collective, 100% of profits from that sale go back to the Mayan indigenous people growing and preparing the cacao. By giving back and showing respect, we honor the sacred role that cacao has played for thousands of years in the indigenous cultures of what we now call Central and South America. We are so fortunate that ceremonial cacao is entering the global consciousness at a time when it can have a massively positive impact. For more info visit bit.ly/soulliftcacao.

*Cacao consumption is optional at this event. It is not advised for people taking MAOI anti-depressants or people with a heart condition to have a full serving of pure cacao.

☆☆☆☆☆☆☆☆☆

ABOUT THE FACILITATORS

Nick Meador got the ball rolling on this project! He's the lead producer and handles venue relations, street team efforts, and other back-end logistics. Nick is an RYT-200 yoga instructor, transformational life coach, holistic event producer, mindful entrepreneur, and world explorer. Nick has been organizing gatherings that promote connection for 15 years, and leading self-development workshops for 6 years. His mission is to empower and liberate people in a sustainable way. With his brand BS Free Spirituality (bsfreespirituality.com), Nick works to demystify introspective practice and make holistic self-management options more accessible to ordinary people. Nick is also the founder of Soul Lift Cacao, specializing in organic ceremonial cacao from sustainable sources in Guatemala that are preserving ancient traditions. Learn more at bit.ly/soulliftcacao.

OTHERS COMING SOON!