Event Information
Refund Policy
Refunds up to 1 day before event
Description
Chicago Dramatists presents the second annual New Page Conference: a day-long gathering of new-play makers to share ideas about and celebrate new play development. This year's theme is Playwright as Producer.
The morning panel, "Writing and Producing a Webseries," is moderated by Dr. Aymar Jean Christian (Open TV) and includes panelists Puja Mohindra (Geeta's Guide to Moving On), Mia McCullough (The Haven), Ricardo Gamboa (Brujos) and Cheryl Graeff (It's You).
Breakout sessions include: "Eradicating Premiere-itis," "Playwright Producing Collectives," "Self-Care for Playwrights," and "Playwrights and Dramaturgs as Critics" - as a follow-up to the panel "Cultivating Critics of Color," held at Dramatists last March.
Our afternoon keynote speaker is Nan Barnett, Executive Director of the National New Play Network, an organization which advocates for new work through fellowships and facilitating rolling world premieres amongst its member theatres across the nation.
Full and half-day passes are available, as are boxed lunches, an evening reception and discounted tickets to Jayme McGhan's world premiere Still Dance the Stars, produced by the New Light Theatre Company, in association with Chicago Dramatists.

Once your pass is purchased and our break-out sessions are finalized, you will be asked to sign up for your chosen panels, sessions and workshops. In the meantime, please call 312-633-0630 with any questions.
See you on September 9th!
Events and panelists updated August 17 at 1:00pm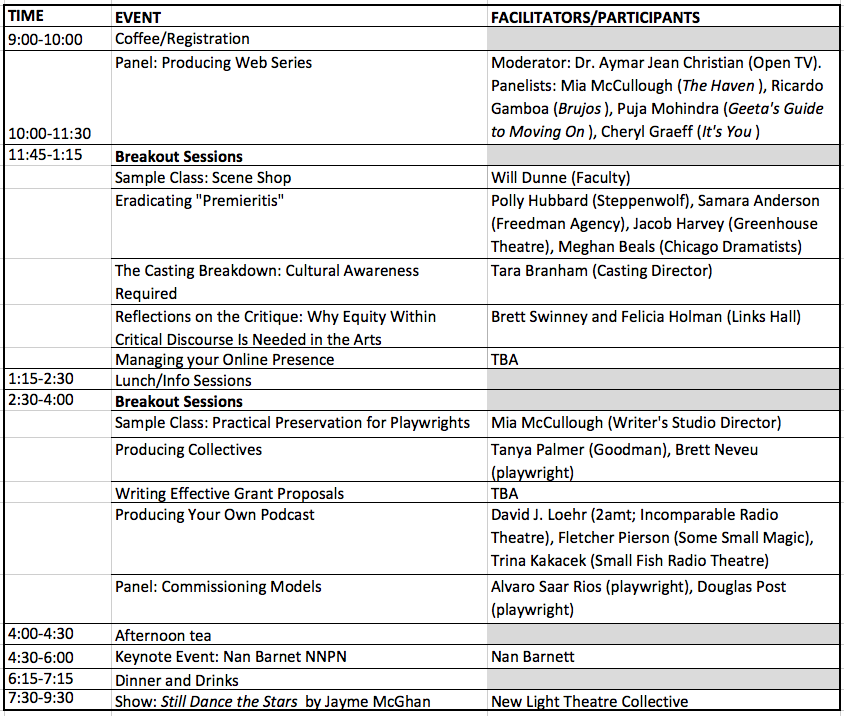 Date and Time
Location
Refund Policy
Refunds up to 1 day before event