Multiple Dates
New Orleans NFL Gameday Watch Party at the Americans Sports Saloon
Come join us every week here in New Orleans at the American Sports Saloon, 1200 Decatur, for every game all season long (most with sound)
About this event
It's time to get on your team gear, and make some noise with us. Make your reservations early. We can usually add 1 or 2 seats to most tables, so please indicate if you need an extra seat, but we cannot exceed 10 people in a group. There is a $20 pp minimum spend per attendee.
Reservation check in required 15 mins before kickoff, and reservations are released at kickoff for anyone that has not checked in. Please note, for afternoon games, table may not be ready at kickoff depending on early game and time for sanitary clean up.
We have three inside bar rooms each with separate sound, and outside tables with game sound available at each table separately.
MASKS REQUIRED WHEN NOT SEATED (at check-in, when going to restrooms/smoke/etc). MUST BE SEATED FOR SERVICE.
Online Reservations stop 6 hours in advance of game start. Reservations within 6 hours of start time taken at door.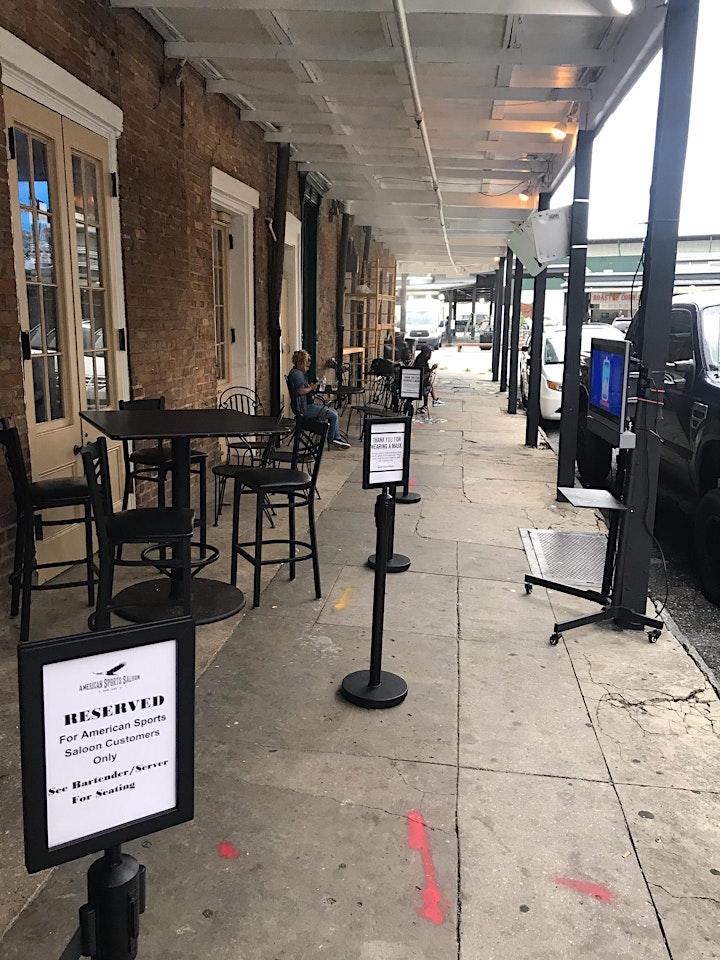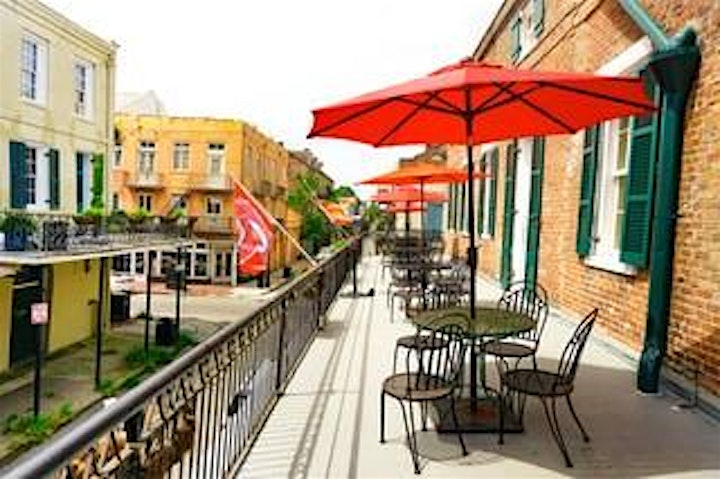 Organizer of New Orleans NFL Gameday Watch Party at the Americans Sports Saloon
Follow us On Twitter @nolasportsaloon 
Instagram: @americansportssaloon

Whether you're a visitor, or a local following a non-local team, you will find your team here, at the #1 rated sports bar in New Orleans. Along with all the games, our Audio system brings you game sound. 


With 3 separate rooms, we can simultaneously feature several games at once, or grab a TV on our balcony and list to whatever game you want!

Our Sports bar carries every League Package
NFL Sunday Ticket
NBA League Pass
NHL Center Ice
MLB Extra Innings

We carry all the sports channel packets
ESPN College Extra
Root Sports
Comcast Sports
Fox Sports
Bein Sports
Sec Network
Big 10 Network
ACC Network
Pac 12 Network
MSG
NESN
Sportsnet 
UDN
and more

So if you're and NFL fan looking for the #1 sports bar in New Orleans for the Dallas Cowboys, New England Patriots, Oakland Raiders, New York Giants, Green Bay Packers, Seattle Seahawks, Pittsburgh Steelers, Denver Broncos, Philadelphia Eagles, Detroit Lions, 'Washington Redskins, Minnesota Vikings, San Francisco 49ers, Houston Texas, Cleveland Browns, Atlanta Falcons, Carolina Panthers, Kansas City Chiefs, Baltimore Ravens, Los Angeles Chargers, Arizona Cardinals, Chicago Bears, Los Angeles Rams, Buffalo Bills, Miami Dolphins, New York Jets, Indianapolis Colts, Tampa Bay Buccaneers, Cincinnati Bengals, Tennessee Titans, or Jacksonville Jaguars the American Sports Saloon is where you will find the game and fellow fans.

If you're an NBA Fan looking for the #1 sports bar in New Orleans, the American Sports Saloon always features every Golden State Warriors, Cleveland Cavaliers, Los Angeles Lakers, San Antonio Spurs, New York Knicks, Chicago Bulls, Oklahoma City Thunder, Houston Rockets, Toronto Raptors, Boston Celtics, Los Angeles Clippers, Miami Heat, Brooklyn Nets, Milwaukee Bucks, Philadelphia 76ers, Dallas Mavericks, Portland Trail Blazers, Sacremento Kings, Atlanta Hawks, Utah Jazz, Minnesota Timberwolves, Washington Wizards, Detroit Piston, Indiana Pacers, Memphis Grizzles, Charlotte Hornets, Phoenix Suns, Denver Nuggets, or Orlando Magic always has your game and fellow fans to join you.

Worried you can't watch hockey in New Orleans. Don't worry, NHL Center Ice means the American Sports Saloon is your home sports bar in New Orleans for the Montreal Canadiens (Habs), Chicago Blackhawks, Edmonton Oilers, New York Rangers (Blueshirts), Pittsburgh Penguins (Pens), Toronto Maple Leafs, Boston Bruins (Bs), Vancouver Canucks, Philadelphia Flyers, Detroit Red Wings, Columbus Blue Jackets, Winnipeg Jets, Minnesota Wild, Calgary Flames, San Jose Sharks, Los Angeles Kings, St Louis Blues, Washington Capitals, Anaheim Ducks, New York Islanders, Buffalo Sabres, Tampa Bay Lighting, Florida Panthers, Ottawa Senators, New Jersey Devils, Colorado Avalanche, Carolina Hurricanes, Arizona Coyotes, Dallas Stars, Nashville Predators, Atlanta Thrashers, and Vegas Golden Knights.

Major League Baseball fans, the American Sports Saloon has MLB Extra Innings and is your sports bar in New Orleans for Chcago Cubs, New York Yankees, Los Angeles Dodgers, Toronto Blue Jays, Cleveland Indians, Boston Red Sox, New York Mets, San Francisco Giants, St Louis Cardinals, Texas Rangers, Atlanta Braves, Detroit Tigers, Baltimore Orioles, Washington Nationals, Pittsburgh Pirates, Houston Astros, Los Angeles Angels, Seattle Mariners, Philadelphia Phillies, Kansas City Royals, Miami Marlins, Cincinnati Reds, Minnesota Twins, San Diego Padres, Colorado Rockies, Milwaukee Brewers, Oakland Athletics, Arizona Diamondbacks, Tampa Bay Rays, and Chicago White Sox.