Description
Lauded as one of the top jazz pianists of his generation, Sullivan Fortner is recognized for his virtuosic technique and captivating performances.

Thanks to our sponsors, tickets are ONLY $10!

GET TICKETS NOW!
https://sullivan-fortner.eventbrite.com

The winner of three prestigious awards – a Leonore Annenberg Arts Fellowship, the 2015 Cole Porter Fellowship from the American Pianists Association, and the 2016 Lincoln Center Award for Emerging Artists – Sullivan's music embodies the essence of the blues and jazz as he connects music of all eras and genres through his improvisation.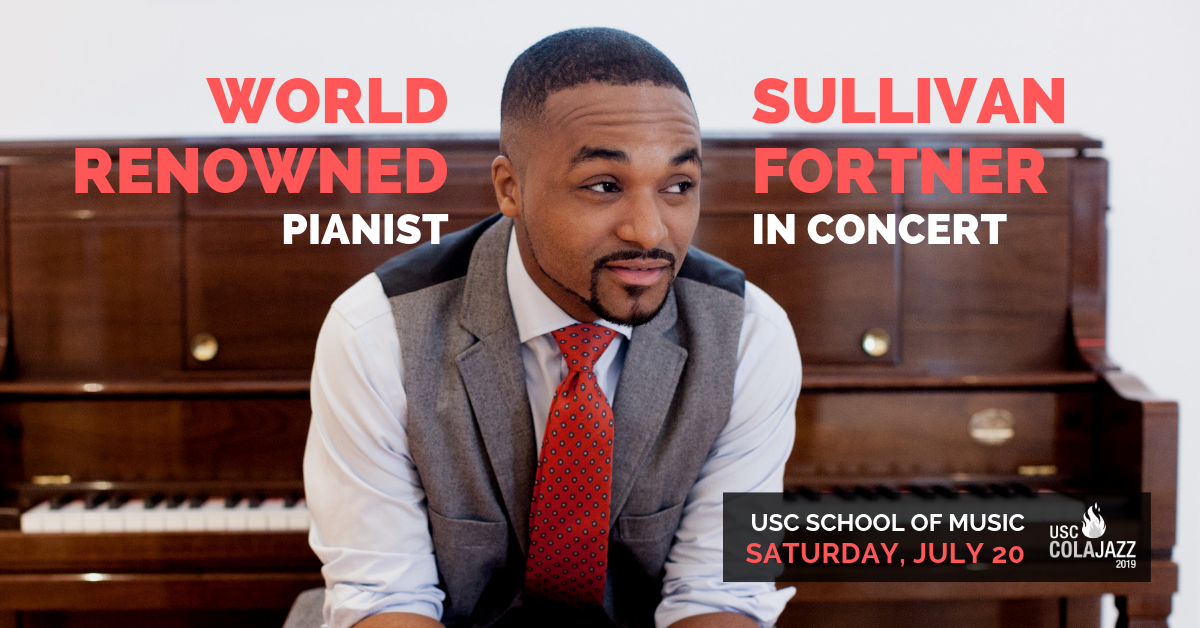 GET TICKETS NOW!
https://sullivan-fortner.eventbrite.com

Your attendance supports ColaJazz's efforts to support, grow and provide the best in Jazz education and opportunities in and around Columbia, SC!

Saturday, July 20, 7:30PM
USC School of Music: Recital Hall
813 Assembly Street
Columbia,SC 29208

-
-
-
MORE ON SULLIVAN FORTNER
As a leader, The Sullivan Fortner Trio has performed on many of the world's most prestigious stages including Jazz at Lincoln Center, Newport Jazz Festival, Monterey Jazz Festival, Discover Jazz Festival, Tri-C Jazz Festival, Jazz Standard, and the Gillmore Keyboard Festival. Fortner has been heard with other leading musicians around the world including Dianne Reeves, Roy Hargrove, Wynton Marsalis, Paul Simon, John Scofield, Cecile McLorin Salvant, Fred Hersch, Sean Jones, DeeDee Bridgewater, Roberta Gambarini, Peter Bernstein, Stefon Harris, Nicholas Peyton, Billy Hart, Dave Liebman, Gary Bartz, Etienne Charles and Christian Scott.

Fortner's foray into music education has led him to lead masters classes at today's most formidable music institutions, including Oberlin Conservatory of Music, Manhattan School of Music, New Orleans Center for Creative Arts (NoCCA), Purdue University, Lafayette Summer Music Workshop and Belmont University (TN).

A native of New Orleans, Fortner began playing the piano at the age of seven and was hailed a virtuoso before he was out of high school. He has a Bachelor of Music degree in Jazz Studies from Oberlin Conservatory and a Master of Music in Jazz Performance from Manhattan School of Music.
-
-
Thanks to:
Jangly Records
Pilates Bodies By Victoria
Hunter-Gatherer Brewery & Alehouse
Professional Printers
Hilton Columbia Center
Blue Moon Ballroom
Freeway Music
Pecknel Music