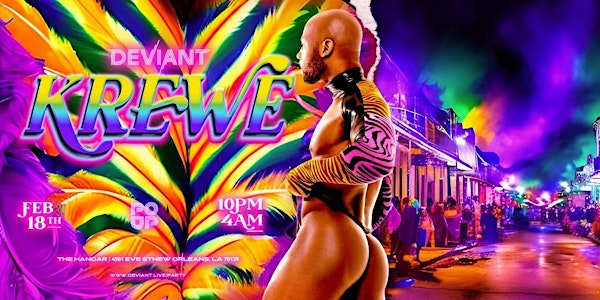 New Orleans "Krewe"
Deviant returns to New Orleans to shake things up at Mardi Gras on Friday, Feb. 17th!
When and where
Location
The Hangar 4501 Eve Street New Orleans, LA 70125
About this event
Join the Deviant Krewe.
Deviant New Orleans returns for Mardi Gras! 😈
#agency #sexPositivity #consent #bodyPositivity
Be confident, bold and sexy— this is your time to celebrate Mardi Gras!
The Hangar
10pm — 4am
Saturday, Feb. 18th
Deviant Dress Code is required!
All ticket sales are non-refundable and non-transferrable.
General Admission does NOT include clothes check.
Get creative, stay sexy, and let's have some fun, celebrating our own freedoms as Black and Brown Queer people!
Don't kill the vibes- Have fun with it! Dressing the part is half the fun, and kind of the whole point: #QueerAF #SexPositive #BodyPositive
Deviant is an intentionally sexy party, curated for and by Black and Brown Queer people. Our allies, who actively celebrate us and use their privilege to protect us, are also welcome in this safe space. Expect to dance, drink, mingle- There's no holding the wall here! Get into the body-positive party culture in your daring gear!
Health
Anyone who has a fever will not be permitted to attend. You may be subject to temperature checks at the door, or required to don a mask/ face covering.
Notice: You agree to not attend this event if you have tested positive for Covid-19, MonkeyPox or any of their variations. You agree not to attend this event if you feel sick, have a fever or have any compromised health that may be contagious to other patrons.
General Terms
By purchasing a ticket, you are agreeing to the below:
Consumption of alcohol at this 2023 DEVIANT ("Event") is optional and a personal decision. I agree that any alcoholic beverages I consume are my own choice and responsibility. I agree to drink responsibly and heed suggestions from DEVIANT Media & TV, LLC  staff, affiliates or others ("Event Producers") and will not drive if I am intoxicated. I acknowledge that I alone am responsible for all of my actions resulting from consuming alcohol at the Event and that Event Producers are in no way responsible for my consumption or choices, and release Event Producers of all liability of such consumption or results thereof. Further, I agree to hold harmless and release Event Producers from any and all claims, including but not limited to injury, death, disease or disability caused or occurred at the Event.
ATTENTION: NOTICE OF FILMING 
YOU MAY BE VIDEOTAPED OR RECORDED 
DEVIANT Media & TV LLC ("DEVIANT") is using this location to photograph and record video and film footage. By entering these premises, you hereby irrevocably grant to DEVIANT and its affiliates and assigns (including without limitation event and program sponsors, advertisers, and marketing partners) the right to photograph your image and record your voice, and to own, license, assign and/or use the same (and/or any portion thereof) forever and throughout the world in any manner and/or medium including, without limitation, in DEVIANT and other sponsored or unsponsored programs and the advertisement and promotion thereof, without compensation, credit or other consideration. 
If you do not wish to be photographed, recorded or appear under these conditions, you should leave this area immediately. 
Thank you for your cooperation and enjoy the event!
Refund Policy
All items are non-refundable.