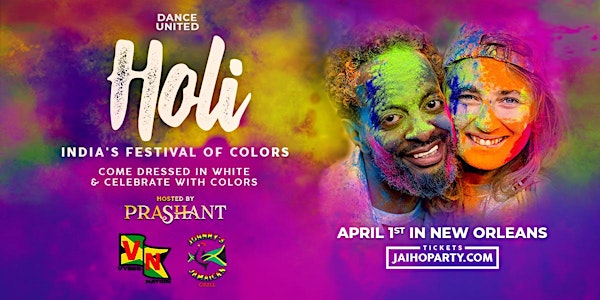 New Orleans HOLI: Festival of Colors | Bollywood Party with DJ Prashant
Come dressed in white and play with colors at our family-friendly Bollywood party, outdoors with your favorite DJ: Prashant.
By Bollywood Dreams Entertainment
Date and time
Saturday, April 1 · 3 - 7pm CDT
Location
1681 Religious St 1681 Religious Street New Orleans, LA 70130
About this event
NEW ORLEANS - HOLI FESTIVAL OF COLORS 🌈
Come celebrate Holi, India's Festival of Colors to welcome spring!
✨ We are the only Bollywood Party in town featuring Holi colors straight from India! 🇮🇳
So come dressed in white and let's play with colors!
💛 Big thanks to Johnny's Jamaican Grill & Vybes Nation for graciously hosting our Holi Festival ✨
DO NOT MISS ' THE COLOR THROW' - AN ANNUAL RITUAL SINCE 2010. 🌈
THE COLOR THROW!
At Holi Hai, the Festival of Colors in New Orleans, we celebrate the coming of spring, the joy of friendship, and equality for all. All nationalities and ethnicities are encouraged to participate!
To signify our unity in diversity we invite you to join us in kicking off the color play portion of the event with a UNIFIED COLOR THROW. Let's all throw colors up in the air together, and this magnanimous energy upliftment be the way we start color play.
Is there a better way to welcome Spring? We didn't think so. 😉
✅ Check out incredible photos from New Orleans's 2022 Holi Festival!✨
🟡 EVENT DETAILS
Saturday, April 1, 2023
All ages are welcome!
Doors open at 3 pm - Party til 7 PM
The Holi Color Throw at 4 pm
Holi Special Dance Performances
Bollywood Dance Lesson & Party with DJ Prashant
Food & drinks available for purchase
Professional Photography & Videography
✔️ IMPORTANT
We encourage everyone to wear white to play with colors
Your ticket prices include 2 color powder packets. You can buy more as needed.
Strictly NO OUTSIDE COLORS ALLOWED
Colors can be played with ONLY at the designated fenced area
🟢 VENUE
VYBES NATION
1681 Religious St, New Orleans, LA 70130
Home to your local food carts Johnny's Jamaican Grill, Vybes Nation & more.
Holi Color throw will happen outdoors !!🌈
🟣 ARTISTS
🎵 YOUR DJ
'If I cannot give myself the chance to follow my passions, who else can?' - DJ Prashant
TEDx Talk, New Music, and Dance Videos at https://linktr.ee/dreamprashant
Originally from Mumbai, India, Prashant is an ex-Intel engineer turned DJ and community organizer based out of Portland, Oregon. He founded Jai Ho! Dance Party in 2010 and Dance United in 2017, and tours them at nightclubs across the US on a regular basis.
Prashant's effervescent personality and charisma instantly strike a chord with an audience of any age group or background. He is known for an open-format DJ set highlighted by interactive dance lessons that compel everybody to rock the dance floor to an irresistible blend of the world's greatest dance music.
Expect a dance party he is at to transform into a full-fledged Bollywood musical complete with synchronized dance moves by all attendees.
🥁 ON THE DRUMS
ARRJUN - ON THE DHOL
"I'm a performer! I sing, I write, I play instruments & I dance. Find me on Spotify "Arrjun Singh"
Rhythm! Everything in this universe works in a rhythm and on a B E A T 🥁
Every time you see me perform, you'll see a beat, you'll hear a beat and you'll feel a beat. I'm all about the beat. ARRJUN = BEAT."
➳ https://www.instagram.com/arrjunworldwide/?hl=en
💃🏽 YOUR PERFORMERS
Shimmy Shakti Troupe is a New Orleans Belly Dance troupe that has been performing locally and nationally for over 10 years. As members of a MENAHT (Middle Eastern, North African, Hellenic, and Turkish) Dance Troupe, they are always honored to share in events that celebrate diversity through culture, music, and dance.
They are so excited to be part of this year's Holi Hai Festival of Colors!
Shimmy Shakti Troupe include Rebecca Poole, Kenya Brooks, Erika Witt, Tanja Spitzer, Tish Douzart, Ana Sofia Vega, Emily Holley, Paige Noel, Catherine Golden, and Troupe Director and Choreographer- Karla Marie!
➳ https://www.instagram.com/karlamarieshimmysoul/?hl=en
Krewe da Bhan Gras is a new Bollywood/Bhangra dance krewe representing the South Asian diaspora in New Orleans.
Pulling together friends and strangers with ties across the South Asian diaspora, the newly formed Krewe da Bhan Gras brings a dose of Bollywood entertainment to New Orleans' roving Carnival celebrations.
Enjoy a high-energy performance by New Orlean's foremost Party Hypeman: KODJO THEMOJO!
☾ ABOUT JAI HO! DANCE PARTY
The most joyful dance party experience across the U.S. since 2010!
Facebook Page: http://facebook.com/jaihodanceparty
Instagram Page: http://instagram.com/jaihodanceparty
Youtube: http://youtube.com/jaihoparty
Get transported to an experience that is akin to being in a Bollywood musical complete with interactive dance lessons, performances & non-stop hard-hitting beats from the east. Founded in 2010 by Prashant, an immigrant turned DJ, & like-minded friends, Jai Ho! is a celebration of Indian music & dance like no other.
☾ GUIDELINES AT EVERY JAI HO!
Creating a safe & celebratory space is our priority at every event we host.
We would love for you to be an accomplice of ours by greeting & treating everyone you meet like you would like to be treated, with equality, mutual respect, and a big smile. We know this does not apply to you because you are awesome but for the other people to whom this may be relevant, we have zero tolerance for bigotry, racist remarks, and generally reckless behavior.
Over the course of the night, Punjabi, Bollywood, South Indian songs, and music from across South Asia (new & old) will make their way into our DJs playlist. So contribute positively, uplift everyone around you, tip your bartenders well, and enjoy the music being played.
☾ PHOTOS & VIDEOS DURING THE EVENT
By purchasing tickets to our events, you acknowledge that there might be photographers and videographers and that these photos and videos could be used for promotional purposes on our platforms.
❤️ HOSTING A PRIVATE EVENT?
When not hosting my own dance nights, I love DJ'ing for weddings, private and corporate events. Contact me through my website http://dreamsperfected.com if you want to work with me to throw a memorable shindig!
FAQs:
Are there ID requirements or an age limit to enter the event?
This event is for ALL AGES.
What are my transport/parking options for getting to the event?
Plenty of street parking is available.
Are tickets refundable?
No refunds are available, and all ticket sales are final
About the organizer
Scroll down for our event listings. 
༺༻
BOLLYWOOD DANCE PARTY & WORKSHOPS
Regularly in Seattle || Portland || Eugene || SF || LA || Denver || San Diego & New Orleans!

༺༻
Founded & hosted by celebrated Bollywood entertainer DJ Prashant.
---------------------------------------------
FOR PRIVATE EVENT BOOKINGS & INQUIRIES:
Email: BollywoodDreamsOfficial@gmail.com or call 971.344.2022.