Location
Eva's 1925 Sports Bar & Lounge
736 A Philip Randolph Blvd
Jacksonville, FL 32202
Don't Know Who's in the 1st Label vs. Label Verzuz..but We Know Who We Want it to Be! Come Enjoy a Night of Classics from the TRU/CMB Era
About this event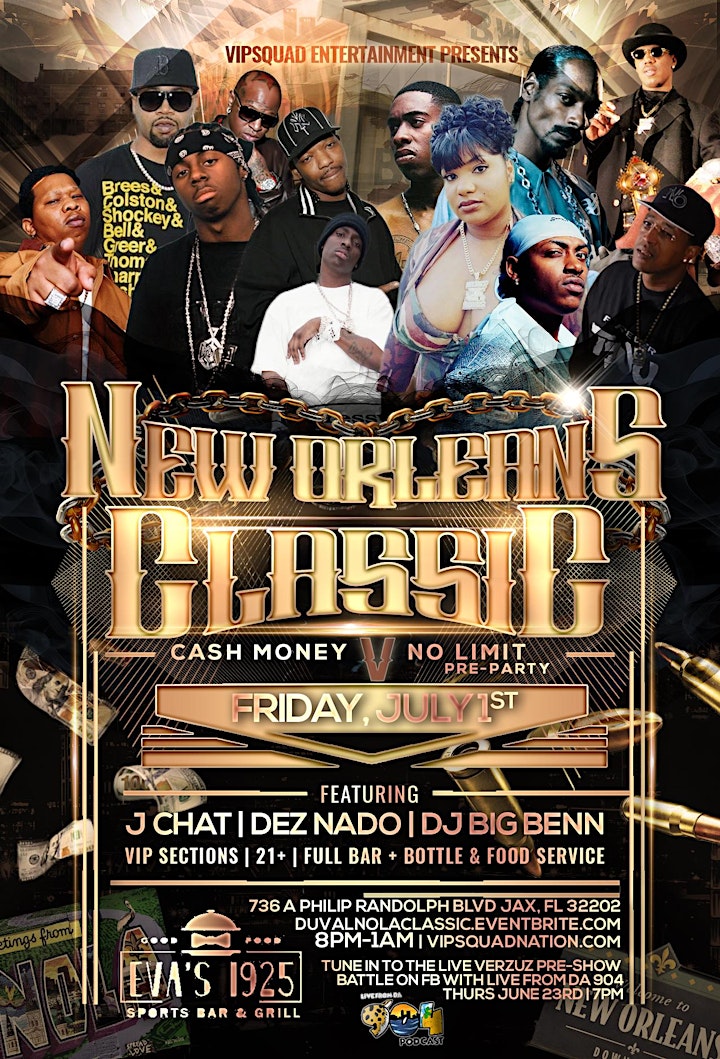 VIPSquad Entertainment | Candice Alvita Productions | CW17's New Jax City Uncut | Underdawg Entertainment
New Orleans Classic in Duval: The Unofficial Cash Money x No Limit Verzuz Pre-Party
>> FRI July 1
Full Security On Site | 21+ Entry ONLY | Cash Bar | Hosted by DJ Big Benn, Dez Nado, and J Chat with Performances by a Few of Jacksonville's and New Orleans' Hottest Artists
Kick off Independence Day weekend at Eva's 1925 Sports Bar & Grill, a black-owned venue, with an event unlike any other all weekend-- The New Orleans Classic in Duval will mostly consist of nothing but classics, radio & street hits, forgotten collaborations, and mixtape gold from one of the greatest eras in southern hip hop: the late 90s/early 2000s No Limit + Cash Money era. From Bout it, Bout it and Hot Boys and Girls to 400 Degreez and I Need a Hot Girl, we're going to leave no hot record from that era unplayed!
-- LIVE Taping of Jacksonville-based CW17 Urban Entertainment TV Series -- LIVE from New Jax City's New Jax City: Uncut -- CONTENT recorded from the events TELEVISED -- like/follow these links to be the first to check out the footage which might feature YOU -->
www.youtube.com/LifeGrindDuval | SUBSCRIBE to Live from New Jax City/New Jax City Uncut: https://www.youtube.com/channel/UC45nxzzJT9dsKPzATawYWQQ
Food and drinks served | $35 all-you-can-drink (wells) | $175 Bottles + VIP Specials (good for groups of 5 or 8) | Limited vendor space available
TUNE IN to the head-to-head dream verzuz match up online Thurs June 23rd before the main in-person event July 1st as Live from Da 904 host DJ Malone moderates the label vs. label match up we all want to see -- Cash Money vs. No Limit -- the podcast along with Dez Nado and Duval DJ Bravo will break down their top 20 tracks from each side on Thursday June 23rd, 7-9pm ONLINE ONLY at https://www.facebook.com/livefromda904 & https://www.instagram.com/livefromda904/ and share some news about the main event Fri July 1st, which will be in person instead of online, at Eva's 1925 Sports Bar & Grill in Jacksonville, FL 8pm-1am
*Event is not affliated with Verzuz, VerzuzTV, Triller, No Limit Records, nor Cash Money Records in any way*
New Orleans Classic in Duval Eventbrite Page: https://www.DuvalNolaClassic.eventbrite.com
New Orleans Classic in Duval Facebook Page: https://www.facebook.com/events/910362730364055
For VIP: Email STAFF@VIPSquadNation.com for reservations/inquiries
PERFORMANCE SPOT (WITH ADVANCE PROMO AND FOOTAGE): EMAIL STAFF@VIPSQUADNATION.COM FOR INFO
VENDOR SPOT (WITH ADVANCE PROMO): EMAIL STAFF@VIPSQUADNATION.COM FOR INFO
EMAIL STAFF@VIPSquadNation.com to o pay for any eventbrite ticket option via CashApp, Venmo, etc. and avoid eventbrite fees
CW17 Commercial features "BOSSY" and "Flawda Ish", new single by Dez Nado available TODAY @ SPOTIFY
and your Favorite Streaming Apps @ https://deznado.hearnow.com/
www.VIPSquadNation.com (buy either single, get the full #LPYHTwerkTape when it drops this fall for FREE and get in this event for HALF OFF
Spotify: https://open.spotify.com/track/1KaxQ554iDKN8N04b82LEE?autoplay=true
Apple Music: https://music.apple.com/us/album/flawda-ish-feat-j-chat/1593948221?i=1593948222
TIDAL: https://tidal.com/browse/album/204100354
Google Play: https://bit.ly/3d0nlNn
Amazon Music: https://music.amazon.com/artists/B00QLWN3E6/j-chat
iHeart Music: https://www.iheart.com/artist/dez-nado-937851/songs/bossy-127948259/?autoplay=true
YouTube Music: https://music.youtube.com/playlist?list=OLAK5uy_nmbJp89dnAHU4IjOwQm0SaxwqCpzNTdjE
Pandora: https://pandora.app.link/dtFwaTOLIqb
**MASKS & SOCIAL DISTANCING ENCOURAGED FOR INDOOR AREAS-- Limited Entry**
-Interested in Vending at these Events?
-Got a Brand/Business, Event, Talent, or Client who Could Benefit from Exposure to 80,000+ Potential Consumers that our Promotional/Marketing Campaign will Reach?
-Interested in Sponsoring any of these Televised Events and Receiving Unmatchable Visibility and Unrivaled Access to our NE Florida/SE Georgia Demographic? Let's Work!
>> CONTACT: 323-379-2476 or STAFF@VIPSquadNation.com <<
END OF EVENT INFORMATION
________________________________________________
Check Out our Affiliates' Recent Projects:
Check out #FreestyleFilez8 the unofficial #BETHipHopAwards weekend mixtape which includes audio straight from the GREEN CARPET from the 2021 Awards -- Upload started BET Hip Hop Awards weekend September 2021 & continued through A3C, HBCU Homecoming SZN, and Halloween wknd October 2021. Only the hottest will make this tape. Want on the next one? Hit us up! VIPSquadNation.com
Every September/October, the unofficial BET Hip Hop Awards Weekend mixtape FREESTYLE FILEZ hits #ATL (or wherever the Awards are; #Miami in 2018 and 2017) and features some of the HOTTEST indie & major bars, freestyles, cyphers, and conscious talent all on one tape -- like the page Freestyle Filez - Mixtape Series & be the first to DL/stream 2021's release OR download the latest editions directly from www.VIPSquadNation.com in FULL for FREE today
The mixtape series that follows Freestyle Filez produced by VIPSquad DJs is Florida's Finest/ #FLAsFinest which is released in November after #FAMUHomecoming weekend & before #FloridaClassic weekend where the #FLAsFinest6 release party was held in Orlando in 2018 and was held again in 2019
The mixtape series that have generated over 500,000 REAL plays/downloads: Freestyle Filez + Florida's Finest!-- prod by VIPSquad DJs VIPSquad Entertainment @vipsquadent -- VIPSquad DJs
_____________________________________________________________
>
>
>Check out LINKS to past versions (500,000+ REAL Plays/Downloads since 2012) @
Freestyle Filez: Volume 1 (Mixtape - Hosted by Dez Nado) - May 2012 - Indie release – DatPiff Rating: 3 Stars; 332 plays/downloads DatPiff/MediaFire, 500 CDs distributed – Album of the Summer 2011 (Hip Hop Stardom Magazine) https://www.datpiff.com/Dez-Nado-Freestyle-Filez-Volume-1...
Freestyle Filez: Volume 2 (Mixtape - Hosted by Dez Nado) - October 2012 - DatPiff Rating: 5 Stars; 1,302 plays/downloads, 350 CDs distributed https://www.datpiff.com/Dez-Nado-Freestyle-Filez-Volume-2...
#FLAsFinest (Mixtape - Hosted by VIPSquad Entertainment) - June 2013 - DatPiff Rating: 5 Stars; 128,210 plays/downloads | www.soundcloud.com/flasfinest
#FLAsFinest2 (Mixtape - Hosted by VIPSquad Entertainment) - July 2014 - Indie - DatPiff Rating: 3 Stars; 11,751 plays/downloads | www.soundcloud.com/flasfinest2
Freestyle Filez: Volume 3 (Double Mixtape - Hosted by Dez Nado & VIPSquad DJs) - Sept 2015 - Indie - DatPiff Rating: 5 Stars; 9,616 plays/downloads www.soundcloud.com/freestylefilez3
Florida's Finest 3 (Double Album - Hosted by Dez Nado & VIPSquad DJs) - Nov 2015 - DatPiff Rating: 5 Stars; 177,985 plays/downloads www.audiomack.com/artist/flasfinest3/
LaDolceVita (Album)/Futuristic A-Side; Duele B-Side Singles - March 2016 - Universal Music Group/VIPSquad Entertainment 105,000+ Sound Exchange/Pandora streams, 2,000+Spotify Streams/Downloads, 2,000+ iTunes/Amazon Streams/Downloads, Indie Digi/Physical Distribution: 13,560 (Digiwaxx/PlayMPE Int'l distribution); 389 Total DJ downloads, global www.soundcloud.com/DezNadoLaDolceVita
Freestyle Filez: Volume 4 (Double Mixtape - Hosted by Dez Nado & VIPSquad DJs) - Sept 2016 - Indie - multi-platform plays/streams; 115,000+ https://www.audiomack.com/artist/freestylefilez4
Florida's Finest Vol. 4 (Double Mixtape - Hosted by Dez Nado & VIPSquad DJs) - Nov 2016 - Indie - VibeMixtapes/Independent Release Rating: 5 Stars; 3,054 Independent Downloads (Media Fire) 17,000+ plays https://www.audiomack.com/artist/flasfinest4
https://www.mediafire.com/file/yga2pbtnxp9gsb6/FLAsFinest4_FULL_Mixtape_by_VIPSquadDJs.zip/file
Florida's Finest Vol. 5 (Double Mixtape - Released Independently & Hosted by 1017 Brick Squad Mafia Gang Nation Artist Seerious Penny & Dez Nado) - Nov 2017 - MEDIAFIRE Secure Full Download - SoundCloud -- 815 Independent Downloads, 10,011 multi-platform plays/streams Total https://www.mediafire.com/file/6d4zaz5b5jom5uc/FLAsFinest5_FULL_Final_-_VIPSquad_DJs.zip/file
https://soundcloud.com/flasfinest5
Freestyle Filez Vol. 5 (Double Mixtape - Released Independently & Hosted by 1017 Brick Squad Mafia Gang Nation Artist Seerious Penny & Dez Nado) - Oct 2017 - MEDIAFIRE Secure Full Download - SoundCloud -- 425 Independent Downloads, 5,885 multi-platform plays/streams Total https://www.mediafire.com/file/e5wmeigavgsppcp/Freestyle_Filez_5_-_VIPSquad_DJs_FULL_DOUBLE_MIXTAPE.zip/file
Freestyle Filez Vol. 6 (Double Mixtape - Released Independently & Hosted by Dez Nado) - Sept 2018 - MEDIAFIRE Secure Full Download - SoundCloud -- 296 Independent Downloads, 7,500 multi-platform plays/streams Total https://audiomack.com/artist/dez-nado-1 | https://www.mediafire.com/file/iqcjhytk71d394t/Freestyile_Filez_6_FULL_Final.zip/file
Florida's Finest Vol. 6 (Double Mixtape - Released Independently & Hosted by Dez Nado & DJ Purfiya) - Oct 2018 - MEDIAFIRE Secure Full Download - SoundCloud -- 375+ Independent Downloads, 11,000+ multi-platform plays/streams Total https://audiomack.com/artist/flasfinest6 | https://www.mediafire.com/file/lyvv04wucmpciju/FLAsFinest6_Official_Double_SauceTape_-_VIPSquad_ENT.zip/file
Freestyle Filez Vol. 7 (Double Mixtape - Released Independently & Hosted by Dez Nado) - Sept 2019 - MEDIAFIRE Secure Full Download - SoundCloud
75+ Independent downloads - 13,000+ multi-platform plays/streams https://www.mediafire.com/file/fcj1vataz6hxo67/Freestyle_Filez_7_FULL_Triple_SauceTape_BETHHA2019.zip/file
https://audiomack.com/freestylefilez7
Florida's Finest Vol. 7 (Double Mixtape - Released Independently & Hosted by Dez Nado & Sony/Divine Rep Rollo Hustle) - Oct 2019 - MEDIAFIRE Secure Full Download - SoundCloud
32,000+ multi-platform plays/streams - 125+ Independent downloads
https://audiomack.com/flasfinest7
https://www.mediafire.com/file/elrli9jkrp7kgml/FLAsFinest7_FULL_MIXTAPE_FINAL.zip/file
Freestyle Filez Vol. 8 (Double Mixtape - Released Indie & Hosted by Dez Nado) - Oct/Nov 2021 - MediaFire secure download @ www.VIPSquadNation.com | Stream: https://soundcloud.com/freestylefilez8 | https://audiomack.com/freestylefilez8
Florida's Finest Vol. 8 (Double Mixtape - Indie Release & Hosted by Dez Nado) - Nov/Dec 2021 https://audiomack.com/flasfinest8 | http://www.soundcloud.com/flasfinest8 MediaFire secure download @ www.VIPSquadNation.com
PRESS/INFO >>
>>> Follow www.facebook.com/VIPSquadDJs for up-to-the-minute updates as each month's featured event approaches
CONTENT recorded from the events will be TELEVISED on CW17 & DeKalb-Comcast 25 Atlanta -- like/follow these links to be the first to check out the footage which might feature YOU -->
www.youtube.com/LifeGrindDuval | SUBSCRIBE to Live from New Jax City/New Jax City Uncut: https://www.youtube.com/channel/UC45nxzzJT9dsKPzATawYWQQ
www.facebook.com/LifeGrindDuval | www,facebook.com/NewJaxCityLIVE -- Instagram: @LifeGrindDuval & @NewJaxCityLIVE | @SaucySundaysJax | http://www.instagram.com/saucysundaysjax | LIVE from New Jax City BET Awards Media Coverage -- https://youtu.be/Dnvq-NoQY8c | www.facebook.com/LifeGrindATL
#Support the #Indie MOVEMENT! #Vippin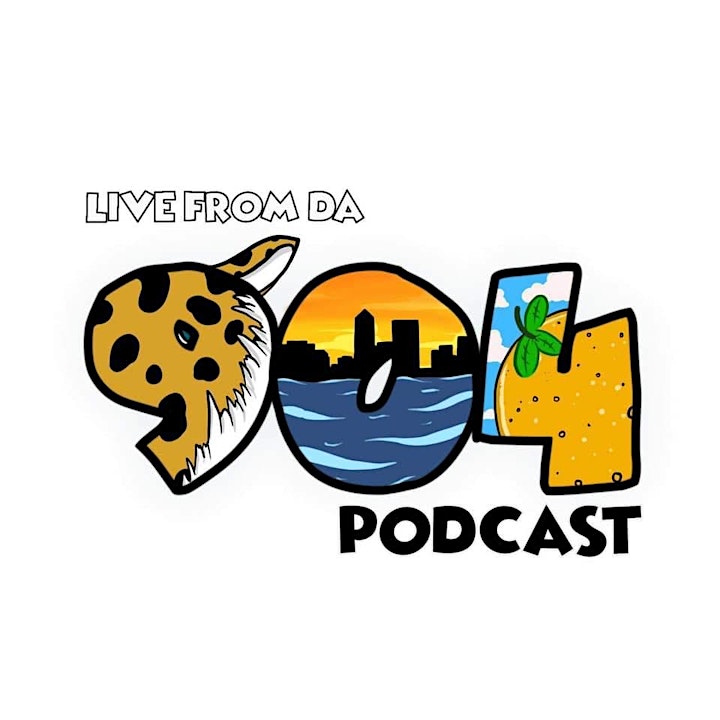 TUNE IN to the head-to-head dream verzuz match up online Thurs June 23rd before the main in-person event July 1st as Live from Da 904 host DJ Malone moderates the label vs. label match up we all want to see -- Cash Money vs. No Limit -- the podcast along with Dez Nado and Duval DJ Bravo will break down their top 20 tracks from each side on Thursday June 23rd, 7-9pm ONLINE ONLY at https://www.facebook.com/livefromda904 & https://www.instagram.com/livefromda904/ and share some news about the main event Fri July 1st, which will be in person instead of online, at Eva's 1925 Sports Bar & Grill in Jacksonville, FL 8pm-1am